Rivals Roundtable: Duke without Zion; hot coaches; reclassification talk
1. How worried should Duke be if Zion Williamson ends up missing significant time?
Bossi: Luckily for Duke, it looks like Williamson will be back on the floor sooner than later. But, if he's out for a while there should be some concern, though not as much as others might think. Look, the Blue Devils were totally out of sorts when they lost Zion against North Carolina, but does anybody really think they won't adjust? College basketball is pretty watered down this year and there's no team that really strikes fear or looks unbeatable.

Plus, the last time I checked Duke still has Mike Krzyzewski and R.J. Barrett. Tre Jones will bounce back from a rough outing, but while Zion is out, all eyes will turn to Cameron Reddish. If he steps up and plays like a legitimate top five NBA Draft pick on a nightly basis, then they can still be dangerous without their star.
Evans: Beyond the fact that North Carolina went into Durham and pretty much demolished Duke following Williamson's injury, questions had persisted surrounding their shot-making abilities, something that could be their Achilles heel at the end of the day. It is one thing to mask such issues with the most unique and dominant player in the game, but without him the deficiency becomes even more glaring.

Making less than 31 percent of their shots from three-point range, a limited bench and a heavy reliance on a singular standout in Barrett doesn't shout national title contender status. Duke is still a strong team, but without Williamson, their worries become magnified further and their title hopes diminish immensely.
McDonald: Duke fans should be very nervous if this injury turns into an extended absence. The Blue Devils defense was awful once he went out and they don't have an easy way to get a bucket inside with him out. I don't think Duke can do much damage in the NCAA Tournament without him at full strength.

2. Which coach is flying a bit under-the-radar despite putting together an outstanding season?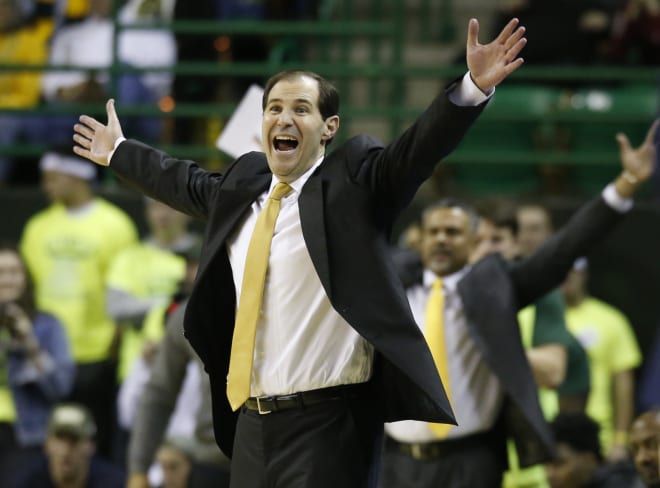 Bossi: What Scott Drew and his staff are doing at Baylor this winter is pretty dang impressive to me. Maybe the Big 12 doesn't have a dominant team this year, but it is highly competitive top to bottom and there aren't any easy wins. Headed into the season, the Bears were picked to finish ninth in the conference and looked to be down on talent. Along the way they've experienced injuries – most notably losing their best player Tristan Clark for the year – to several players and have had to rely on a mix of transfers and youngsters. Yet, through all of it they are looking like a sure bet to make the NCAA Tournament at 17-9 overall and 8-5 in the Big 12.
Quick shout out to Craig Smith at Utah State. In his first season he has the Aggies contending for an NCAA berth at 21-6 overall and second place in the Mountain West after they finished below .500 in conference play each of the previous three years.
Evans: Will Wade caused some commotion last year by signing one of the best classes in America, this coming immediately after enrolling a complete stud of a lead guard that is Tremont Waters. However, securing premier talent is one thing but getting those respective prospects to work together and play as a unit is something different.

LSU came up a bit short earlier this week to a hungry Florida squad but it still doesn't diminish the work that Wade has done on both the sidelines and on the recruiting trail. He has catapulted the program into the elite tier of SEC teams this winter and it looks as if the Tigers will remain there for the foreseeable future.
McDonald: Leonard Hamilton never seems to get the credit he deserves as a coach. The Seminoles are usually one of the top teams in the ACC, have made multiple NCAA Tournament runs, but Hamilton never seems to get the credit he deserves. Florida State has now won eight in a row in the ACC. This feels like another where the Seminoles will be a tough out in March.
3. Which 2020 prospect that could potentially reclassify to 2019 is the most college-ready and where might he land?
Bossi: After the last few years, it's become pretty clear that players skipping their senior year of high school (whether it be truly skipping or just not doing a prep year as planned) has become a real thing. We're at the point in the year where most everybody is saying they won't do it, but some will.

One whose name has been brought up as a potential reclass is 2020's No. 2 player Jalen Green and while he needs more physical strength, I believe he could handle the move. In fact, he would benefit from getting into a college weight room as soon as possible and getting more coaching and training. Green is a gifted athlete, skilled and has the full package of an elite shooting guard. Memphis seems to come up the most when talking Green and he visited in the fall, but he's also visited Florida State officially.
Evans: N'Faly Dante has made tremendous strides in recent months and while he still needs further ball skill refinement, what he does on the defensive end screams game-changing type of stuff at the next level. Sporting tremendous length, quality feet and agility, and a well-polished motor, Dante is the definition of an elite shot-blocker. Dante should be fine making the move into the 2019 class and enrolling in college this fall.

Where that ends up being remains up in the air as Kentucky, LSU and Oregon are just three of the schools that have kept a close pulse on him in recent months as he has already taken official visits to the latter two.
McDonald: There has been a lot of talk lately of five-star 2020 big man Walker Kessler making a move to the 2019 class. After watching him again on MLK Day, he looks like he's ready to make the jump. He's added some muscle to his frame and he's playing more physical. His ability to protect the paint defensively and score in a variety of ways offensively will make the college adjustment an easy one for him.

I'd say Duke has the edge but Tennessee is making up ground and should have him on campus soon for an official visit. Vanderbilt and Virginia are also still in the mix.