McDonald's Nuggets: Show 'em the money; Florida's flying; more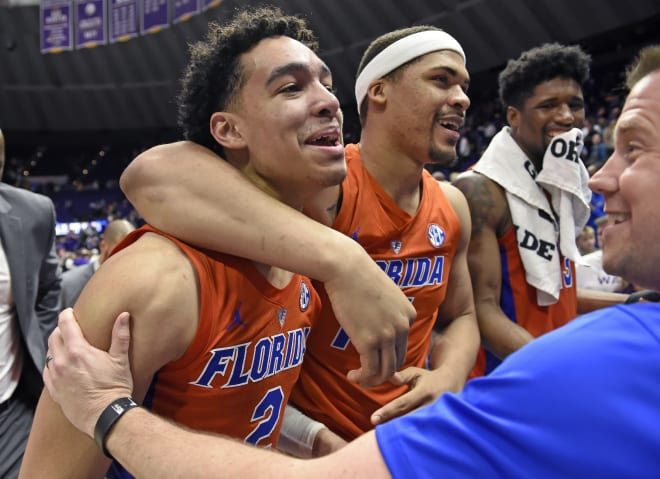 Analyst Dan McDonald cooks up his weekly serving of McDonald's Nuggets, including his Hot Take on amateurism, his Team of the Week, a prediction and a handful of gambling picks.
MORE: Last week's Nuggets | 3-Point Play | Bossi's Best
HOT TAKE: Amateurism needs to go 
Everybody seems to have their own hot take when it comes to Zion Williamson's injury. I'll share mine with you. It doesn't have anything to do with his injury, whether he should play again or that Nike shoe that he ripped through.
My takeaway from his injury is that the whole idea of amateurism needs to go. Seeing all the talk about how much tickets were being sold for on Wednesday night for the Duke/North Carolina game and knowing athletes can't get anything from that just feels wrong. It always has for me, but this was just another example that really stung me.
If you have been reading this column, you probably know that when I criticize a rule I'm going to offer my solution to the issue. I'm not one that believes that schools should be paying athletes anything above what is happening now. With Title IX in place, it's just not realistic to pay the star quarterback the same amount you pay a backup outfielder on the baseball team, for example.
However, I'm a firm believer that athletes should be able to seek out money on their own likeness. If somebody wants to pay Williamson for his autograph, he should be able to collect on that. If a local business in Tuscaloosa wants to pay Tua Tagovailoa to be in a commercial, it shouldn't be a problem. If coaches or administrators at a school want to spend their time lining up deals for their athletes, I don't see what the issue is. It saves the NCAA a lot of headaches, because now all these deals that happen behind the scenes already would be above board now.
I know the argument against this model would be that it would be unfair to smaller schools. But the last time I checked it isn't like there is a whole lot of parity in college athletics in the current system. The schools with money and the big brands are already winning at the highest level. Opening up athletes to receive money from outside sources does nothing to change that, and it keeps the FBI from getting involved in college athletics. I see it as a win for everybody involved.
TEAM OF THE WEEK: Florida 
The month of February started off pretty rocky for the Gators. Three straight losses against Kentucky, Auburn and Tennessee wasn't an ideal stretch for Florida, but it's not a crippling stretch as those are three of the top teams in the SEC. Since then, Mike White's squad has bounced back with three straight league wins with two of those coming on the road this week against Alabama and most recently 13th ranked LSU. Beating the Tigers in Baton Rouge is a good way to stay on the right side of the bubble.

RECRUITING NOTE: Latest on Isaiah Todd
Throughout this high school season, there have been rumors that Isaiah Todd could move from the 2020 class up into the 2019 class. Those rumors have only picked up of late. The most recent development in his recruitment came Wednesday night when John Calipari decided to make a trip to see the five-star big man. Before he left, Todd received an offer from the Wildcats. As a result, I'm now projecting Todd to sign with Kentucky and potentially as a member of the 2019 class.
PREDICTION: Houston avenges last year's heartbreak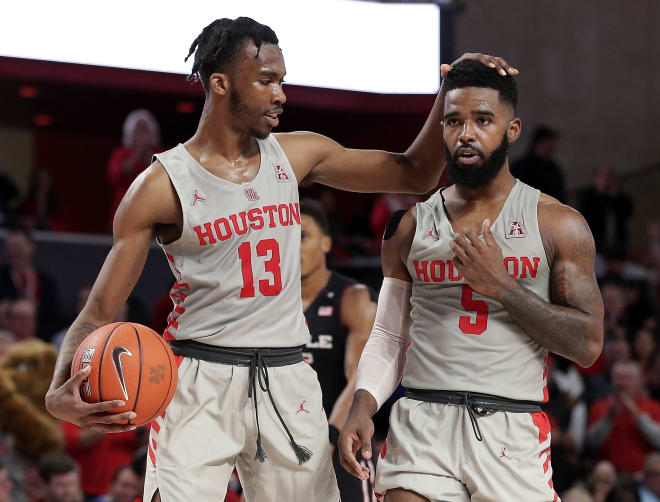 I've had a chance to watch Houston three or four times this season. Every time I have watched the Cougars, I have come away with the same thought: This team is good enough to beat anybody. The Cougars are deep in the backcourt, with a lot of firepower to score with anybody. DeJon Jarreau has really come on lately and given them another play-maker. Fabian White, Cedrick Alley, Brison Gresham, and Breaon Brady solidify a really nice front-court. Kelvin Sampson has taken a team to the Final Four before, and I wouldn't be surprised if his team can rally from last year's heartbreaking loss to Michigan to make a deep run this year to Minneapolis.
GAMBLING PICKS 
We're bringing back the gambling picks this week, so get ready to make some money!
Let's get Friday night's games started with some MACtion. I'm taking Bowling Green (-4) at Ohio. It's been a really rough year for the Bobcats. Staying in the MAC, I like Kent State (+16) to cover at Buffalo. The Bulls, outside of a 47-point win at Ohio this week, haven't been as sharp lately. Let's move over to the Ivy League and take Cornell (+6.5) at Princeton. The Big Red have won three of their last four since losing to Princeton earlier this month at home. Iowa (-6.5) at home against a struggling Indiana team? Take Iowa, and don't overthink it. Lastly, let's go with Davidson (-1) heading up to Rhode Island. The Wildcats need to make up for this week's loss to Dayton at home.