Rival Views: Who could be the Trae Young of the 2018 class?
Entering his freshman season at Oklahoma, there were certainly big expectations for five-star point guard Trae Young. However, nobody could have predicted that Young would lead the nation in scoring and assists at the turn of the new year while also emerging as the leading candidate for player of the year.
Who from the class of 2018 could come the closest to replicating Young's feat? As usual, National Basketball Analysts Eric Bossi and Corey Evans have Rival Views.
MORE RIVAL VIEWS: Biggest priorities in 2018 recruiting | Top player in 2019 class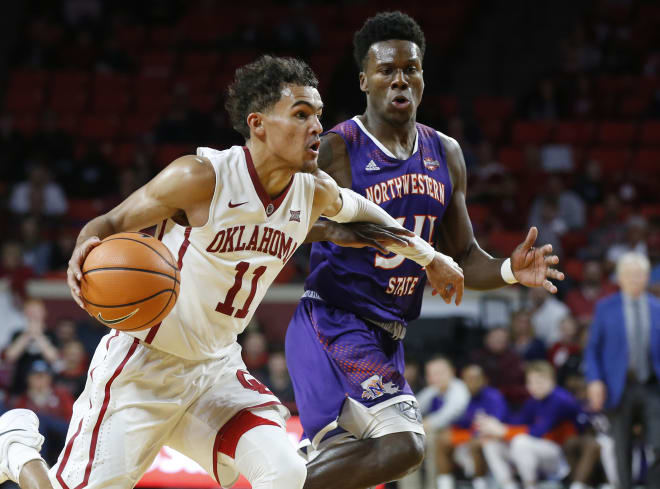 BOSSI'S VIEW: COBY WHITE
First of all, I want to make it pretty clear that it's unreasonable to expect any freshman to lead the country in scoring and assists. What Young is doing has never happened before, and the odds it happens again anytime soon are slim, to say the least. Plus, if I really had a good feeling that somebody was the next Trae Young I would be making sure we rank them as highly as possible.

That being said, it's not unreasonable to expect that somebody who is highly ranked could outperform already lofty expectations. I think opportunity and skill will play a lot in that, so I'm taking North Carolina-bound Coby White.
The situation for White - who is still in the conversation to finish as a potential five-star prospect - to put up huge numbers seems to set up as well for him as any player in the country. Currently, senior Joel Berry handles the lion's share of the ball-handling duties for the Tar Heels, and Seventh Woods and Jalek Felton aren't looking like full-time point guards just yet. Yes, White has to beat those guys out and he's not exactly a full-time point guard either, but his mentality and aggressiveness are going to make him the guy to beat in Chapel Hill as soon as Berry is gone.
EVANS' VIEW: ANFERNEE SIMONS 
While he hasn't picked a college home just yet, Anfernee Simons fits the bill.
Slotted at the same spot as Young in the recruiting rankings, the No. 16 senior prospect in America has been closely watched in recent months because of his potential in making the leap directly to the NBA ranks, thanks to the age requirement that he meets and the fact that he will be a full year removed from his high school graduation.
If Simons does decide to attend college - which I believe he will - he has all of the abilities to make a major name for himself on a college playing floor immediately. Coming anywhere close to the production of Young is nearly impossible. However, like Young, Simons is someone who has been knocked for lacking strength but has proven himself again and again by defeating players rated better than him. And Simons has yet to see a lull in his progressions.
Like the Oklahoma star, Simons needs to pick the appropriate spot for his college ball if he wants to see his numbers soar. If he were to select UCLA, Simons' box score numbers might not be as grandiose. This weekend, Simons will visit Tennessee and while the Vols are ranked ahead of the Bruins in the polls, they don't boast the alpha dog scorer that would immediately be leaned upon. He has a maturing process ahead of him wherever he goes, but at a place like Tennessee, he might be relied on to do more, thus enabling him to put up more eye-pleasing stat lines.