Rival Views: The biggest priorities in 2018 recruiting
Assessing the most pressing need of any program isn't always the easiest thing. However, now that we've had a chance to analyze who the top programs are chasing, we have a feel for who and what are the biggest priorities in 2018 recruiting. As usual, National Basketball Analysts Eric Bossi and Corey Evans have Rival views.
BOSSI'S BEST: Breakout candidates from the 2016 class
BOSSI'S VIEW: A PLAYMAKER FOR KANSAS AND FLORIDA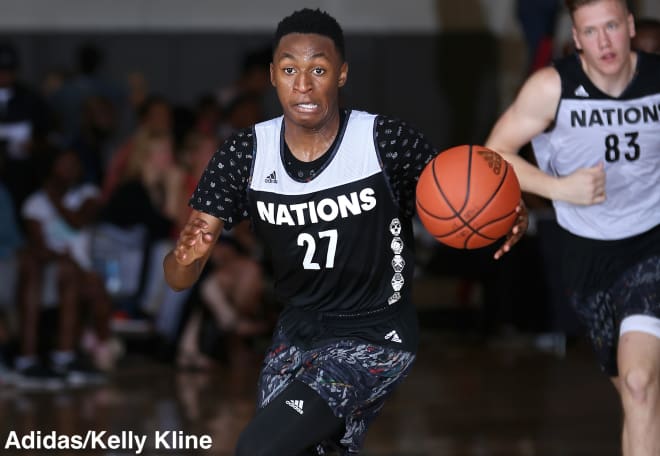 Bill Self and the Kansas staff may need to sign as many as six players from the 2018 class. So, they are looking for a little bit of everything. With five-star big man Silvio De Sousa already in the fold, the Jayhawks biggest need appears to be a playmaking guard (or two).
A look at the Jayhawks' recruiting to date is reflective of that. Five-star point guards Immanuel Quickley and Devon Dotson have already been on campus, five-star combo guard Quentin Grimes is scheduled to visit officially in October and the Jayhawks are among the final seven for five-star point guard Ayo Dosunmu. This makes great sense because they will lose Devante Graham to graduation and former five-star prospect Malik Newman is eyeing a jump to the NBA after this season. The Jayhawks do have high-scoring point guard Charlie Moore sitting out as a transfer and other nice perimeter pieces, but there's definitely room and need for a guy that can score, stretch defenses and make plays for others.
Florida is another program that could really use a dynamic playmaker and it's also reflected in its recruiting. The Gators are battling toe-to-toe with the Jayhawks for the previously mentioned Dotson and they've also got a slew of other playmakers who have either been to campus or are scheduled to visit.
Five-star Andrew Nembhard is expected in October, high end four-star Elijah Weaver has already been on campus and four-star Michael Devoe is another in the Gators' sights.
Like Kansas, Florida is going to lose its senior point guard when Chris Chiozza graduates. Junior Kevaughn Allen may take a run at the NBA but is more of a two guard and pure scorer, and freshman Michael Okauru will get valuable experience this year. But, if the Gators don't grab at least one playmaker in 2018 they may have to get creative with their backcourt during the 2018-19 season.


EVANS' VIEW: THE TOP TWO IN-STATE PROSPECTS FOR ILLINOIS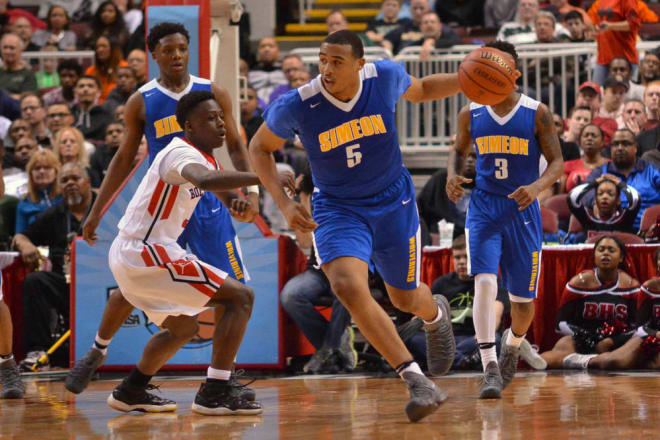 Brad Underwood took the reins of the Illinois basketball program earlier this spring in hopes of catapulting it back among the elite of the Big Ten. He has had no trouble winning games at Stephen F. Austin or Oklahoma State, but now at Illinois, well, this is an entirely different ballgame.
Illinois fans have clamored for the top talent from Chicago to play out their college careers in Champaign. Prior staffs have done their best but still, most have missed their mark. In 2018, the demand for Ayo Dosunmu and Talen Horton-Tucker to become members of the Illini basketball program remains strong.
Dosunmu, a five-star guard, is set to visit the Big Ten program on Oct. 13. Horton-Tucker, a former teammate of Dosunmu's on the travel circuit, remains further behind as no visit dates or a cut list have been produced. However, Illinois has remained strong in its pursuit of the standout wing.
The competition for Dosunmu and Horton-Tucker will be stiff but the commitment of either of the two would not just be a tremendous talent acquisition but also a statement that Underwood and his staff are ready to create a pipeline from Chicago to Champaign that fans have longed for in recent years.
While the heat is on at Illinois, Miami is facing a different sort of problem, namely shoring up its backcourt. The Hurricanes will need to replace Jaquan Newton after this season as he will exhaust his college eligibility. Meanwhile Bruce Brown and Lonnie Walker could test the NBA waters after a strong season in South Florida. Jim Larranaga has done one of the more underrated reclamation jobs in recent years at Miami but if he wants keep the U among the pack of ACC elite, he and his staff must hit this fall. The Hurricanes remain in the final three for four-star Jalen Carey and have also gained traction with Luguentz Dort, Saddiq Bey, Eric Ayala, Nassir Little and Jules Bernard; landing at least two of the talented Rivals150 prospects cannot be understated.