Rival Views: Which newly available recruit is the most valuable?
Of the just more than 30 members of the 2018 top 100 who remain uncommitted, eight of them - two five-star and six four-star prospects - were previously committed elsewhere. Hoops recruiting hasn't become football just yet, where early commitments don't mean much, but flips have become more prevalent and the best coaches are keeping their ears to the ground for info on shaky commitments. Of those who have opened things back up in 2018, who should be the most coveted? As usual, National Basketball Analysts Eric Bossi and Corey Evans have Rival Views.
MORE RIVAL VIEWS: Will the Commission on College Basketball be effective?
  BOSSI'S VIEW: TYLER HERRO, GUARD  
The most valuable of the decommitted players in the class of 2018 is Tyler Herro, who decommitted from Wisconsin on Tuesday night.
Yes, five-star combo guard Anfernee Simons and five-star power forward E.J. Montgomery both rank ahead of Herro in the national rankings, but I'll tell you why Herro is my choice.
As the game of basketball gets smaller and more "positionless" there is a premium on shooters who can space the floor. Herro can certainly do that. But, he's more than just a spot-up guy. He's a big two guard who is also a good athlete and is adept at creating for himself via the dribble. Those qualities make him versatile, and as I look at the landscape of remaining players, there aren't many guys like him.
In my estimation, Herro can play anywhere in the country. Arizona, Creighton, Florida, Kansas, Ohio State, Oregon, Purdue, UNLV and Xavier are among those who have already inquired and I expect him to be one of the most heavily recruited seniors from here on out.
EVANS' VIEW: ANFERNEE SIMONS, GUARD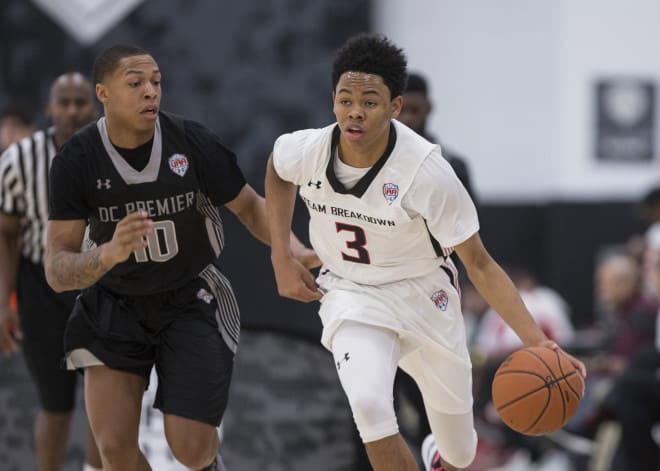 No class of 2018 decommitment will be as thoroughly pursued as Anfernee Simons.
A 6-foot-2 combo guard and one of the most talented backcourt prospects in the 2018 class, Simons committed to Louisville last October. Since then, the explosive guard has improved his entire skill set to the point that he has already been talked about as a one-and-done prospect.
The plan was for Simons to head to Louisville next fall and lead the Cardinals back to the Final Four. Instead, Simons is an available recruit, thanks to the FBI investigation that resulted in the firing of Rick Pitino.
Alabama was the first program to offer Simons, and many more are expected in the coming weeks.
Today's game has become heavily dependent upon guards, and Simons can play either guard position and produce accordingly. He averaged over 15 points and four rebounds on the travel circuit while knocking down 41 percent of his three-point attempts, so it is easy to see why Simons will not just become a priority recruit for local SEC and ACC schools but also for the bluebloods nationally this fall and winter.