Rival Views: Will the Commission on College Basketball be effective?
On Wednesday, the NCAA and president Mark Emmert made a big show of announcing that they have created The Commission on College Basketball. More or less the commission has been created to examine basketball and in particular look into the grassroots basketball circuit and the involvement of shoe companies, plus the NCAA's relationship with its own member institutions. Was this the right move for the NCAA and will the commission be effective? As usual, National Basketball Analysts Eric Bossi and Corey Evans have Rival views.
BOSSI'S BEST: Who stood out at the USA Basketball Junior National Team Camp?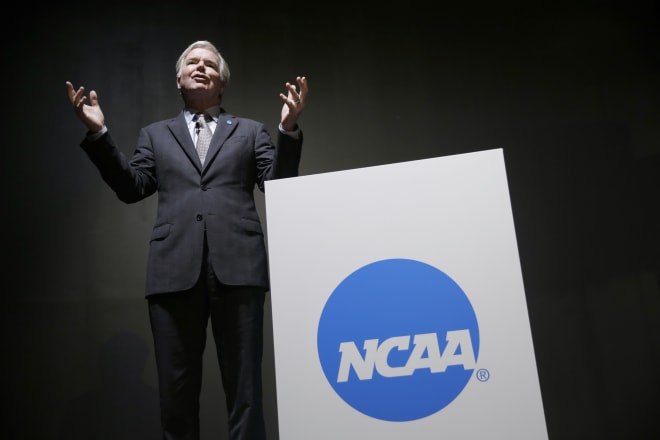 BOSSI'S VIEW: THIS IS A REACTIONARY MOVE BY THE NCAA
The federal government more or less neutered the NCAA when it dropped its bombshell case and investigation into corruption on the college and grassroots levels of basketball. So, the NCAA had no choice but to respond with something. I will concede that, even if it is reactionary in nature, it is good that the NCAA - with Dr. Condoleezza Rice chairing the commission - wants to take a look into basketball.
"We must take decisive action. This is not a time for half-measures or incremental change," said Emmert.
After reviewing the release and it's stated goals, I'm still not sure what the NCAA is saying. If they want to eliminate or limit shoe company involvement, then they are going to have to figure out how to operate either without the large sums of money that shoe companies pay their institutions or at the least expect the days of massive shoe and apparel deals to come to an end. If they can figure out a way to handle this without costing themselves a ton of money, then the NCAA will really have my attention and respect.
However, that at least seems more feasible than a plan into look into the NBA's one-and-done rule and figuring out a way to change NCAA eligibility to deal with it. After all, it is the NBA's rule and those owners and players care about what is best for them and not the NCAA.
On top of that, if the goal is to truly enforce the rules, then they had better be prepared to finally enforce the rules fairly and evenly. It's long been a joke that the cash cow programs are treated far differently because of the money they create for everybody else involved.
Though I'm coming off a bit negative, I'm willing to give the NCAA a chance and I want to see the end product. But I'm not hopeful that this will create much, if any, real change. At least not without a major shakeup to the way the NCAA has operated on all levels.
EVANS' VIEW: THE COMMISSION WILL BE INEFFECTIVE
From all that has come from the recent FBI investigation into the underworld of travel and college basketball, the NCAA's first and best shot at reform is by assembling a 14-person cabinet of former coaches, athletic directors, NCAA members and a government official. I have no issues in trying to make the sport better, but I don't think this commission will make that happen.
Things can only go up from here, so at least the NCAA is trying. However, there are two major issues with the commission and its vision.
First, of the 14 people on the committee, only two have coached at the high-major level. John Thompson III and Mike Montgomery, two respectable coaches, should bring a wealth of experience on the wheeling and dealings that have given the sport a black eye. Beyond these two are NBA greats in David Robinson and Grant Hill, two people that haven't been a part of the college game since the 1980s (and Robinson didn't play at a high-major school), along a few others involved in college athletics. Do these people really know what layers to peel away to address such issues that have been uncovered recently by the FBI and do they comprehend how to go about doing things so that these type of things do not occur again?
I doubt it.
Even if they do, what makes one believe that they can stop such rampant cheating? The NCAA had an idea of everything that was uncovered recently and much more. However, it had no support system or backing to do what the FBI had just done. Despite knowing its bylaws were being broken, there was no way to fully unleash its rulebook on the cheating coaches. Until that day comes, there isn't much that the commission can do.