Rival Views: Which five-star has most to prove at USA Basketball?
This weekend, 54 of America's top high school prospects – including 18 from the senior class – will be in Colorado Springs for the USA Basketball October Minicamp. Of those 18 players from the class of 2018, 17 are currently rated as five-star prospects.
Though they are already celebrated, which of those five-star seniors has the most to prove this weekend? As usual, National Basketball Analysts Eric Bossi and Corey Evans have Rival views.
MORE: Class of 2018 Rivals150 | 2018 Team Rankings | Bossi's Best
ERIC BOSSI: ZION WILLIAMSON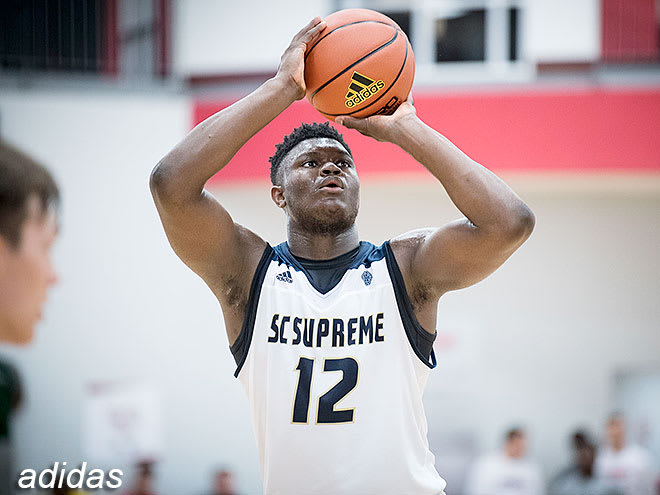 The class of 2018 hasn't received as much fanfare as some of the classes to come before it. Especially at the top. Currently ranked No. 2 overall, Zion Williamson of Spartanburg (S.C.) Country Day may have more on the line than anybody else in attendance.
You are probably reading this and saying:
But Bossi, have you seen his YouTubes?
Of course I have and I'm not knocking Williamson's talent.
The 6-foot-7 forward considering Kansas (where he visited last weekend), Clemson, Duke, Kentucky, North Carolina and South Carolina is a freak athlete with strength, toughness and a great motor. But, he's also a bit of a tweener when it comes to position and looking at the highest levels of basketball, it's tough to find a good comparison for him. That's fine, being the first Zion Williamson could be a very good thing long term.
However, despite all of the accolades, there are some valid questions about Williamson's game and he's not had many opportunities in a highly structured setting such as USA Basketball to show what he can really do.
Has his jumper improved? How's his handle? How is his playmaking for others?
Williamson's high school has already pulled out of several high-profile winter events, so this is going to be a huge opportunity to validate who he is as a player against top competition and that's why he has more on the line this weekend than any other senior.
COREY EVANS: MOSES BROWN
One prospect I am keeping a close eye on is Moses Brown. The 7-footer is the ideal international center, as he can make shots to 15 feet, protect the basket and defend the high ball screen – there isn't a whole lot missing from what the five-star center can do.
So, why am I so intrigued to see what Brown can do in the Rocky Mountains?
The last time most of the national media saw Brown, he was finishing off a lackluster summer that saw his production come and go. Questions persist as to how great Brown can be and if he has the desire to reach his maximum potential.
Pinned against the very best this weekend and competing for 2018 center supremacy against Bol Bol, Jordan Brown and Nazreon Reid, Brown will have a chance at redemption in staking his claim as the very best center recruit in America.
What is even more peculiar is that Brown, with the dearth of elite centers in the 2018 class, has led a rather lacking recruitment. Louisville was the heavy favorite until the FBI probe last week, and Maryland is now battling a handful of others.
The time is at hand for Brown to take the step forward with his game. There is no denying his talent or potential. But against the nation's best, Brown will have eyes on him and if he can show a competitive spirit and the willingness to show attention to detail, he could walk away as the biggest winner among the prospects in Colorado.