Projections for 2018 NBA Draft lottery picks
Now that the 2017 NBA Draft has come and gone, it's time to take a look ahead to next year's draft. Rivals.com National Basketball Analyst Eric Bossi has his early look at the top college players who could be projected lottery picks in 2018.
NBA Draft Lookbacks: Markelle Fultz | Josh Jackson | Terrance Ferguson
1. Michael Porter, Missouri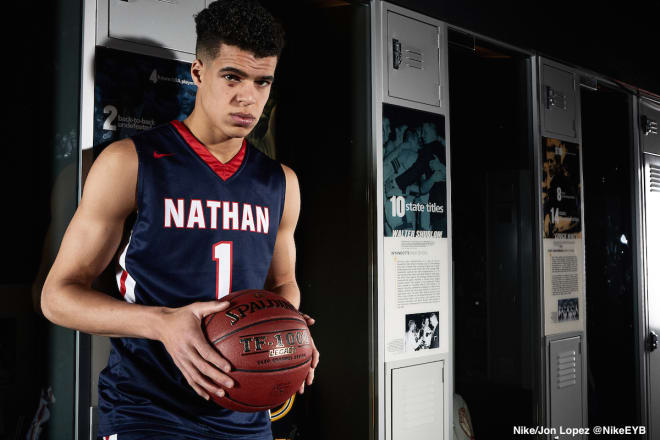 Why he'll go so high: I've said it before that I feel Porter is a better NBA prospect than anybody in this year's loaded draft. He has superior size, he is a big-time athlete and his skill level is off the charts.

What's the plan to replace him?: Whether or not Porter's younger brother Jontay Porter enrolls for 2017-18 or is a freshman in 2018-19, the five-star power forward is likely a big part of Missouri's plans. The Tigers are also heavily targeting 2018 wings and combo forwards such as Nassir Little, Torrence Watson, Montez Mathis, Darius Days and others.
2. Mohamed Bamba, Texas
Why he'll go so high: NBA teams love measurables and Bamba is a 7-footer with freakishly long arms who can really protect the rim. He runs the floor, rebounds and is adding strength. If he can add any advanced offense, things could get interesting.
What's the plan to replace him?: Most likely, current Longhorn James Banks will take on a major role as a junior after Bamba leaves. As things stand, Texas isn't being mentioned with many elite big men though five-star Simisola Shittu could be one to watch.
3. DeAndre Ayton, Arizona
Why he'll go so high: A 7-footer who will have an NBA-ready body after a year in Arizona's weight room, Ayton isn't just big he's also skilled. He shoots well, rebounds well and should have a monster freshman season.

What's the plan to replace him?: The Wildcats already have a commitment from five-star power forward Shareef O'Neal the son of legendary Shaq O'Neal. Arizona has also been targeting the nation's top player Marvin Bagley III and five-star Bol Bol, among others.
4. Miles Bridges, Michigan State
Why he'll go so high: Had Bridges decided to come out after his freshman year, he could have been a top 15 pick. With another year of college, he'll get to prove he can play the wing full-time and the Spartans are primed for a monster year that he'll be a big part of.

What's the plan to replace him?: Michigan State has already landed in-state wing Gabe Brown. Currently a non-ranked three-star, Brown will be making a move into the next Rivals150. With his length, athleticism and good-looking shooting stroke, he has a nice upside.
5. Robert Williams, Texas A&M
Why he'll go so high: Williams rolled the dice by deciding to stay in school and it should pay off nicely. A breathtaking athlete with size and length, he'll be Texas A&M's featured guy and should improve upon the impressive 11.9 points, 8.2 rebounds and 2.5 blocks he put up in 25.8 minutes per game as a freshman.

What's the plan to replace him?: Replacing a guy like Williams won't be easy. The Aggies can hope that Tyler Davis returns for a senior year or that they can swing big for four-star David McCormack.
6. Trevon Duval, Duke
Why he'll go so high: There will certainly be questions about his jump shot, but Duval is going to be the man with the ball in his hands at Duke, has freak athleticism and puts tremendous pressure on defenses. Heading into the 2017-18 season, he figures to be the top point guard prospect.

What's the plan to replace him?: Duke is chasing five-star point guards Tre Jones and Darius Garland hard. More than likely it will land one or the other and things are already looking really good with Jones, whose brother Tyus Jones was a one-and-done PG and national championship winner for the Blue Devils.
7. Wendell Carter, Duke
Why he'll go so high: From an NBA perspective, Carter is kind of a tweener between the power forward and center positions. He's maybe a little small as a center and not quite as athletic as current NBA four-men. But, he's strong, he has great hands and he's skilled.

What's the plan to replace him?: The Blue Devils are among the final six for Marvin Bagley III. They also had fast-rising David McCormack on campus a week ago.
8. Jaren Jackson, Michigan State
Why he'll go so high: Nearly 7-f00t with length, skill and budding athleticism, Jackson is just scratching at his potential. He should end up a good 15- to 20-foot jump shooter and is a good rim protector on the defensive end.

What's the plan to replace him?: The Spartans already have big man Nick Ward on board and though there's a chance he could leave after his sophomore year, he should be a dominant big man as a junior. Four-star big man Xavier Tillman will be a freshman with Jackson this year and four-star power forward Thomas Kithier is already in the fold from 2018.
9. Collin Sexton, Alabama
Why he'll go so high: Sexton figures to be one of the more electric scorers in college hoops as a freshman and he's a big-time athlete and competitor. If he can prove capable of running the show in the SEC, his stock could soar even higher.

What's the plan to replace him?: Potential Rivals150 guard Jared Butler is a big target for the Crimson Tide, as is high-scoring combo guard Will Richardson. On top of that, big-time 2017 recruit John Petty should be back for a sophomore year and ready for a leap.
10. Kevin Knox, Kentucky
Why he'll go so high: With his combination of size, length, athleticism and the ability to shoot and defend multiple positions, Knox fits right in with the direction the NBA is headed. He'll be John Calipari's first big-time wing with size since Michael Kidd-Gilchrist in 2011-12.

What's the plan to replace him?: History tells us that it's not a matter of if Kentucky replaces a five-star with a five-star, but a matter of which one. No. 2 Zion Williamson is high on the Wildcats' list and they could be setting up with a battle for Duke over the services of top five wing Cameron Reddish.
11. Hamidou Diallo, Kentucky
Why he'll go so high: Diallo could be the most athletic player in the draft next year and having declared in 2017, he's been through the process and knows what's expected of him. His decision to enroll early – getting him an extra semester in Lexington – should pay dividends and have him ready to perform.

What's the plan to replace him?: Four-star shooter Jemarl Baker will be in the same class as Diallo and isn't likely to be leaving for the draft, so he'll have experience. However the prize that the Wildcats really want is five-star shooting guard Romeo Langford, a top five player in 2018.
12. Mitchell Robinson, Western Kentucky
Why he'll go so high: If anything, this could end up being a bit of a low projection for Robinson. He's got the physical tools, protects the rim and can really run the floor. Now it's just a matter of seeing how he adjusts to the college game.

What's the plan to replace him?: Hilltoppers head coach Rick Stansbury has proven to be a heck of a recruiter, but replacing a top 10 talent such as Robinson right off the bat could be tough. But, keep an eye out for 2019's No. 2 player, Charles Bassey.
13. Chimezie Metu, USC
Why he'll go so high: Metu is another who might have been a first-round pick had he opted for the 2017 draft. After a junior season at USC he'll get more polish to go along with his absurd athleticism. The Trojans are loaded with talent and should have a great season, so he'll be getting headlines.

What's the plan to replace him?: The Trojans are in the final six for the previously mentioned Bagley III and they are also a legit contender for the services of Bol. Four-star J'Raan Brooks is one of many others to watch.
14. Bruce Brown, Miami
Why he'll go so high: Brown is a physically tough and athletic two-guard who can really get to the rim. He also projects as a Tony Allen-type defender in the NBA.

What's the plan to replace him?: Well, the Hurricanes thought they had the guy in 2017 five-star shooting guard Lonnie Walker. But, Walker may be a one-and-done and could end up a higher pick than Brown with a big season.