Pangos All-American Camp: Award Ceremony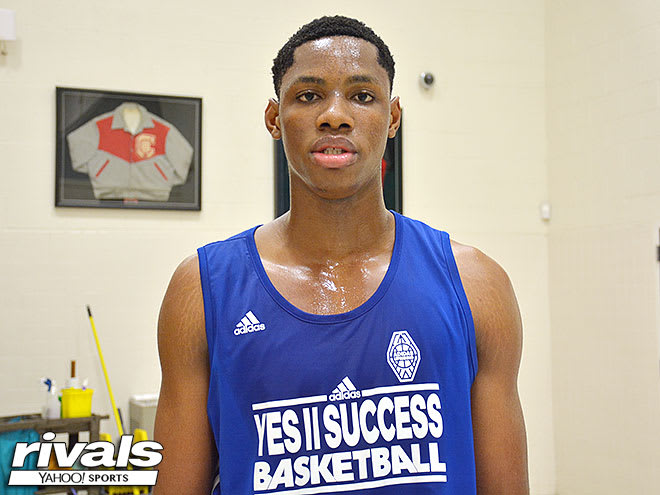 CERRITOS, Calif. – The Pangos All-American Camp once again brought the very best from the high school ranks to one place over the weekend, that being Cerritos College. Cole Anthony and Charles Bassey walked away with co-MVP honors as each produced from beginning to end. Finishing things up, we dish out our own awards for the standouts with news on where things stand with their recruitments.
More Pangos: Ayala nears decision | Pangos-NBA Finals comparisons
MR. MVP
No one had a better weekend than Cole Anthony. A super talented and very mature point guard, Anthony is a scorer. He's explosive at the basket so any nearby defender could be the next to be plastered all over mixtape highlight reels. The son of Greg Anthony, he plays summer ball with the PSA Cardinals and was our MVP of the highly prestigious event.
Recruitment: Things remain wide open as Anthony has yet to name any specific schools involved, though look for bluebloods Kentucky, Duke, UNC and Kansas, along with local schools St. John's, Rutgers, Seton Hall, and his dad's alma mater, UNLV, to be in the mix.
MR. WINDEX
Despite playing at less than 100 percent, Charles Bassey walked away with co-MVP honors. The amateur ranks have not seen such a dominant rebounder since maybe Dwight Howard. His physical DNA and ownership of his area is second to none as Bassey remains one of the top big man prospects.
Recruitment: Things have been rather mum regarding Bassey's recruitment but current intel received is that Texas A&M, Baylor, Iowa State, WKU, Texas and Kansas are the most involved.
MR. VALVOLINE
Getting the chance to play in the Top-30 Game, Samba Diallo showed off the best motor all weekend. He displayed the capacity and willingness to defend various positions and in a camp setting such as Pangos that's noticeable. He was a decent scorer at the basket but any program needs someone like Diallo, a utility knife that plays with no ego.
Recruitment: St. John's, Rhode Island and UMass are the most involved.
MR. PLAY-DOH
Holding 13 scholarship offers, his most recent coming Sunday from California, word is just now getting out about Bryan Penn-Johnson. A 7-foot center with a 7-foot-6 wingspan and giant hands, there is no more sleeping on the New York native who lives in Vegas. Penn-Johnson may be a year or two away but once his body catches up with his raw talent and underrated skillset, the big man will be a major issue in the post.
Recruitment: Washington and Utah remain the favorites as a trip to Santa Clara and UCSB is in the works for later in the month.
MR. NYLON
The definition of a Seattle scoring guard, Kevin Porter is smooth, talented and confident. He brings great length and a solid IQ to the floor while finding his own shot isn't much of an issue. He incorporates a nifty crossover and change-of-pace dribble to get his defender on his heels before banking on his fluid jumper to score it from each level on the floor. He could be an instant impact scorer in the Pac-12.

Recruiting: Washington, Washington State, UCLA, USC and Oregon make up a current top five contenders for his commitment in September.
MR. LUNCH PALE
As the weekend wore on, Ayo Dosunmu rose to the top. He's almost a guaranteed 20 points or more each time he takes the floor because of his ability to get to the rim. He has some De'Aaron Fox in his game and with an improved jumper Dosunmu has the chance to become one of the hardest defensive assignments in the 2018 class.
Recruiting: Heading to Illinois and DePaul this month for team camps, each program remains in the mix, along with others including Butler, Northwestern and newfound interest by way of Kentucky.
THE ICE SKATE MAN
Despite suffering through a stomach bug, rising junior point guard Trae Mann was a maestro with the ball in Los Angeles. He's grown two inches in the last year and plays with tons of confidence which makes staying in front of Mann a chore. A rather unknown from outside of his state, Mann walked away with MVP honors of the Top-50 Game, displaying excellent upside at the same time.
Recruitment: He picked up a recent offer from Texas A&M, but Florida is the program that has done the most work with him.
MOST IMPROVED
A well-known prospect for the past two years, Stanley was primarily thought of as an athletic freak that could defend different positions. He's still explosive, but Stanley is a smart and sound ballplayer that can handle it, create for others and make the right play off the high ball screen. The five-star is one of the best on the West Coast.

Recruitment: Stanford, Arizona and Alabama have positioned themselves nicely with Stanley.
THE GLUE MAN
For a top-50 prospect in a camp setting, Weaver impressed with his defensive effort. With his playmaking and physical ability, he is almost the total package at the lead guard position. He continues to enhance his resume as a two-way immediate contributor at the college level.
Recruitment: Down to a final 12, Weaver will trim his list even further later this month, though USC, Maryland, Villanova, Florida and Oklahoma State seem to be out in front.
TOP COMMITTED PROSPECT
With a college-ready body and inside-out game, Perry is a huge pickup for Mike Anderson and Arkansas. He played better as the weekend went on and he rebounded the ball, defended his basket and hit shots out to the perimeter. Playing alongside top-30 incoming freshman Daniel Gafford next year, he helps give the Hogs a young but talented front line.

Recruitment: Committed to Arkansas.
MR. REFLEX
Known for his quick shooting abilities and microwave-like skills, what really helps Richardson excel is just how quick-twitch he is. He gets wherever he wants with the ball and is now sliding into a playmaking role, throwing a number of impressive pocket passes off of the high pick and roll.

Recruitment: Most programs from the South are involved. The schools to watch include Auburn, Georgia and Georgia Tech.
A tough maestro with the basketball, it was nearly impossible for defenders to solve the riddle that is Jules Bernard. A super shift and crafty wing that can score the ball from each level, Bernard was arguably the best shooter in LA where he had no issues finding his own shot and converting with a hand in his face.
Recruitment: UCLA, Stanford, USC, Utah and Alabama.