Pangos All-American Camp: NBA Finals Comparables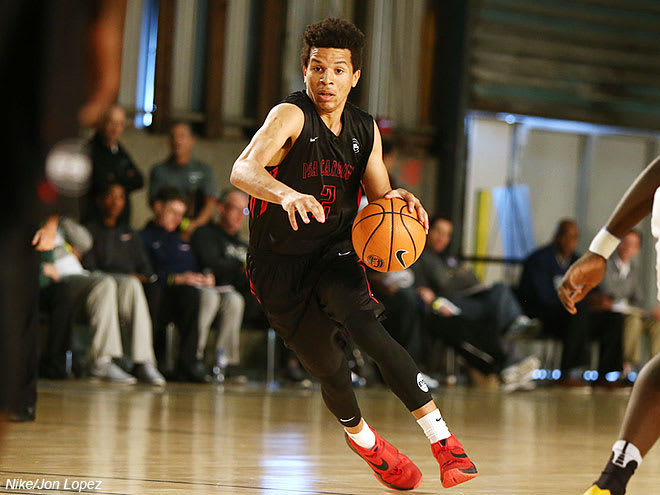 The Pangos All-American Camp kicked off on Friday evening as some of the very best high school prospects hit the floor at Cerritos College. Each have aspirations of one day putting on an NBA jersey and since we are in the meat of the NBA Finals, why not throw some comparables out between the stars of Friday evening and those that will suit up five hours north on Sunday? We indulge on that plus a few recruiting tidbits picked up along the way.
KYRIE IRVING
There might not be a better comparable here between Kyrie Irving and Anthony. Both more scoring point guards, Anthony, just like Irving, calls the Tri-State Area his home. Each use an explosive first step and unbelievable finishing skills to destroy their opponents near the basket. Anthony was tremendous on Friday evening finishing with 24 points off 10-of-18 shooting from the field. The PSA Cardinals' stud does need to become a better three-point shooter from off the bounce but entertainment, talent and ball skills sure are not lacking with the five-star sophomore. Anthony cemented his standing as a five-star prospect and made his case for MVP honors early on.
ANDRE IGUODALA
Heading into the spring, there were whispers out of New Jersey that Diallo had turned over a new leaf. In California, the 6-foot-7 wing sure played up to the part as, just like Andre Iguodala has prided himself on, he showed the ability to compete with no abandon for his body, defend various spots and crash the glass like his life depended upon it. He does need to rework his overall skillset but the NY Jayhawks star was the hardest playing competitor on the floor on Friday and really, it was not even close. The 2018 small forward is a jack of all trades type and while he may get overshadowed at times, just like the Golden State Warriors reserve, without a guy like Diallo, winning is much more difficult.
DRAYMOND GREEN
Okay, here us out here, as Draymond Green dwarfs Muhammed when you physically size up the two of them. However, each sport a plus-6 wingspan and have the physical tenacity that is tough to match. Muhammad, just like Green, has underrated ball skills and playmaking abilities that enable for either to be used as a facilitating agent in the half-court setting. Muhammad, again, just like Green, buys in as a lockdown defender and as someone that can be used on the opposing team's best offensive weapon. The New Rens product was a top standout of the day as he defended, shot the ball well out to three, and also finished with athleticism, pounding the final stat sheet like the all-NBA defender.
TRISTAN THOMPSON
While he was nursing a lower leg injury, Bassey gave it a go on Friday night and despite being at just over 50 percent, it was still better than half of those suiting up against him. Just an unbelievable physical specimen with unreal length and a quality motor, Bassey, like Tristan Thompson, is a big that is all about dominating the paint and, more importantly, the glass. He ripped down boards from in and out of his area and even showed off some ball skills on the break. However, Bassey's bread is buttered in the lane as he is a dominant rebounder and shot blocker.
KEVIN LOVE
Playing on an absolutely loaded Cal Supreme 17-under team this spring, it hasn't always been easy getting the playing time that Wang rightfully deserves. On Friday, the opportunity presented itself and the Mater Dei product used the heightened platform the best way possible. Knocking in 12 points in all, Wang isn't an exceptional athlete, just like Kevin Love, but he is someone that has a great feel for the game in the frontcourt along with a quality perimeter jumper from off the catch. He is a solid rebounder as he can pass it as well, which makes him a solid threat in the half-court setting. He may not be the elite outlet passer that Love is but Wang sure does bring unique traits to the hardwood like the former UCLA Bruin.
RECRUITING TIDBITS
Duke offered Emmitt Williams in April but getting any recruiting information out of him and his camp is rather difficult. However, the five-star big man did take an unofficial visit to USC this past week and the talk following it was that the trip went phenomenally well. The Trojans may be a major darkhorse program with the five-star big man, though. Florida, Miami and a slew of others remain in pursuit.
A top-100 shooting guard that made some noise on Friday, Luther Muhammad remains wide open with the recruiting process. However, he will take his first official visit at the end of the month, a trip that will lead him to Butler; others involved include St. John's, Cincinnati, Notre Dame and Xavier.
Devon Dotson is likely to publish a cut list in the coming days and while he did not lead on as to who might make trimmed list, Dotson did speak highly of Arizona, Kansas, NC State, Wake Forest and Florida following his opening night session.