Peach Jam: Saturday awards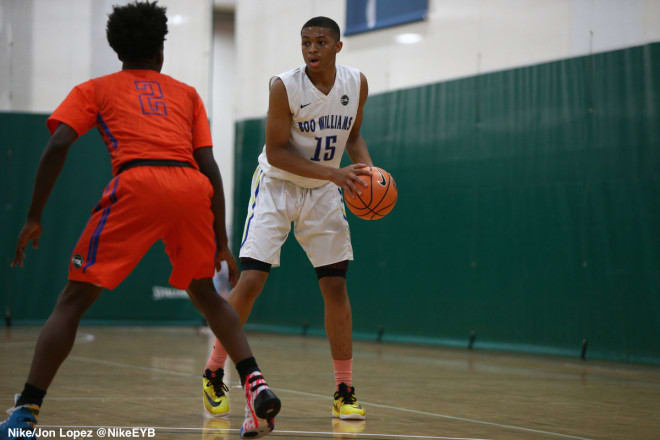 NORTH AUGUSTA, S.C. -- One of the most exciting days of the travel basketball season, the quarterfinals and semifinals of the Nike Peach Jam lived up to its billing. Some of the very best high school prospects hit the floor at the Riverview Park Activities Center, and while the finals are set to hit center stage on Sunday, there is no better time to dish out awards from the day that was.
MORE: Five-star Tre Jones update | Jones among Peach Jam standouts
THE BULLDOG
While he can get a bit chirpy at times, asking Keldon Johnson to compete on a consistent basis is never an issue. While his Boo Williams team came up just a bit short on Saturday evening, it was not due to a lack of effort from the top-50 wing. Averaging over 13 points, 10 rebounds and four assists on Saturday, Johnson is a stat sheet filler. He gets to the foul line with the best of them and is one of the top tone setting prospects in the 2018 class. Johnson was watched by head coaches from Virginia, Virginia Tech, Wake Forest, Maryland, Georgetown, Oregon, Texas, N.C. State and Florida State on Saturday. The bulldog that is Keldon Johnson came and conquered again, cementing his standing as an elite competitor.

MR. CLUTCH
With his future head coach Mark Turgeon sitting in the bleachers, Jalen Smith was absolutely sensational down the stretch, leading his Team Takeover 17-under group back from a double-digit deficit to beat the talented Bradley Beal Elite bunch to get his team into the finals on Sunday. A 6-foot-9 big man headed to Maryland, Smith has been one of the more tantalizing prospects in the 2018 class in recent years. While he can go through spurts of inconsistency, whenever he is playing with the motor, a purpose and toughness - like he did on Saturday evening - there are not many others better. The top-25 center was clutchest of clutch and etched his name into Peach Jam lore thanks to his 21-point, 11-rebound effort.


THE GOSSIP KING
Heading into the week, there were a few regional high-major programs in pursuit of Jericole Hellems. Following his time in North Augusta, however, things have hit the highest of levels. A 6-foot-7 prospect who can play either forward position, has revamped his body and displays a selfless approach that any head coach would love to have in a player, there has not been a more frequently discussed prospect in South Carolina. More of a complementary piece on both the high school and travel circuit scenes up until now, the rising senior eclipsed 20 points three separate times at the Peach Jam. With a more developed skillset, he's been able to pull in offers this week from Wake Forest, Wichita State, Ole Miss, Missouri, Arkansas, Georgia Tech and Kansas State.

MR. CONFIDENT
Fresh off of his gold medal run with the United States under-16 crew in South America last month, Wendell Moore was back with his Team CP3 16-under bunch this week, looking his best yet. A 6-foot-4 swingman who is best used on the ball, coaches and scouts have always wished that Moore could shoot with more accuracy. While his shots weren't going in as much as he might have liked, the fact that he attempted perimeter pull-ups while also showing some moxy on tough-nosed finishes at the basket generated excitement. Watched by head coaches from Virginia Tech, Wake Forest, Maryland, N.C. State and assistants from Kentucky, Duke and UNC, Moore has always been a heavily recruited prospect; he is now evolving into a blue-blood priority.

THE JACKRABBIT
Heading off site and to the Nike Peach Invitational Tournament, Jalen Lecque did not fail to excite. The 6-foot-2 combo guard drew a bevy of well-known head coaches, and in doing so, backed up the recent uptick in his college recruitment. Lecque, who reclassified into the 2019 class, has really improved as both a ballhandler and also as a playmaker. However, the Southern Stampede 17-under squad standout is best served attacking the basket - he is capable of putting a defender on a poster with a highlight reel dunk. While he was unable to finish his team's game due to a knee sprain, Lecque has continued to improve, which is why he was watched so heavily by head coaches from Texas, Oklahoma State, VCU, Villanova, Cincinnati, Seton Hall, Virginia, Wake Forest and Auburn on Saturday.
WHO IS THAT GUY?
Playing on the big stage of the Nike Peach Jam, Hunter Dickinson might have worn a number on his jersey, but it should have been a question mark. The 7-foot center showed emotion going up against others two or three years older than him. A 2020 center who does need to get his body right in the coming years, Dickinson is quite the prospect. The slew of college coaches in attendance kept asking, "Who is that guy?" Once they realized that he was just a rising sophomore, the raised eyebrows turned into heads shaking as Dickinson acted like he belonged among the elite of the elite. Wake Forest offered immediately after, becoming one of the first of many to pursue the Maryland native.

BEST PROSPECT
Very rarely on a Saturday morning in the heat of July do college coaches get up for the first game of the day, especially when it is a contest between the younger grades. Saturday's 9 a.m. session was a bit different as Kentucky, Duke, UCLA and UNC each made their way into the gym for potential top-five 2020 wing Jalen Green. Green, who played alongside Wendell Moore on the United States under-16 team in Argentina, was fabulous during his morning session. A 6-foot-4 scoring wing who has drawn comparisons to a younger Malik Monk and Hamidou Diallo, Green threw down the dunk of the event over an unassuming defender, kicking off his sophomore summer on a high note. Look for the blue-blood programs to get involved early and to pursue The Truth wing heavily.
BEST TEAM: TEAM CP3 16-U
Wendell Moore is the headliner for the Team CP3 16-under squad, but there is no shortage of talent on his North Carolina-based bunch. After defeating a super talented Team Takeover 16-under unit, Moore and his crew will play for the Nike Peach Jam 16-under championship on Sunday. Whether it was Virginia Tech-bound Kobe Langley, Keshaun Langley or BJ Mack, or others including Dericko Williams, Chaz Gwyn, Isaiah Wilkins, or Thomas Bruner, the culture remains intact with the Chris Paul sponsored program, and that was reflected again this weekend with their run into championship Sunday.