Peach Jam observations: Five-stars Jalen Smith, Tre Jones headline Saturday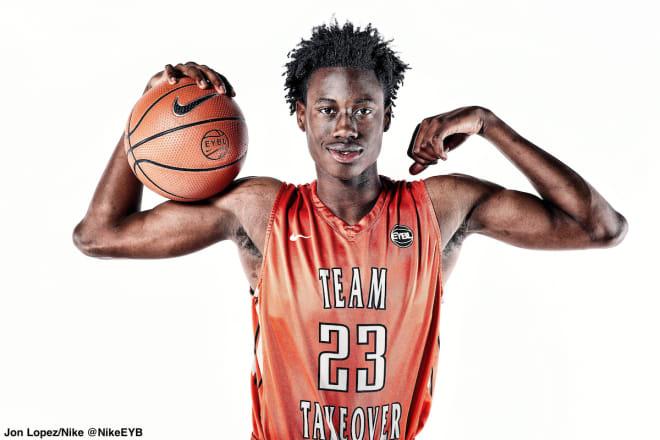 STICKS WITH THE STONES
Maryland-bound big man Jalen Smith has always had five-star talent, but he hasn't always had five-star consistency or production. "Sticks" sure came up big at the Peach Jam on Saturday, though, as he helped will Team Takeover to the finals during a command performance in a comeback win over Bradley Beal Elite.
On a night where his team scuffled offensively and trailed by double digits for much of the second half, Smith came up huge on both ends of the floor. He did his most important damage down the stretch controlling both sides of the floor as Mark Turgeon and the entire Terps staff looked on. He was good for 20 points and 11 boards and has been at his best all week long.


JONES BACKS UP BILLING AS TOP PG IN 2018
The most anticipated matchup of the quarternfinals was a head-to-head battle between 2018's top point guard Jones and fellow five-star Darius Garland. Garland and Bradley Beal Elite got the win to advance, but Jones was clearly the victor of the individual battle with 30 points and four assists.
Maybe most impressive was that Jones was just as good on the defensive end as he was offensively, where he got to the rim and made plays in the paint at will.

Jones hasn't said there is a leader, but Duke is considered the favorite with others like Minnesota, UCLA, USC and Ohio State trying to change his mind.


STOCK UP FOR JAMES AKINJO
One of the biggest stock boosters at the Peach Jam is Akinjo. Thanks in large part to his leadership, scoring and clutch free throw shooting, the Oakland Soldiers will face Team Takeover in Sunday's finals.
Akinjo isn't the biggest point guard, but he has loads of toughness, can knock down jumpers and is a good creator for himself and others off the dribble. California, UConn, Nevada, Texas A&M are among those that have offered and watched closely, and it seems like more high-major schools showed up to each game. Expect more offers from him to come over the next few days.

MOORE'S TOUGHNESS IS A COMMODITY
He's already been a priority recruit for Wake Forest, North Carolina, N.C. State and others, but Wendell Moore is adding more attention and even coaches that aren't recruiting him love the way he plays. They should.
What makes Moore such a valuable prospect is that he is a great teammate, plays with toughness and finds ways to be productive when his shot isn't dropping. He's going to be a college player that impacts winning for multiple years.
Look for Duke to be among those that turn things up with him for the rest of the summer.

2019 AND 2020 EYE CATCHERS
On playoff Saturday, there's more time to to check out the 15U and 16U prospects in action, and many stood out.
We really like the 2020 backcourt of the Arkansas Wings, especially Gerald Doakes. He's an explosive two guard who likes to let it fly from deep but can be elusive off the dribble. His Wings and high school teammate at Jacksonville (Ark.) Lighthouse, Davonte Davis, is an impressive point guard. He's lanky and fast and plays with energy. It wasn't a surprise to see Arkansas' Mike Anderson and assistants watching them closely.
In the 15U finals, the Wings will play Detroit based The Family, which is also loaded. Point guard Jalen Terry is an outstanding prospect. He's long, he has a great first step and he is a leader who makes clutch plays. In slender power forward Isaiah Jackson, they have a fluid and skilled four man with potential. Only a high school freshman to be, Jaden Hardy is a shot-making two guard with size and pedigree - his older brother, Amauri Hardy, will be a freshman at UNLV.
Top 125 rising junior Casey Morsell of Team Takeover 16's is wired to score. He is an attacking guard who gets to the rim and backs up his attacking with a nice jump shot. Look for him to become a Mid-Atlantic high major priority.