National Prep Showcase Saturday: McGowens has options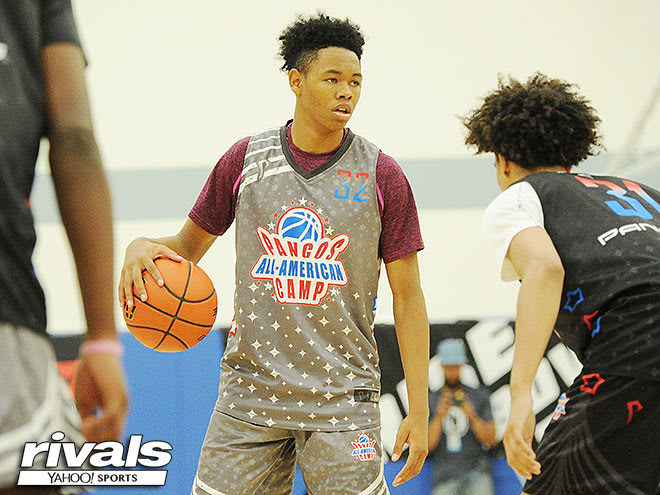 NEW HAVEN, Con. – There's no better place to kick off the high school and prep season than at the National Prep Showcase. The perfect springboard for its participants in jump-starting their college recruitments, Kevin Zhang and Trey McGowens showed why their name have picked up steam on the trail of late but it was Anfernee Simons that caused the most commotion in New Haven.
ANFERNEE SIMONS' SITUATION
For a three-day spree, the final Tuesday, Wednesday and Thursday of September was the worst that you could imagine for Anfernee Simons. The five-star guard was blindsided by the FBI sting that incriminated his future Louisville basketball family. It then led to his decommitment within 24 hours, where he then suffered a fractured hand in practice. Talk about bad luck. Finally, back on the floor for his first weekend of hoops and alongside his new teammates at IMG Academy, it took three halves to shake off the cobwebs but Simons woke up on Saturday, displaying all of the qualities that make him such a highly touted prospect.
Finishing with 20 second half points and 23 in all, Simons made with a handful of NBA scouts in attendance. As we discussed last month in full, Simons has the option of entering his name into the NBA Draft as he will be of age and a full year removed from his high school graduation. "If I have the chance to and I feel like it is the right situation, and if I am mentally ready for it, then I will look into it," he said. "I am probably leaning towards college."
If I was a betting man, I'd say it's a 90 percent chance you'll see him on a high major playing floor next year. The schools in pursuit? "Tennessee, South Carolina, Florida and NC State," he said pertaining to those in touch the most.
Expect for Simons to patiently sift through the recruiting process for the second time this winter. A number of others will likely jump into the mix but keep a closeful eye on NC State as they have slowly gained traction in the eyes of the tremendously talented IMG product.
OPTIONS APLENTY FOR TREY MCGOWENS
The option was there for Trey McGowens; remain in his original class of 2018 and sign during the first signing period, or stick to his plans of reclassifying a year back in hopes of bettering his college recruitment. After Saturday's impressive showing as he scored 19 points, grabbed five rebounds and dished out four assists in just 15 minutes, there will likely be suitors aplenty, regardless of when he decides to start his college clock.
A 6-foot-2 combo guard that is evolving into a playmaking lead guard, McGowens returned from an official visit to Clemson two weeks back, a trip that had him thinking of pledging to the Tigers. "Clemson has been on me every day; they want me to go 2018," he said. "I am still thinking about that but I will probably make that decision later now."
The Rivals150 product decided to remain patient with the process, of which has led to a slew of ACC programs and a few others jump into the mix for him. "Wake Forest has been hitting me, Coach (Kevin) Keatts from NC State was here to see me yesterday and St. John's came to see me today," he said. "Kansas State is on me hard, too."
Where can we expect McGowens next? On Friday, November 24, the four-star guard will visit Wake Forest before heading to South Carolina the following day. He remains a class of 2019 prospect but with a number of programs missing on their top targets last week, the opportunity may arise for McGowens to have the pick from the litter in the spring, a prospect worth keeping tabs as if your school needs a guard recruit for next year.
NEW & OLD PRESENT FOR KEVIN ZHANG
Plenty of eyebrows were raised whenever UCLA offered Kevin Zhang in September. A rather unheralded member of the Montverde CBD program, Zhang has been in the United States for his entire high school playing career, though he is nowhere to be seen during the summer months as he retreats back to his native China. More of a slender, perimeter based power forward, Zhang turned major heads on Saturday, his first viewing in front of a throng of college coaches and media in attendance this year, proving the Bruins correct with their initial offer.
Finishing with 25 points off of three made 3-point jumpers and a few other impressive dunks throw into his smorgasbord of tricks, the UCLA offer has Zhang intrigued. "The offer is a big opportunity for me to show others my abilities. It is a really good college program," he said. "I am going to visit there hopefully at the beginning of the year," he said.
Not to be outdone, DePaul has slowly worked their way into the mix. "Having that familiarity with them and Coach (Shane) Heirman, whenever he got the job, he kept talking to me," he said. "I have been there once. It has a really nice campus with good coaching."
Shane Heirman, a staff member for the Blue Demons, originally coached Zhang at La Lumiere, a program that the 2018 forward originally suited up for before transferring into Montverde CBD.
Does Zhang opt for the west coast and attempt to shine in current roles of GG Goloman and Alex Olesinksi, or does he decide to take the familiar route and head back to the Midwest and play under his past high school team's head coach? It is one worth watching, a recruitment that should continue to leak into the late winter months.
NOTES FROM THE SIDELINE
Penn State has a good one headed their way in Rivals150 guard Rasir Bolton. The 6-foot-2 guard finished with 24 points and five rebounds in New Haven, displaying tremendous toughness and a penchant for making difficult shots. There are already questions pertaining to Tone Carr's long-term stay in Happy Valley as he could opt for the NBA after this season, thus creating an even bigger opportunity for Bolton to contribute as a playmaker and scorer for Pat Chambers' bunch.
Guard play has never been a question for a Bob Huggins team at West Virginia but with the current semester-long suspension of Esa Ahmad and a current dearth of bodies in the frontcourt, it had to be difficult not enrolling four-star big man Derek Culver this fall. Originally slotted to attend the Big 12 program in September, Culver headed to the prep ranks and on Saturday, showed just how good he could be in Morgantown. In limited minutes, the Brewster product may have been the most impressive long-term prospect I had seen. He should be a day one producer for the Mountaineers, a 6-foot-9 frontline presence that can score, rebound and defend, the type of big man that is currently lacking for WVU.
There is no better prospect in America that displays the Play Angry mantra that Greg Marshall's teams have personified at Wichita State than Morris Udeze, hence why the marriage between program and player is one of the better ones this fall. The 6-foot-9 behemoth finished with 16 points off of 7-of-11 shooting on Saturday but it was his workmanlike ability in the paint and well-oiled motor that should make him the perfect replacement for Shaq Morris in Wichita.