Five-star Simons talks Louisville decommit, new suitors and NBA option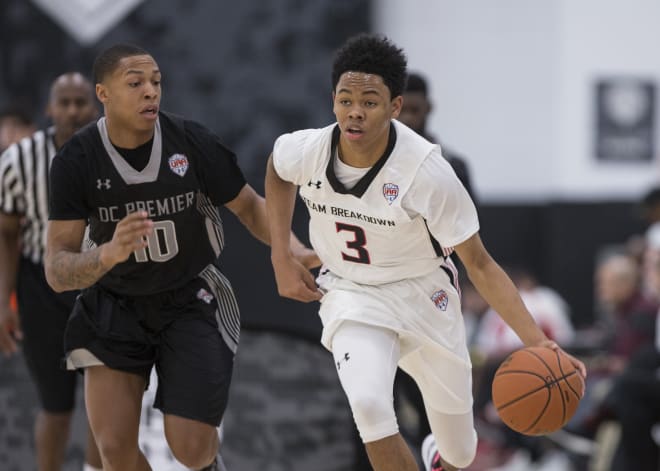 BRADENTON, Fla. – Sept. 26 was the day that not only changed the lives of the 10 men arrested in the FBI sting that rocked the college basketball world, but also that of five-star 2018 guard Anfernee Simons. After a yearlong pledge to the Louisville men's basketball program, Simons backed away from his commitment Sept. 28, attempting to escape from the nation's attention for the next few weeks while he gathered himself.
In his first in-depth interview since his decommitment, Simons - who was not named in the FBI investigation, unlike some of his peers - discussed his feelings on the matter. He also talked about how his newfound recruitment is shaping up and whether the NBA could be a likely destination instead of college since he will be a full year removed from graduating from high school this spring.
Corey Evans (CE): "What has the whole month or so been like for you?"
Anfernee Simons (AS): "I have just been talking to the coaches and stuff like that and trying to build relationships with everyone."
CE: What was that first day for you like after everything happened with the FBI investigation?
AS: Once I decommitted, it didn't take long for the college coaches to call me.
CE: But what did it really feel like, getting that news that these things were happening at Louisville and Coach (Rick) Pitino would no longer be there?
AS: It was crazy. I was just like everybody else hearing about the news. I just had to do what I had to do.
CE: Now that you're focused on your recruitment again, who would you say has been in touch with you the most often?
AS: Tennessee, SMU, UCLA, Alabama, Florida and Florida State a little bit.
CE: Who has been in here for you? All of those schools?
AS: Yeah, pretty much all of them.
CE: Has UCLA offered you yet?
AS: Not officially.
CE: What have they had to say to you?
AS: I can be the guy to come in and score the ball, but also run the team. They said that I could be the 1 or the 2 and to come in and let me shoot the ball.
CE: Florida was a school that many believed you might jump right at, but they took two guards in Noah Locke and Andrew Nembhard. What have they said to you?
AS: Pretty much the same thing that they said before I was committed - that I could come in and play immediately and play the 1 or the 2. I'm not afraid to compete.
CE: Alabama is the only school to have officially offered you so far?
AS: Tennessee did, too.
CE: What has Alabama said to you about playing next to Jared Butler and how you two could coexist if Collin Sexton and John Petty were to leave after this season?
AS: They told me that they would be gone, but they haven't talked about how we would play with each other. But Avery (Johnson) just said he has been in the league and has all of the connections and he knows the ins and outs of it all, so he could help get me to where I want to be.
CE: Tennessee is another school that has come on pretty hard of late. What has Coach (Rick) Barnes had to say to you?
AS: That its just a good program and coming up. Rick Barnes has coached a lot of good guards and gotten them to the league. He said that I could come up and make the program go higher.
CE: You first committed to Louisville over a year ago. What do you really value now in making another college decision?
AS: Just gaining trust with the coaches, them having a vision for me and having that vision match mine.
CE: Signing period is coming up this week. What is your time table for visits and a commitment?
AS: I probably will take my visits during the season and then commit in the spring.
CE: Anything set up yet?
AS: Nothing official.
CE: Any trips that you want to take?
AS: I am going to take an unofficial visit to Florida, but I will probably visit Tennessee, UCLA and maybe Alabama. But those are the just the ones that I can think of right now.
CE: You're here at IMG where, two years ago, the topic of the NBA came up for (Jonathan) Isaac. Would that interest you in making the jump straight to the league?
AS: Yeah, a little bit. I just need to be mentally prepared for it and get stronger physically.
CE: What is higher on your list, the NBA or going to college?
AS: Right now, I am going to college. If the NBA is there, I might test it out, if the opportunity is there. But I will have to talk to my folks.