McDonald's Takeaways: Atlanta tournaments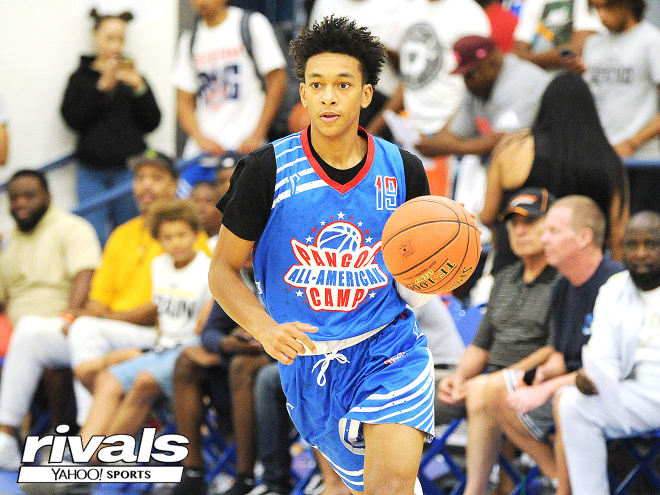 MORE: Eric Bossi's Saturday blog from the Great American Shootout
The second live period in the Atlanta area continues to bring out many of the top players in the country, which means top college coaches won't be far behind. Rivals.com split time between the On The Radar Hoops Super 6 and the Best Of The South on Friday and Saturday to take in all the action.
TRE MANN OPENING UP HIS LIST
Earlier this spring and summer, top 30 guard Tre Mann appeared to be closing in on a college decision. He cut his list down to Florida, Kansas and Tennessee, and took official visits to Florida and Tennessee. He had his decision date set as well. But after more thought, that's no longer the case.
"I'm opening it back up to everybody," Mann said.
The Florida native mentioned Iowa State, North Carolina and NC State as three schools he's heard from lately, and maintains that Florida, Kansas and Tennessee are still in play. Roy Williams and an assistant were courtside for Each 1 Teach 1's game Saturday afternoon.
"They've just they want to build a relationship with me and get to know what kind of person I am before they offer me. They have a great program. They got a great coach who is a winner. He's been there for a while and has experience."
Mann said there is no timetable for visits or a decision in his recruitment.
SCHOOLS STILL TRYING TO CRACK BACOT'S LIST
Fresh off competing for Team USA followed by winning the Nike EYBL championship at the Peach Jam last week, five-star power forward Armando Bacot is spending the second live period playing in Atlanta in the Super 6. On Saturday morning against Team Breakdown, Bacot was up to his normal tricks being a bully in the paint in the big win.
Afterwards, he talked about where he's at with the recruiting process as we approach his senior year, which he will spend at IMG Academy.
"I have my top 10, but Kentucky has been reaching out and Georgia is another school that has been talking to me a lot," Bacot said. "I plan on releasing my top five sometime in August, probably in the middle of August. I'll probably make my decision after my official visits unless I just get that feeling before I'm done with them all. I plan on signing early."
Bacot's top 10 consisted of Duke, Georgetown, Kansas, North Carolina, Oklahoma State, UCLA, VCU, Villanova, Virginia and Virginia Tech. Of those schools, North Carolina, Oklahoma State, Virginia and Virginia Tech had head coaches in attendance to see him on Saturday morning as did Georgia.
KAI JONES CONTINUES TO IMPRESS
The rise of Kai Jones has been pretty remarkable over the past couple months. He's gone from a prospect who was on the radar of high-major coaches in April with no firm offers to a prospect with over 30 offers. The most recent to join the mix was Florida State earlier this week with Kansas, Syracuse and Providence putting scholarships offers out last week.
"I'm still in the early stages. It's been a fun process. I'm just taking it slow and trying to find the best fit for me," Jones said. "All the schools are great. I'm blessed to have a lot of choices, but right now I'm just focused on getting better. I'll probably narrow my list down and take my visits starting next month and most likely sign during the early signing period."
The Florida State offer has his attention.
"It was great. It's a good school. Before I started playing basketball, it was a school I was working really hard to get into. So now it's kind of a blessing to have a scholarship offer from them. It's kind of surreal."
COACH WATCH
Along with making the trip to Atlanta for Tre Mann and his teammate C.J. Walker, Roy Williams and assistant Brad Frederick watched Team Takeover vs Team Breakdown to catch Armando Bacot and Kai Jones. They were also seen watching North Carolina natives Patrick Williams and Caleb Mills.
Speaking of Patrick Williams, continues to bring impressive number of head coaches out to his games. Today, he had Buzz Williams, Leonard Hamilton, Jim Larranaga, Tony Bennett, Chris Mack and Danny Manning.
Kentucky had an assistant keeping tabs on D.J. Jeffries, who was suiting up for Team Thad this week. He also watched five-star guard Anthony Edwards. Florida State has long been considered a leader for Edwards and had Leonard Hamilton on hand to see him.
Alabama had at least one assistant at every one of CJ Walker's games. Miami's Jim Larranaga watched him Saturday afternoon as well.
Chase Hunter had Brad Brownell, Buzz Williams and a number of high-major assistants tracking him. Georgia had coaches at all his games and offered the legacy recruit Saturday night.
It was either an SEC coaching convention on Court 4 at the LakePoint Champions Center on Friday afternoon or four-star 2020 shooting guard Keon Johnson was playing. Bryce Drew, Rick Barnes, Mike White, Kermit Davis and Bruce Pearl were all in attendance along with other SEC assistants. Tony Bennett was also spotted.
Xavier's coaching staff appears locked in on a pair of Georgia prospects. Travis Steele and assistant Jonas Hayes have been seen at all of Daniel Ramsey's game and all of Dwon Odom's games. The Musketeers are in a strong spot with each.
Mississippi State assistant George Brooks was a regular at Team Thad's games for four-star wing Jaykwon Walton. Ben Howland was in the building on Saturday. The Bulldogs are considered the favorite for his commitment.