McDonald's Nuggets: NCAA camps, Cam Hayes, prediction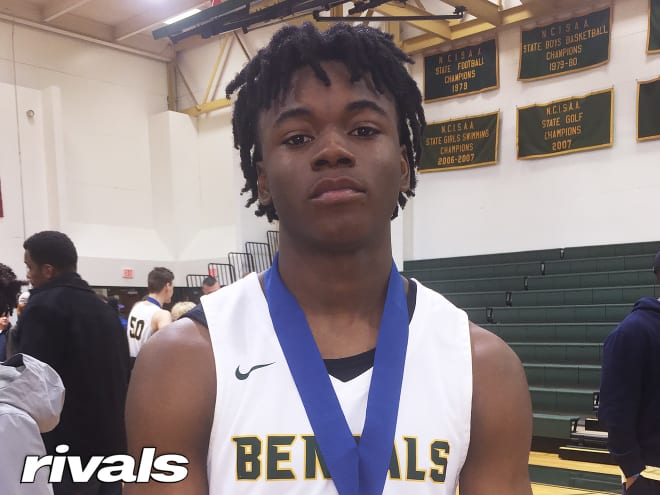 Dan McDonald is back with his weekend primer, McDonald's Nuggets. This week's edition includes thoughts on the NCAA regional camps, an update on a top class of 2021 point guard and more.
MORE: 3-Point Play | Bossi's Best
WHAT'S ON MY MIND: NCAA regional camps need to go
Last week, I talked about the summer recruiting calendar in general. Today, I want to talk about what a joke these individual camps are for college coaches when it comes to evaluations.
My biggest question with these camps remains: Who are they benefiting? There aren't enough high-major prospects there for high-major coaches to get a good evaluation because even if there are some they won't be playing against players on a similar level. A lot of mid-majors and low-major programs either didn't send any coaches out or only sent one or two out as opposed to all four coaches on the staff because it's a waste of a limited budget for them in a lot of cases. So that limits the number of coaches the kids that actually go get to play in front of and make impressions. Lastly, even when the last week of July was a live period, a lot of top prospects chose to shut it down and not play just because the summer gets long.
Like I said last week, individual camps are just rough places to get good evaluations on players. It's hard enough to get kids to play unselfishly on a team they have been with for months, and now we're expecting coaches at a camp that don't know the kids to be able to get them to play together in a matter of hours. It's just a really bad idea by the group that came up with these camps.
In the past, the NCAA and college coaches complained about event operators in the summer not providing accurate rosters and schedules after charging a few hundred dollars for packets. I heard from multiple coaches and media members this past weekend that the packets given had plenty of errors in them as well, so we didn't even fix that problem.
I go back to my initial question. The prospects aren't really benefiting from playing in front of coaches at the camp. The coaches aren't getting a ton out of it. The NCAA doesn't look great here, either.
My proposal to fix the end of July is pretty simple. Go back to two live periods in July with travel teams. In order to do that, I've even come up with a compromise. If I'm not mistaken, there has been a life skills component to these NCAA camps. I think that's great because I don't think people at any age can get enough good advice. My compromise would be that in order to be approved to run a live period event in July event operators would be required to have some sort of life skills seminar as part of their tournament. It could be any topic, whether it was money management, how to use social media effectively and not get in trouble, NCAA rules advisement, etc. This way the weekend is a win for prospects both on and off the court and it gives coaches a better setting to evaluate. Those two elements combined make it a win for the NCAA.
RECRUITING NOTE: Cam Hayes eyeing visits
I had a really good conversation with class of 2021 point guard Cam Hayes on Wednesday night about his recruitment. The four-star prospect has schools from all over the East Coast chasing him down. The newest school to jump into the mix has been Maryland. Hayes mentioned that since offering him a couple weeks ago the Terps staff has been relentlessly recruiting him. The North Carolina native also mentioned Clemson, Florida State, Louisville, NC State, Tennessee, Virginia, Virginia Tech and Wake Forest as schools involved in his recruitment. He has visits in August set with Louisville and Maryland, and he plans to take official visits to Florida State, NC State and Tennessee in September.
PREDICTION: Chris Youngblood will be most impactful 2020 commitment
When Chris Youngblood committed to Kennesaw State on June 15, it didn't get much attention outside of the Atlanta basketball community, which isn't unusual as he was committing to a school that hasn't had a winning season as a Division I program. But make no mistake about it, this is probably the most impactful commitment to date in the 2020 class.
I'm aware there have already been some highly ranked prospects to commit, but the schools those prospects are committed to are schools that will always get those type of prospects to commit. Youngblood is the type of player that can change the course of the Kennesaw State program and potentially get the Owls into the NCAA Tournament down the road with some help. When we update rankings next month I'm going to push hard with Corey Evans and Eric Bossi that Youngblood should be in the Rivals150. He has great size at 6-foot-4, with a strong, athletic frame. He's a really skilled player and just makes the right play. Every team he's on wins. His East Coweta High School team went 24-1 in Georgia's highest classification in the regular season before injuries caught up with them. He won MVP of the Battle For Georgia at LakePoint with all the top Georgia travel teams playing, and he led his Georgia Knights to a championship over the Atlanta Celtics, who are led by Deivon Smith, Dwon Odom and Caleb Murphy. Youngblood joined Game Elite (FL) for the last adidas event of the summer and averaged over 20 points per game. He has star potential at Kennesaw State, and I truly believe he would have received several high-major offers had he not committed so early.
COMMITMENT OF THE WEEK: Dalen Terry to Arizona
Dalen Terry recently received his offer from Arizona and didn't take long for him to accept it, as he committed to Sean Miller earlier this week. It's a huge score for the Wildcats to keep Terry home at the next level. The 6-foot-6 point guard is a really good athlete and play-maker offensively. Right now, he might be an even better player at the other end of the floor, where he can wreak havoc on the opponent. He's the fifth-highest ranked prospect to make a verbal commitment so far in the 2020 class.