McDonald's Nuggets: Leonard Hamilton, Texas A&M, Louisville
WHAT'S ON MY MIND: Leonard Hamilton is underrated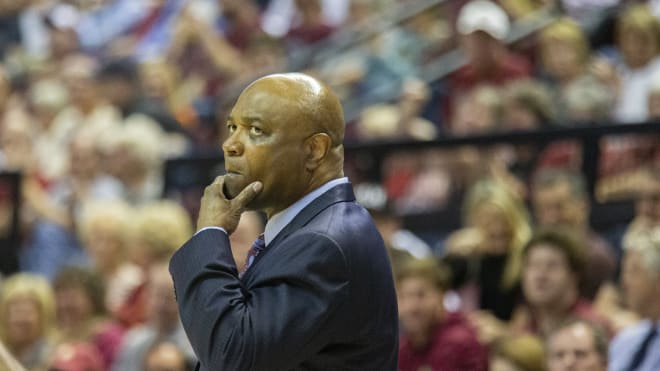 Last week, I wrote about how Scott Drew is an underrated and underappreciated coach based on the job he's done at Baylor. This week, I want to talk about another coach who I don't believe gets the recognition and the respect he deserves. That man is Leonard Hamilton, the head coach of the No. 5-ranked Florida State Seminoles.
He's been the head coach at Florida State since the 2002-03 season. In his first six seasons, his teams never reached the NCAA Tournament. But in the last eleven seasons, the Seminoles have made it seven times and are well on their way to making that eight out of 12 this year. Among those seven appearances, Florida State has advanced to two Sweet 16s and an Elite 8. This year's team is good enough to potentially cut down the nets in Atlanta.
A lot of times coaches can be labeled as either a recruiter or an Xs and Os guy. You don't win as much as Hamilton has at Florida State without being a strong floor coach. He's won with stronger defensive teams most of his tenure, but he's also had some teams in recent years that could score with the best of them.
You also don't win as much as he has without recruiting the "Jimmy's and Joe's," and he's done that at as well any coach outside of the bluebloods. This year, the Seminoles come in with the No. 11 overall class, with commitments from five-star small forward Scottie Barnes and four-star small forwards Sardaar Calhoun and Malachi Wideman.

Since 2015, Florida State has signed a five-star prospect in every class except 2018. They only signed one prospect in the 2018 class, which happened to be a highly underrated wing who is now being projected as first-round pick in this year's NBA Draft in Devin Vassell. Hamilton and his staff have been known to land the highly ranked prospects such as Barnes, Patrick Williams, Jonathan Isaac, MJ Walker, Dwayne Bacon and Malik Beasley, but they have been successful finding under-the-radar stars, too.
A lot of times it's hard for a coach who doesn't coach at a blueblood program and hasn't been able to break through with a Final Four appearance to get the respect he deserves. Maybe this is the year for the Seminoles to get hot at the right time and make a deep run in March Madness to help get Hamilton more of the respect he deserves.
RECRUITING NOTE: Texas A&M adds an elite shooter
Buzz Williams and his staff struck early with a big commitment from class of 2021 shooting guard Jaxson Robinson. I was not only a bit surprised he committed so early but I was also surprised the Aggies were able to beat out Arkansas for his commitment, given his relationship with Razorbacks assistant Chris Crutchfield.
This could be one of the more impactful commitments in the 2021 class when we look back on it. The Oklahoma native is one of the top shooters in the class nationally, and some might argue he's the best. He has great size on the wing at 6-foot-6 and a 7-foot wingspan.
Texas A&M's roster is coming together nicely for Williams, particularly in the backcourt. Four-star point guard Hassan Diarra is good enough to take the reins early in his tenure in College Station and the future looks bright with Robinson and three-star class of 2020 shooting guard signee Hayden Hefner joining the program.
TEAM OF THE WEEK: Louisville
I've been really impressed with Louisville every time I've watched them play this year. Chris Mack has long been one of the best coaches in the country, but this might be his best team yet, and it might be his best chance to break through with a Final Four appearance and a national title. The reason I'm picking the Cardinals as the team of the week is not just winning at Duke. That's obviously a tough place to play and a really impressive win. But I'm also really impressed that they were able to come home and avoid a letdown loss against a tough Georgia Tech team that is giving top teams problems under Josh Pastner.
WAGERS OF THE WEEK 
After back-to-back-to-back 2-3 weeks we stand at 8-11 overall, but I feel great about this week's picks getting us back over .500 for the year.
Let's start off in Big Ten by taking Purdue (-4) at home against Wisconsin. This Boilermakers team has been a bit up and down, but it has been pretty tough at home and it is coming off a tough loss at Illinois. I like Purdue to bounce back here. I also like the Over (115) on the final score. Sticking with Wisconsin-Indiana showdowns, take Butler (-5.5) at home against Marquette. The Bulldogs have dropped three straight and need this one in a bad way.
This game won't be on a lot of people's radar, given that it's a Friday night game in the Horizon, but Northern Kentucky and Wright State will be a fun matchup between two of the league's best. Give me Wright State (-3.5) to pull it out at home.
And lastly, I like picking games involving Canisius because I'm from Buffalo. What I know about Reggie Witherspoon's team is it can generally score. Let's take the Over (146) in the Canisius-Iona game.