Mamukelashvili breaks down favorites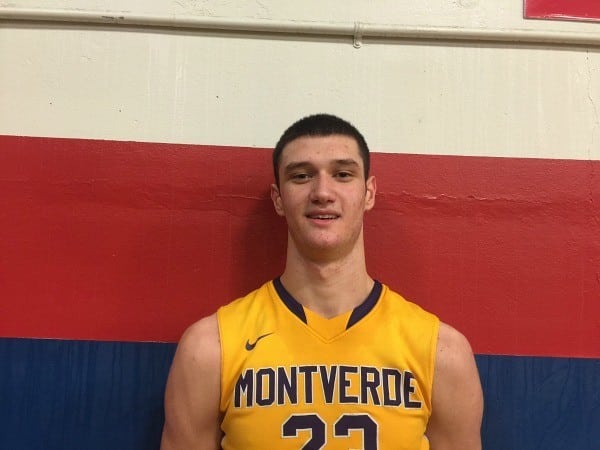 Sandro Mamukelashvili has returned to the United States after growing up in the country of Georgia.
The 6-foot-9 big man, who was born in New York City, had dreams of playing college ball. This winter he's seen his stock soar thanks to his versatile skillset.
Showcasing a solid frame that should only get stronger once he hits a college weight room, Mamukelashvili has bettered his game as the months have progressed. Running alongside top-ranked sophomore RJ Barrett and a bevy of other high-level talent at Montverde Academy, Mamukelashvili has slotted in nicely alongside his teammates as Maryland, USC, Vanderbilt and Boston College have come calling.
A unique talent in the frontcourt, Mamukelashvili is best used facing the basket and as a giant playmaker.
"I think one of my biggest strengths is pushing the ball in transition so when I get the rebound and I push it, I have a lot of opportunities to finish or even kick out and find my teammate for the three-pointer," he said. "I love passing and I am working on it every day. It is one of my main strengths. I could get better with my back to the basket, but I want to be more of a perimeter guy that can be a point-forward type."
IN HIS OWN WORDS
Mamukelashvili can step out and shoot the perimeter jumper, create for others within the early offense and cause damage on the offensive glass. Add it all up and it gives good reason for his prospering recruitment.
"I like USC, Vanderbilt, Boston College, Maryland and Seton Hall," he said. "Almost all of them realize that I am not just a guy that will set screens and play a post-up game. I think they see me as a whole different player. They will put me in the post but also out on the perimeter."
A number of schools have been in to see Mamukelashvili within recent weeks. He touched on three of the programs standing out.
Maryland: "I think it is a great spot for me. They develop their players really well. If I go there, they will get me ready for the next level. They have a great name and great history. Coach (Mark) Turgeon is a great coach; he knows how to use players and develop them."
Vanderbilt: "They have been on me a lot. I have a great relationship with the coaches. They are straight up with me telling me what I did good and what I did bad. They are telling me a lot of good stuff with how I could play the point-forward, which I want to do."
USC: "It is a great spot. It is a little hard to be in California, but they have great coaches, great teammates and they have a lot of good commitments. If I add to them, we would have a great team and we would battle for the Final Four."
WHAT'S NEXT?
Mamukelashvili has yet to take any visits to colleges during the fall or winter months. as the recruiting process has remained fluid up until this point. However, he does plan on setting up visits in the coming weeks before taking a few of the official visit variety during the months of March and April as he tracks as a springtime signee.
RIVALS REACTION
There is a dearth of capable big men that can slot into a high-major program next year and give quality minutes in the frontcourt. Mamukelashvili is one of the few that could just do just that, as the perimeter based big man already sports a quality jump shot and playmaking abilities. It would seem that USC, Vanderbilt, Boston College, Maryland and Seton Hall would have the best shot at landing down the versatile forward's commitment in the coming months.