Rival Views: Which four-star is pushing hardest for a fifth star?
BOSSI'S VIEW: LINDELL WIGGINTON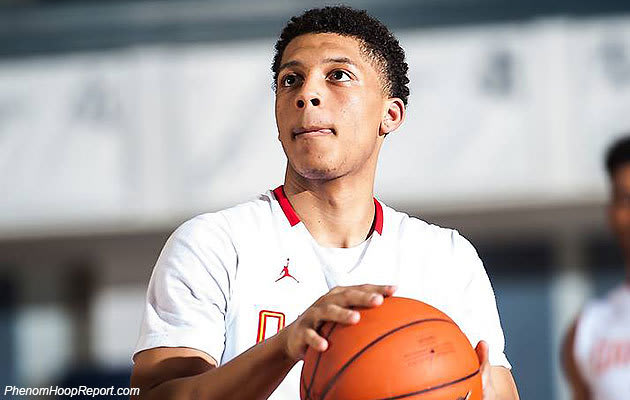 With each update we've done to the 2017 rankings over the last two years, Iowa State-bound combo guard Lindell Wigginton has moved himself closer and closer to five-star status. When the final ranking of the senior class hits in late April, he'll be the hardest to deny when it comes to making the jump from four to five-star status.
Currently ranked No. 31 overall in the 2017 Rivals150, Wigginton has spent the last two years putting up huge numbers for Oak Hill in the high school season and on the Adidas Gauntlet circuit during the spring and summer. Sure, there may be some concern about whether or not he projects as a true point guard or as more of an off-the-ball scorer at Iowa State, but his production, skill, toughness and consistency can't be denied.
Positions and roles continue to change in basketball and the things that Wigginton does well – primarily score it off the dribble and drain contested jumps – not only translate to the Big 12 level, but are things that the Cyclones are going to need from him right away.
Others that continue to really make me think hard about a potential bump to five-star status are Alabama-bound shooting guard John Petty and Kentucky-bound point guard Shai Alexander. A 6-foot-5 two guard with versatile game, Petty has done a great job of erasing concerns regarding his consistency as a senior and he's developed into a dangerous jump shooter.
Like Wigginton, Alexander is originally from Canada, and the long and athletic 6-foot-4 ball handler has huge upside. He's still got to improve his jump shooting from beyond the three-point line but his size, athleticism, floor vision and ability to get to the spots he needs to be are reasons he's going to get serious five-star consideration.

EVAN'S VIEW: CHAUNDEE BROWN
There is room for optimism at Wake Forest. John Collins and Bryant Crawford have played big roles in the recent success in Winston-Salem. Will Chaundee Brown be the catalyst for even more progress next year?
Ranked No. 39 in the 2017 Rivals150, Brown is a four-star prospect that gets my nod as worthy of five-star consideration. He led the Nike South Beach program to the Nike Peach Jam title last July, displaying all of the qualities of a go-to scoring option that can succeed against multiple, mix-and-match defenses. Next to someone like Crawford, a lead guard that can set the floor and give his teammates easier looks at the basket, Brown could flourish even further.
Sporting a college-ready body, a scoring prowess that can be used day one against a half-court defense and a set of intangibles that are off the charts good, fun times lay ahead for Wake Forest. The presence of the Sunshine State native will be felt day one in Winston-Salem and furthermore, has a sturdy argument as a five-star label tacked on next to his name.
Right alongside Brown, a few other four-star prospects have a very strong argument for a rankings bump. One is Nick Weatherspoon, a super explosive guard out of Mississippi that will suit up for Ben Howland's Mississippi State program next year. He has all of the physical tangibles of an NBA lead guard and, while he does need to better his decision-making and facilitating abilities, he could be the last and final push that the Bulldogs need to get back into the NCAA Tournament.
Savion Flagg could be the next quick riser during at Texas A&M. Flagg has major upside as the 6-foot-7 prospect can play either the three or the four, make shots and in a consistent fashion and is more than capable of guarding multiple positions thanks to his length and athleticism.