Interest rising in 4-star Ben Carlson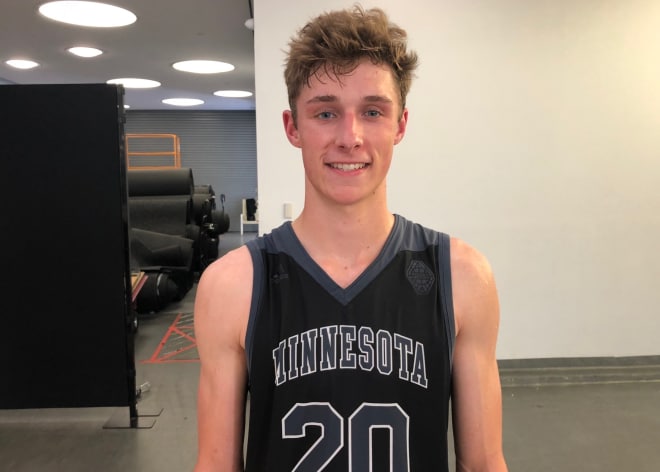 LADERA RANCH, Calif. – One of the top frontcourt prospects in the 2020 class, Ben Carlson has seen his recruitment blow up in recent months.
MORE EVANS: Twitter Tuesday | Evans Awards from adidas

"It has been a dream come true, honestly, I have always wanted to play big-time college basketball and these past few months, to see all of my hard work pay off, it has been a really cool experience," he said. "It has been a lot of fun."
Carlson has added eight offers since March to bring his total to 10, including Nebraska, Stanford, Iowa State, Kansas State, Purdue, Wisconsin and others. Gonzaga, Michigan, Ohio State and Indiana have begun to express greater interest, too.
IN HIS OWN WORDS
Stanford: "Obviously, they offer the whole package with academics and basketball but also good weather, they really like me and it is just really cool that they have such an interest in me."

Minnesota: "He (Richard Pitino) really likes my versatility and the way that I can shoot the three but also go inside and post-up. They want to keep me in the state and Minnesota, there are just so many good basketball players, so they are just trying to keep everyone there and if they do, they can be really good."
Wisconsin: "They really like how I would play well within their system. They have a lot of guys like me in the past and I have gone on a few visits there in the past and I know their staff very well; I like them a lot."
Indiana: "I was on a visit there a couple of months ago. I didn't understand how crazy they are down there; it is a basketball state. They are all about basketball down there. They are a really cool basketball school with a big-time home court advantage."
Purdue: "They like how I would fit with them. They think that I am like Caleb Swanigan a little bit. They love their big guys there. They are obviously a top program every year. I really like coach (Matt) Painter; he is a really good dude and they have a very nice staff."
RIVALS' REACTION
Carlson is an impressive big man that can score in the post, facing the basket to 20-feet and also defend his basket as a rim protector.
Thanks to his elite level grades and relatively polished skill set, Carlson has already become a top target for some of the top Midwest programs. Stanford has found great traction within his recruitment, though the same can be said for others including Minnesota, Wisconsin, Northwestern and Purdue. Look for more offers to come in in the coming years.