In-state schools pushing for Iowa guard Green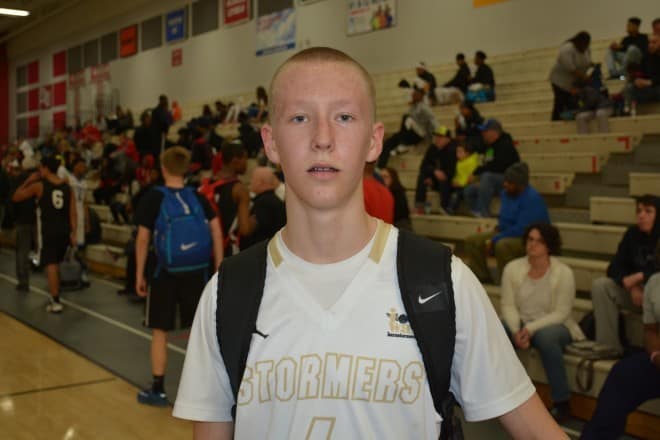 FORT WAYNE, Ind. – Despite playing alongside a five-star forward and another prospect already committed to Iowa, A.J. Green has just begun to receive the attention that he rightfully deserves. The Iowa Barnstormers product is primed for another summer of growth as a bevy of Midwest programs have increased their interest.
Green, who has impressed with a polished skillset, has taken the adidas circuit by storm this spring, averaging over 16 points and three rebounds while making half of his perimeter attempts.
MORE: 2018 five-star Norris decides | Bossi's Best: Combine players who might return
IN HIS OWN WORDS
A number of quality programs have begun to actively to recruit the top-100 junior.
"The main schools are Iowa State, Minnesota, Nebraska, Stanford, Northern Iowa and Clemson, those are the ones coming at me the hardest," Green said.
Kyle Green, A.J.'s father, is an assistant on staff at Northern Iowa, and the Panthers are among the programs in contention.
"They are definitely one of my top schools," A.J. Green said. "I love them. I have a great relationship with everybody there and growing up and watching them, they have always been my favorite team."
Green spoke a bit more on a few of the schools among the top of his list.
Iowa State: "I really like Coach (Steve) Prohm. I like how he lets his guards play and also the atmosphere at their gym is really incredible. It would be fun to play there."
Minnesota: "I have a good relationship up there with Coach (Ben) Johnson who coached at UNI. I have family up there. I like the way that Minnesota plays, as well."
Stanford: "It is just Stanford. It is an incredible school, academic-wise, and I heard their campus is just amazing. I like the coaches, as well."
WHAT'S NEXT
Green will finish out his final year of travel ball on the adidas circuit playing with the Iowa Barnstormers 17-under team.

He's still uncertain about a college commitment timeline.
"I don't have anything planned right now," he said. "I don't want to extend it out super long, but I am not really sure when I will cut my list."
RIVALS' REACTION
Green would become part of the minority if he does not commit to Northern Iowa. Very rarely does a prospect whose father coaches at a higher-shelf program that he does not end up playing for.

Iowa State, Minnesota, Stanford and several others have poked their way into the mix, but UNI has to be seen as the leader heading into the summer months for the top-100 junior guard.