How Williamson's commitment affects the Blue Devils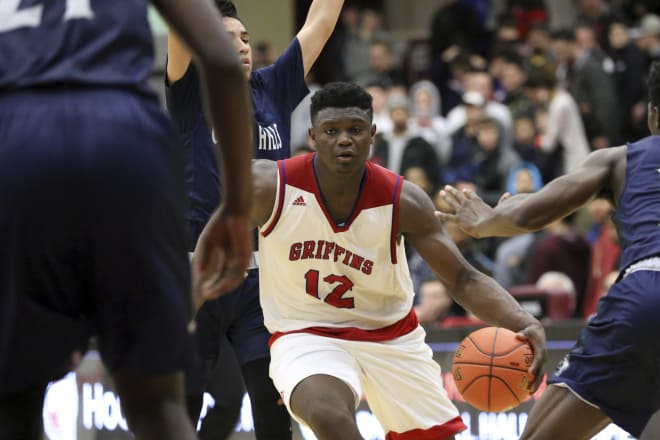 1. NO TALENT DROP-OFF
Duke has arguably the best starting lineup in college basketball this winter, thanks to the star-studded crew of Trevon Duval, Gary Trent Jr., Grayson Allen, Wendell Carter and Marvin Bagley III. All five could be selected in the first round of this June's NBA Draft. But beyond that, there were questions as to how Coach K would be able to fill out his roster next season and again contend for an ACC and national title. Those concerns were thrown out the door with the commitment of Williamson.
A star-studded forward prospect, Williamson should fit in seamlessly in Durham. While Duke was due to have a minor step-back next season, even with the enrollment of three top 15 prospects, it still may not have been enough to sufficiently supply the cupboard that is due to empty in the spring. The Blue Devils lack much of a bench this winter, but with Williamson, Coach K can now patiently bring along Javin DeLaurier, Jordan Goldwire and Alex O'Connell, thus enabling for another tremendously talented bunch next season.

2. CAM REDDISH STICKS TO THE PERIMETER 
There were questions as to who was going to play the power forward position next winter in Durham. Wendell Carter and Marvin Bagley III are most definitely gone to the NBA and with Marques Bolden likely to take on the starting center position, the power forward spot was up for grabs. There was debate that Cameron Reddish, a 6-foot-7 wing that is more suited to play the point guard position rather than the power forward spot, might be used as a small-ball four. Now, Williamson allows Reddish's transition to the college game to be much easier.
Reddish, a super-skilled jumbo wing with Penny Hardaway-like dimensions, has been groomed to play on the basketball for the past few years, whether it was for his Team Final travel program, or at Westtown for his high school team. Williamson's grit and tenacity are the perfect complement for the smooth and skilled Reddish, someone that can now be used more for his playmaking skills on the perimeter rather than attempting to evolve into something that he is not during his likely lone year on a college campus.
3. COACH K ONE-UPS CALIPARI
John Calipari has been the maverick when it comes to winning the blueblood recruiting battles. The head man in Lexington still is a dominant factor on the recruiting trail, but Coach K has shown that he is not going to play by anyone's else's rules. He has now has locked up the top three senior prospects from the 2018 class one year after he landed the top point guard and big man prospect in the 2017 class.
Recruiting battles now go through Durham. Where once the Blue Devils were transfixed with finding two and three year guys, Duke is now about getting the best talent that the high school ranks have to provide. Has it hurt them on the defensive side of the ball, resulting in the Blue Devils' bottom half defensive efficiency numbers in the ACC this season? Possibly. But each year Duke remains atop of the polls because it can lure the nation's elite, and the 2018 class has become the high mark for not just Duke's recruiting history, but maybe the best ever.