The Evans' Awards: Hoop Group Southern Jam Fest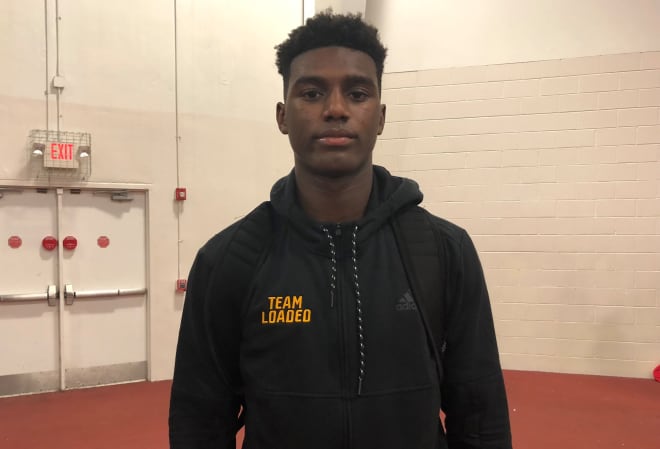 HAMPTON, Va. — The Hoop Group Southern Jam Fest was loaded with a number of Rivals150 prospects over the weekend, many of whom etched their names further into the rankings. Assessing our time spent in Hampton, we hand out our awards to such standouts as Henry Coleman, Isaiah Wong and Idan Tretout.
MORE HOOP GROUP: Saturday's coverage
BEST MOTOR
A burgeoning prospect from the 2020 class, Henry Coleman is a name to know out of the Mid-Atlantic region. Coleman left Hampton with another strong impression made on those in attendance and displayed the best motor of anyone. A 6-foot-7 forward, Coleman doesn't care what position he plays on the floor. It was refreshing to watch someone in Coleman's mold compete. He chased down loose balls, came up with his fair share of floor burns diving onto the ground and displayed the propensity to guard three positions. Half of the ACC is already involved for Coleman.
TOP PERFORMER
Things begin and end with Isaiah Wong, arguably the top performer of the three-day event. While he may be unassuming by the looks test alone, it is exciting to see such a highly regarded prospect compete with a purpose each time he touches the floor. Still more of a scorer than a facilitator, Wong can definitely put the ball through the basket and at a high rate. He is great off the catch and shooting jumpers to 20 feet, two-dribble pull-ups that he is tremendous in getting squared up on when attacking at different angles and scoring through contact with improved explosiveness. He was the man for his We R1 unit and its run to the championship on Sunday. There is good reason Miami, Villanova, UConn, St. Joe's and Temple hold the four-star guard in such high regard.
MOST PRODUCTIVE
One of the hottest names on the East Coast this spring, Day'Ron Sharpe went from a promising high-major prospect and into a priority recruit for some of the top programs. Virginia, UNC, NC State, Clemson and Wake Forest have offered and more are due to follow. Built in the mold of former top-50 big man and now Indiana Hoosiers center De'Ron Davis, Sharpe was utterly dominant all weekend. He is an underrated passer with a quirky-but-effective mid-range game. However, Sharpe is at his best around the basket as he sports elite hands and soft touch on either hand. A developed back-to-the-basket offensive weapon, Sharpe is a walking double-double and it is going to be interesting to see if the new coaching staff at ECU can keep the homegrown talent in Greenville.
TOP BREAKOUT
Playing alongside five-star forward Precious Achiuwa and top-75 wing Lester Quinones with the New Heights 17-under unit, Idan Tretout doesn't always get the proper respect that he rightfully deserves. However, riding his hot shooting and impressive scoring abilities all weekend, Tretout more than earned his dues as the top breakout performer from Hampton. A well-built 2-guard that can score from all three levels on the floor, Tretout hit timely shots, converted a number of tough attempts around the rim and displayed the grit to defend away from the basket. He boasts elite level grades in the classroom, reflected by the strong interest coming in from Yale, Brown and Harvard. In a rather lacking 2019 class, don't be shocked to see programs from the top conferences jump in on the potent scorer.
BEST DEFENDER
It is a bit perplexing seeing the limited amount of high-major offers rattle in for Anthony Walker. Attending Perry Hall High School and playing alongside a Cincinnati commit and a one-time Ole Miss pledge, each of whom broke out late in their respective recruiting processes, one would assume that the coaching masses would learn the first time to not play the waiting game with the next man up out of Baltimore. Instead, here we are again and Walker is on the cusp of his national emergence later in the process compared with most others. While he does hold 10 scholarship offers from TCU, Rhode Island and VCU, among others, more will come thanks to Walker's tremendous defensive qualities. A hard-playing forward that has the chance to guard four positions in college, the Team BBC junior is versatile and multi-positional.
MOST COMPETITIVE
It was a late Saturday night affair and right from the get-go, Dahmir Bishop made it a point that he was going to leave a giant fingerprint on his K-Low Elite team's contest, regardless of whether he was going to make his shots or not. How so? Bishop ramped up the intensity of the outing straight from the tip, showing that he didn't care who was opposing him and that his squad was going to win. This wasn't just a random occurrence but rather the norm for the Philly native. Bishop has built his game on a blue-collared mentality and the willingness to complete whatever task needs to be done in order for his team to succeed. Bishop's bunch made it to championship Sunday riding the Rivals150 guard. Syracuse, Providence, Rhode Island, Texas, Penn State and VCU are among those involved the most.
MOST IMPROVED
This time last year, Robbie Beran was still trying to figure out what he was as a player and, at the same time, develop from a skinny 6-foot-5 wing into what he is today. Now standing over 6-foot-7 and a bit more filled out, Beran kicked the weekend off on a high note thanks to his physical dimensions catching up to his raw talent and skillset. No wonder Charlotte, Richmond and Rice, among others, have placed a great deal of attention in the forward this spring. A shot maker that can also pass, rebound and compete, Beran's progression since this time last year is astonishing as his recruitment has yet to top out.