Hoop Group Southern: Evans' Saturday Notebook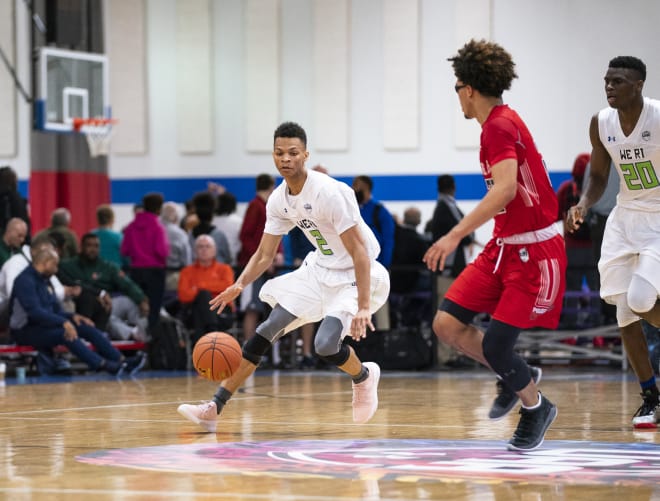 HAMPTON, VA – The Hoop Group Southern Jam Fest is always a must-stop during the spring travel season as a bevy of top shoe and non-shoe sponsored programs descend upon the Boo Williams Sportsplex. Saturday was another highlight day in Hampton as Isaiah Wong, Lester Quinones and Donta Scott were just a few that stood out.
WONG IS QUICK-TWITCH
Sneaky quick may be the best way to describe Isaiah Wong. The Rivals150 guard has put together a very strong showing on the Under Armour circuit this spring where he remained on his upward trajectory in Hampton. He has become stronger and a more efficient playmaker in recent months but what really stands out with the We R1 star is just how involved he is on both ends of the court.
A three-level scorer that can get to whatever spot that he wants before displaying his picture-perfect jumper with precise elevation, Wong will be relied upon for his scoring first in college. However, it was nice to see him make the timely pass to the open teammate while remaining a willing defender that can develop into one of the better on-ball defenders at the next level.
Wong has led a pretty thorough high-major recruitment for over a year now as Miami and Villanova look to be in the best spot for the talented junior out of eastern Pennsylvania, though Temple, St. Joe's, and UConn remain in the picture, too.
SHOT MAKER DEFINED
When we talk about the best shooters in America, there is no way that Lester Quinones' name can be left off the list. The 6-foot-5 wing out of the New Heights program hit four perimeter attempts on Saturday evening and rimmed out a number of others that were just inches away from falling. Quinones is slotted firmly as a four-star recruit in the 2019 class and looked nothing worse than that in Hampton.
In today's game where shot makers with size remain as valuable as ever, the Rivals150 member fits the mold to a T. Better yet, Quinones isn't just a one trick pony but someone that can put the ball on the floor, make the proper pass off of the bounce, score through contact and defend his position.
His recruitment has slowly evolved into a high-major recruiting battle between Illinois, St. John's and Georgetown. However, UCLA has begun to show attention with the top tier shooter, as has Syracuse, a program that puts a premium on shooters as they have begun to pick things up with Quinones of late.
FOOTING REGAINED BY DONTA SCOTT
Donta Scott showed flashbacks to his old, vintage self as he played with a purpose and a high-motor. He also hit a handful of catch and shoot jumpers and put the ball on the floor before finishing at the rim. He has plenty of defensive versatility to him as he can guard either wing position, along with some small ball four in certain lineups.
A game built on versatility, toughness, instincts and an improved skillset, Scott showed that the time is now to buy stock in the Philly Pride product. He has had a good showing thus far on the Under Armour circuit this spring and looks to be making the appropriate strides within his game. He told Rivals.com after his morning session win that South Carolina and Georgetown are two of the programs currently standing out, as Temple and St. Joe's have continued to keep close tabs, just as well.
JEFFRESS BEGINS HIS JOURNEY
One of the more promising class of freshman on the east coast, when the time is right, expect to see Williams Jeffress' name on our first class of 2021 rankings. Blessed with great length, tons of versatility, especially on the defensive end, and a quality feel for the game, the potential out of the Erie, Pennsylvania native is tremendous.
Finishing his morning contest's win with 13 points, the member of the talented Team Durant 16-under unit showed that he belongs in the conversation as to who the best wings are in the 2021 class nationally. Finding prospects that can defend three positions, make shots off of the bounce and are fluid athletes is tough to come by, all traits that Jeffress encompasses. Syracuse, Pitt and West Virginia are the primary programs in the mix early, though his recruitment should soar into a high-level, priority affair before sooner or later.
OTHERS WORTHY OF NOTE
A competitive chip is something not missing on the shoulder of Dahmir Bishop as the Rivals150 junior, while others were exiting the building on Saturday, was ramping up the intensity in the gym during the final contests of the night. A 6-foot-5 wing that doesn't know what it means to not play hard, the K-Low Elite product has become a must get for some of the top local schools this spring. He can make shots, finish with authority and defend different positions, hence why VCU, Texas, Providence, Seton Hall and Penn State are just a few that have placed a priority on the Philadelphia native. He will take an unofficial visit to Rhode Island next month, he told Rivals.com, as the Rams sit as a top contender for his ultimate commitment.
Picking up his first offer last month from Rhode Island, Jordan Longino tracks as one of the better 2-guards that I have come across within the 2021 class. He began the day with three made perimeter jumpers within the first four minutes of his morning contest and showed the propensity to not just be labeled as a shooter. Longino has a great body to grow into along with excellent hands that he uses as a defender. Marquette and La Salle are also involved as many others will be jumping in whenever the time is right.
Could Eric Dixon have found a better conference to play his college ball? The 6-foot-7 big man pledged to Villanova earlier this spring and with it, could evolve into the next face of the Wildcats' basketball program. The lefty epitomizes the term blue collared mentality and is the ideal posterchild for what the Big East Conference, both the new and the old, has become known for. A small ball center in Jay Wright's system on the Main Line, Dixon's day on Saturday was more than productive as he made shots to the perimeter, rebounded and was active for the 50-50 ball, everything that he will be asked to do during his stay in Philly beginning next fall.
After scoring over 30 points three times in Atlanta last weekend at the Nike EYBL third session, four-star sophomore Cam Thomas was back at, tossing up another 30-point bomb on the scoreboard. While he is a scorer first and foremost, Thomas understands what he is and plays to his strengths. Whether it is out of high ball screen sets, off of pin-down screens or straight-line drive attacks, Thomas is going to his as he has begun to cement his standing as a premier bucket getter nationally.