Great debates: Comparing Rivals' No. 1s and No. 2s over the years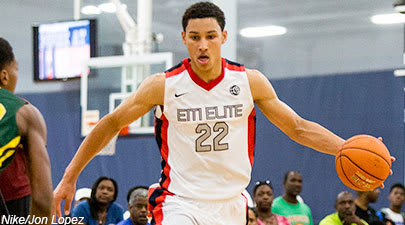 CLASS OF 2016
Just a year removed from finishing one spot ahead of Harry Giles, Josh Jackson remains the better of the two. Giles suffered through a very difficult freshman campaign as he was unable to get his footing down at Duke after missing the first 11 games due to injury. Jackson flourished at Kansas as he played his best basketball as the season wore on. Giles is now a fringe lottery pick in June while Jackson is still in the running for the first pick in this year's NBA Draft.
CLASS OF 2015
Ben Simmons was a second-team AP All-American at LSU and the No. 1 pick in the NBA Draft. He missed his entire rookie season due to a foot injury. Skal Labissierre was a huge disappointment at Kentucky, averaging just 6.6 points in 15.8 minutes per game. He has worked his way into the Kings starting lineup lately now that DeMarcus Cousins has been traded, but clearly Simmons is clearly the choice here.
CLASS OF 2014
This is a rather ugly one as neither is likely to be playing with the team that drafted them just two years ago. Jahlil Okafor won a national championship at Duke where Emmanuel Mudiay opted for a professional contract overseas instead of the college ranks. The Denver Nuggets are already looking to replace Mudiay with a point guard in this year's NBA Draft while Okafor has been involved in various trade scenarios dating back to last offseason. However, he has been productive on the offensive end when given the chance, averaging 14.7 points in his two seasons, which makes him the winner in this battle.
CLASS OF 2013
Neither has sniffed the NBA playoffs just yet, though both Andrew Wiggins and Julius Randle have had excellent junior campaigns within the league. Wiggins reigns supreme because of his entire body of work thanks to his 20-plus career scoring average and NBA Rookie of the Year award, though his defense, the primary strength of his coming into the NBA, remains in question. Randle has shown promise, though, notching his first career triple-double earlier in the season en route to a 13.2 points, 8.6 rebounds average.
CLASS OF 2012
Two more that have not reached their potential coming out of high school, though each have found a role that they have learned to thrive in. Shabazz Muhammad is a solid scorer off of the bench for the Minnesota Timberwolves where Nerlens Noel, finding the right system to apply his defensive skills and rebounding, is getting settled into his second NBA home with the Dallas Mavericks. Noel gets the nod thanks to his value on the defensive end and long-term potential in the NBA.
CLASS OF 2011
Austin Rivers will receive quality minutes on a top-five playoff team in the Western Conference this month but he can only dream of being in the same conversation with Anthony Davis. Davis is a four-time All-Star and was first-team All-NBA last season. He had a 50-point, 15-rebound night early this season and was the All-Star Game MVP.
CLASS OF 2010
Josh Selby is playing in the Israeli Premier League; Harrison Barnes inherited the go-to scorer role for the Dallas Mavericks. Add in the fact that the Iowa native signed a maximum contract extension with the Mavs and it isn't a difficult argument in making the decision that Barnes has won this battle without much of an argument.
CLASS OF 2009
The most difficult battle between one and two goes to two good friends and former teammates at Kentucky. DeMarcus Cousins, when motivated, is the best big man in the NBA. However, motivation has been an issue, and the seeing that John Wall has made the Washington Wizards a consistent winner and one that has shown major progressions with his shooting numbers, it makes him the winner in this battle between two NBA All-Stars.
CLASS OF 2008
BJ Mullens has been out of the NBA since 2014 as he averaged in double figures just one season during his professional career. Jrue Holiday, on the other hand, has had just one season in the NBA that he has not averaged double figures in scoring. He is due to cash in this summer entering his free agency year as the well-rounded scorer and defender wins the battle between former Ohio State and UCLA one-and-dones.
CLASS OF 2007
No one would have thought that this would have been an argument 10 years ago when Michael Beasley was a man amongst boys at Kansas State as he was then selected No. 2 in the 2008 NBA Draft. Eric Gordon was a third-team All-American in his one year at Indiana and was drafted seventh overall. However,their NBA careers have been similar. Both are in their ninth year and neither ever made an All-Star game. Gordon has averaged 16.6 points for his career while the inconsistent Beasley has been at 12.6. Gordon has the edge this season and gets the nod overall as he is headed for the NBA's Sixth Man Award while Beasley is a role player with the Bucks.