Get to know wing Harrison Ingram, a top 25 player in 2021 class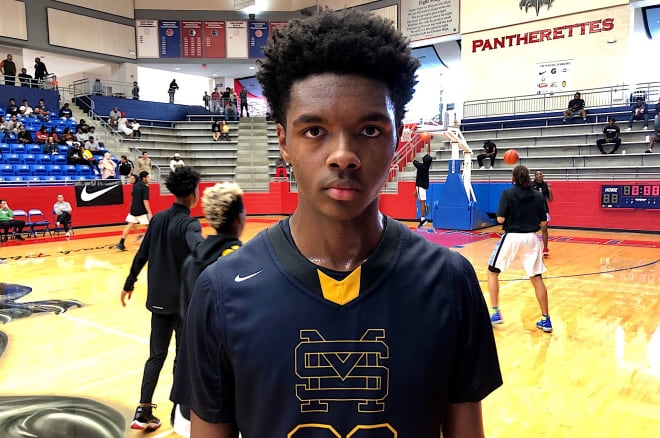 One of the top sophomore prospects in America, Texas wing Harrison Ingram is quickly working his way onto the recruiting wish lists of college coaches.
The sophomore forward at Dallas (Texas) St. Mark's who impressed for YGC36 during the summer already holds scholarship offers from Baylor, Georgetown, Houston, Kansas, TCU, Texas A&M and others, along with interest from the likes of Michigan, North Carolina, Stanford, Tennessee, UCLA and others.
The interest has a lot to do with Ingram's throwback, skill-based game.
"My brother is a point guard at Middlebury, a Division III program, and ever since I was little my dad didn't want me to be like the other tall kids were because of that I was a big man," Ingram told Rivals.com. "So I've always been working on my skills with my brother and father.
"So whatever my coach wants me to play, I can play that. My biggest strength is my shooting and playmaking for my teammates."
MORE: Five-star junior N'Faly Dante talks visits | Q&A with four-star Jayden Stone
IN HIS OWN WORDS
Stanford: "I love the campus, it is gorgeous. One time when I was out West and I actually saw them play an away game, it was like a home game. I heard that Stanford, Stanford, Stanford. Also, my goal is to make the NBA. But say I don't make it, say I get injured or say anything that can happen happens. Stanford is a really good route to go for an education."
UCLA: "They are saying that they really like me and (associate head) coach (Duane) Broussard is going to come down again soon. He and my dad are in the same fraternity, so it's not like they are close, but they have a connection. It's a big campus. I liked it a lot when I was there."
Texas A&M: "I love them. Their coaches are really good guys and they are really funny. They say that if I went there I could come in and play right away, and that's something I have to keep in mind."
Baylor: "I've been there twice and coach (Scott) Drew really stands out. Whenever I see him he's always a very open guy. He's not just like, 'Oh, you played really well.' He's real with me about what I need to work on, and I like that."
RIVALS' REACTION, WHAT'S NEXT?
Ingram told Rivals.com that he's looking to take another trip to Stanford and that he's looking into potential unofficial visits to Michigan, North Carolina and Tennessee, as well.
The Cardinal do appear to be in pretty good shape if they decide to go all-out on his recruitment, and whether it be Stanford or elsewhere look for Ingram to get a decision out of the way relatively early.
"I think I could make my decision a bit early," Ingram said. "Maybe the middle or end of my junior year. I want to find a school and get there having built a real relationship and not just be committed senior year. I don't want to go too early and make the wrong decision, but if I'm committed, I'm committed."