Q&A: Recruitment of four-star Jayden Stone is picking up steam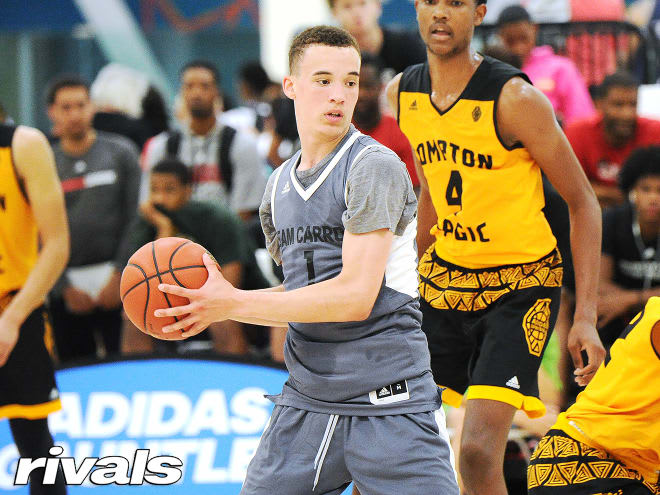 ATLANTA – The name of Jayden Stone has reverberated throughout the southeast corridor in recent months and for good reason. The Australian native, who is in his second full year in the United States, has seen his stock rise rapidly thanks to his fundamentally-sound skillset and ability to score. Following his time at the Holiday Hoopsgiving, the top-50 junior sat down with Rivals.com and discussed his recruitment.
MORE Q&As: N'Faly Dante | Jalen Green

Corey Evans (CE): How do you feel like your junior year has gone for you so far?
Jayden Stone (JS): It has been good. It has been a testament to my leadership and I think that I am in a new role now and in a new environment and space, where I am just trying to get my guys on the same page to see what it takes to win. It has been good for me.
CE: What all have you been working on? You seem to be much stronger and better on the ball as a playmaker.
JS: I just think that it is about staying in the gym. My ball-handling has gotten better. We have a great coach that works us out, so handling it better, reading the defense and rounding out my game.
CE: Your recruitment has really picked up of late so who are the ones in the most frequent contact with you?
JS: Vanderbilt, they have been everyday with me, morning, noon and night. Auburn, of course, Creighton, Iowa State and Tennessee, they all stay in contact with me the most often. I am still maturing and just honing my skills and seeing if I will grow anymore but the rest I just leave up to God.
CE: Vanderbilt, what is their direct pitch to you?
JS: They know that Darius Garland is probably going to be gone in the next couple of years and they see me as a top-25 type of player and of course, I know I need to work on a lot of things but I know that I can reach that level of one of the best in the country, but they want me to come into that role of a Darius Garland and lead the team. That is what I am working on every day.
CE: Auburn has placed a heavy priority on you so what has Bruce Pearl and those guys had to say to you thus far?
JS: About staying motivated and locking into your goal. Make sure you lead, on and off of the floor, because a lot of times, players can be all about the rankings but I think I do a decent job of staying motivated, that is just the way that I have been raised. They have been encouraging me everyday to stay locked in and focused, so that is the big thing.
CE: You have been to that campus so what are your feelings about them?
JS: Just a great program and Bruce, what he is doing there is something special. That is a testament to what you saw in Maui just the way that they played with the intensity and the fast-paced system, I wouldn't mind being a part of that. I like programs that are fast-paced and looking to kick ahead with great guard play. I am blessed to have an offer from them.
CE: Iowa State is a bit different but they have remained in heavy contact with you. What are your feelings there?
JS: I like Iowa State. They see me as a guy that can do a lot as a combo guard and hopefully, I can make an impact wherever I go. They tell me to keep honing my guard skills so that I can switch either as a 2, off of the ball, or be on the ball, too.
CE: Tennessee is a newer one for you; have they caught your eye at all?
JS: Yeah, Tennessee, that was a big offer for me. Again, blessed to receive that offer. I was able to see them play against Kansas. They play an exciting brand of basketball and it just feels good to know that they want you to become a part of that.
CE: Creighton is the other program that you mentioned?
JS: Yeah, Creighton is a good program. Coach (Greg) McDermott, he has a special connection with his guys and I actually had a fellow player that I played against, Sam Froling, he is down there. I haven't had a chance to speak with him yet about his experience but I know that they are a good program and always make it to the tournament so that is a credit to the staff and their guys.
CE: Any upcoming visits for you?
JS: Maybe Michigan, but I am not sure yet. Northwestern has reached out but they haven't offered. I am just trying to stay on the grind and working on my guard skills.
CE: The last time we talked this fall, Michigan was a program that intrigued you. What all do you like about them and how John Beilein does things?
JS: They keep in contact. Growing up, you always hear about the Michigans and the Dukes so it is always nice to hear from them because you always want to be at the top. Otherwise, there is no point of doing it. I am just being patient and if they come, they come, but if not, you just have to go to the right school and prove them wrong. Coming from Australia, you have to have a chip on your shoulder and go at people and be in attack mode, always.