Four-star Ryan has academic focus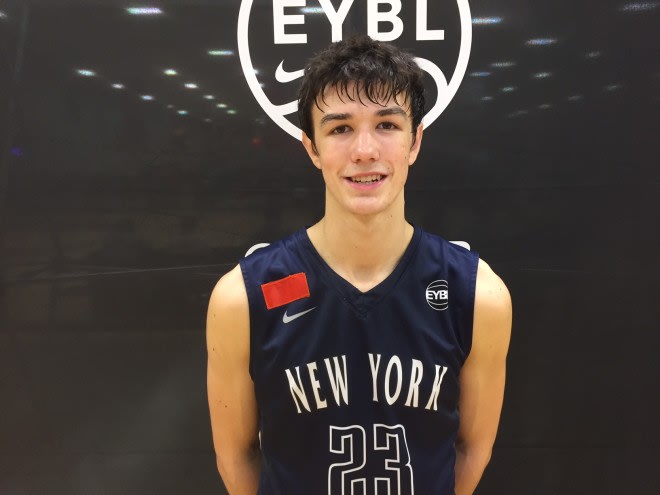 INDIANAPOLIS – Despite his lofty ranking in the 2018 class, there were questions about Cormac Ryan and his ability to produce against the elite this spring. Running with the New York Rens travel program on the Nike EYBL circuit, Ryan has quieted those doubts.
A 6-foot-4 guard who can create for himself and others, Ryan is one of the more well-rounded perimeter weapons in the 2018 class. He's averaging 18 points, four rebounds, two assists and two steals per game.
MORE: Bossi's Best - Spring evaluation period | Dotson off to a hot start

IN HIS OWN WORDS
A mixture of high academic and quality basketball programs have hosted the four-star guard for visits in recent months.
"I have visited Michigan twice. I have also visited Notre Dame, Yale, Villanova and Penn," Ryan said.
With a handful of visits under his belt, many believe that a commitment could be forthcoming. Ryan addressed the speculation.
"I have been fortunate enough to have gotten recognition after last summer, which is good, because I was able to get a jump on things on who is recruiting me the hardest," he said. "I have been fortunate enough to take some visits and not have to wait around for anything. In terms of a timetable though, I wouldn't say that I really have one. The schools that I visited, I have really liked but my No. 1 priority has been just to play basketball and we will see how my recruiting goes."
Ryan went on to speak about two of the schools making a hard push for his services.
Northwestern: "Their staff is a great staff. They had a historic season making the tournament for the first time. I think coach (Chris) Collins is really proud of his guys and that they are poised to make another run next year with having a lot of guys coming back. It is a really high academic school, too, which is a part of my decision making. They're a great staff and great guys over there."
Stanford: "They have top-notch academics and have high-level basketball, too. What coach (Jerrod) Haase and coach (Adam) Cohen are doing over there is really impressive. They have put together a really good recruiting class in their first year which is really good for them and I think they have done a really nice job recruiting. I think their combination of high level basketball and high level academics is pretty impressive."
WHAT'S NEXT
Ryan seems to be in no hurry to make a college decision. While there had been talk about a possible reclassification into the 2017 class, it looks as if he is comfortable with where things stand in playing out the summer before making a commitment to play in college come the fall of 2018.

"When I am confident enough on when to make a decision, I'll make it. That is not to say that I am in a rush," he said. "Most people think that with the amount of visits that I have taken and the heightened recruitment I have had, they are thinking that I am in a rush, which I am not."
RIVALS' REACTION
Ryan's ability to not only score but also create for others has become valued by some of the top academic and basketball programs nationwide.

Northwestern and Stanford look to be out in front for the talented top-100 guard, though Yale may be the darkhorse. Thomas Ryan, Cormac's older brother, plays basketball there.