Four-star Richardson breaks down recruitment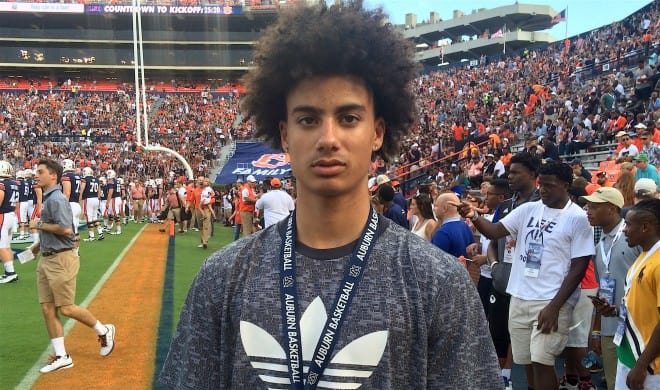 HAMPTON, Va. – Will Richardson, a 6-foot-3 left-handed scoring guard, was one of the top breakout candidates from the first evaluation period. A junior guard that was once reliant on scoring, the Peach State native showed the abilities to create for others and act as a facilitating agent for his team's half-court offense.
Richardson made better than 47 percent of his perimeter attempts while dishing out three assists per contest over the weekend.
IN HIS OWN WORDS
Richardson has received attention from a number of successful schools so far.
"Butler, Georgia, Georgia Tech and Auburn," the top-100 guard said. "A few new schools like Texas A&M, Florida, Tennessee and Rutgers, too."
Richardson gave his feelings on a few of the schools standing out.
Butler: "They have been recruiting me since the end of last year. They came to about three of my high school games and the coaches are on me hard. They are one of the schools on me the hardest.
"It means that I can fit in their program. They do good work with their guards and do well in the tournament."
Georgia: "I am real close with J.J. Frazier; I grew up with him. He lived about 15 minutes away from me. He did well at their program. They put the ball in their guards' hands and let them make plays. I love that."
Auburn: "Davion (Mitchell) goes to my high school so they are on me pretty hard, too. I know everybody at the school. They are all like a family. The players are cool and the coaches are cool.
"It is another guard program that puts the ball in their guards' hands. They let them play."
WHAT'S NEXT
Richardson has seen his stock explode within a week's time, as the majority of the SEC and ACC have ramped up their attention with the four-star guard. However, a college decision is still some time away.
"I am definitely going to visit Florida and Tennessee again sometime soon, probably before the spring is over," he said. "I won't narrow it down until after the summer. I could commit in the fall."
RIVALS' REACTION
College programs have come to covet guards that can make shots but also slide over onto the ball and create for others. Richardson fits the mold, which makes him that much more of a priority recruit for the top programs nearby.

When it comes to a college commitment, it wouldn't be totally surprising to see a few nationally recognized programs get in the mix. Regardless, look for Georgia and Auburn to remain in contention throughout, as each have done a commendable job of landing the best backcourt talent in the Peach State.
RIVAL VIEWS: Who will soar up 2018 rankings?