Four-star McBride focused on final three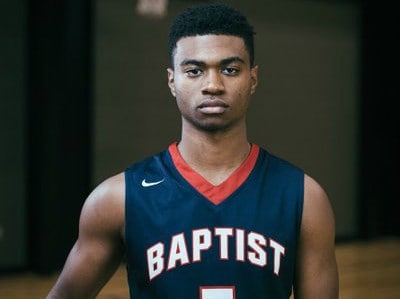 Isaac McBride is one of the many prospects around the country who saw his stock take off during the 2018 travel season. The Arkansas native became a four-star prospect ranked in the 2019 Rivals150 and earned several high-major offers.
MORE: Most important official visit this weekend

As his senior year of high school begins, McBride has moved closer to figuring out his college destination. He considered several schools, but recently decided to focus only on three schools: Auburn, Kansas and Virginia.
He's already visited both Auburn and Kansas unofficially, and will make an official visit to Kansas this weekend.
IN HIS OWN WORDS
Auburn: "Auburn is a great school. Coach (Bruce) Pearl definitely lets their guards go. They all can shoot it and they have a lot of options. What they lack in size they make up for in heart. Coach (Wes) Flanigan recruited me at UALR and he kept recruiting me when he went to Auburn."
Kansas: "I feel like it's a very high-caliber program. They just picked up two really talented guards in Quentin Grimes and Devon Dotson. They are always recruiting good guards and good big guys. They always have a team good enough to make a run in the tournament."
Virginia: "Virginia is one of the best basketball programs in the country. They are known for their philosophy on the defense. Coach (Tony) Bennett is a great coach and an even better person. He develops great players and knows what he's doing."
RIVALS REACTION
Auburn was the first high-major program to really get serious with McBride of the three remaining as they had a connection through Flanigan. The Tigers had a pretty firm grip in his recruitment through July. Virginia is the most recent of the three to come into the picture and Bennett's style on and off the court certainly has McBride's attention. But if all goes well this weekend, it wouldn't surprise anybody in the basketball community to see him pop for Kansas on or shortly after his visit.