Four-star junior Kevin McCullar to enroll early, names top nine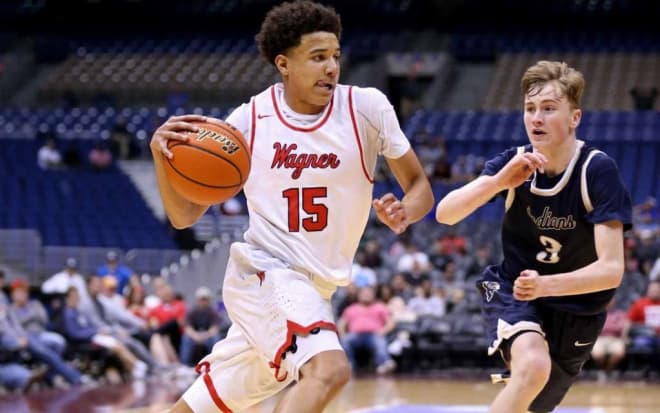 Kevin McCullar has decided to go against the grain and think outside the box regarding his college decision and enrollment. A member of the 2019 class, the four-star junior has made the choice to forgo his senior high school season and enroll in college for the 2019 spring semester.
One of the top prospects in the South and a strong four-star guard prospect who can play a variety of positions in the backcourt, McCullar discussed his intentions with Rivals.com.
"I will be graduating in December and will redshirt in January before playing as a freshman for the 2019-2020 season," he said. "All of the schools that have offered me have committed to holding a 2018 scholarship for me. I am going to release my final five schools and my official visit dates later here in May."
Count Houston, Kansas State, Louisville, Minnesota, Oklahoma, TCU, Texas Tech, Virginia Tech and Xavier as the nine in the mix for an official visit and his ultimate commitment.
MORE: Scouting notebook from the Spiece Run-n-Slam in Fort Wayne, Ind.
Why the abrupt move into the 2018 class instead of suiting up for his high school unit this winter? McCullar discussed his thought-process.
"I am academically advanced at my high school and my counselors advised me that I can graduate early," he said. "This will allow for me the opportunity to prepare, learn, to start training with my team, practice and work with the strength and conditioning coaches. It will also allow for me to begin my college course work and get ahead."
Not your typical enrollment for a college basketball prospect, McCullar is doing something that he believes is in his best intentions, similar to what elite football recruits attempt to do in speeding up their high school clock in hopes of immersing themselves into the college environment six months ahead of time.
McCullar is currently sitting out this spring due to a small fracture atop of his tibia, though he could be back onto the travel circuit in July with the Yes II Success program.
Will McCullar's decision be an avenue that is taken more often in the future? Time will tell. But either way, one of the nine programs in contention will grab a do-it-all guard who can do a plethora of tasks on the perimeter.