Spiece Saturday: Scouting notebook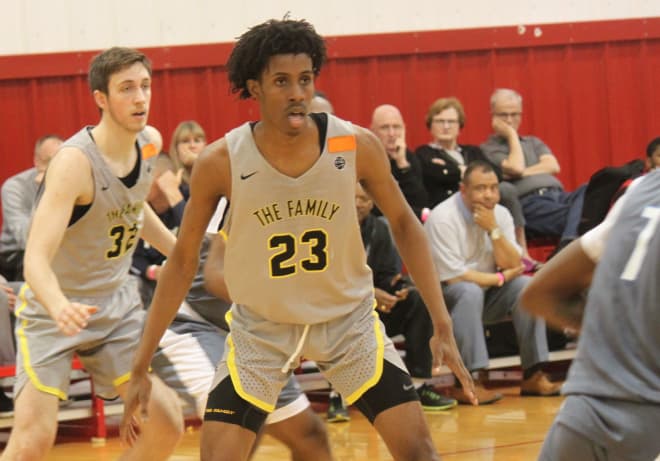 FORT WAYNE, Ind. – The Spiece Run-n-Slam hit full gear on Saturday as some of the very best sponsored and non-shoe sponsored travel units from the Midwest descended upon Fort Wayne. Below is our scouting notebook on the slew of Rivals150 and soon-to-be ranked prospects that we evaluated.
It was a year ago at this time that Isaiah Jackson first came onto the scene as a national prospect, primarily for his shot blocking abilities. On Saturday, the top-25 sophomore was up to his usual tricks in swatting away practically every shot within his vicinity. He is now up to 6-foot-8, his instincts are precise and his motor never wanes. Jackson is a defensive game changer at its finest and has also improved upon his offensive skillset, hitting a handful of catch and shoot jumpers out to the 17-foot line.
Jackson-Davis only attended the morning session on Saturday and the top-25 junior was just okay, looking a little fatigued during the time that he was out on the floor. However, the Indiana native still found a way to produce thanks to his tremendous feel in the frontcourt and ability to play angles around the basket where, whenever he can get to his left hand, is utterly dominant from 12-feet and in.
While his shot selection remains a work in progress, Rocket Watts' toughness is not in question. A top-75 guard that has a tremendous first step and quality body control at the basket, Watts showed the ability to score from all three levels on Saturday. Toss in his energy in guarding the ball and what you have is a two-way threat that has cemented his standing as one of the top guards in America, of which was proven with his late night 46-point outburst to end the day.
Hitting the travel circuit playing floor for the first time this spring, Adam Miller isn't fully healthy just yet but even a partial Miller is much better than others' 100 percent. The lefty is a jumbo guard that can play either spot in the backcourt and his confidence tends to push him over the top even against some of the best. Built similarly to current Michigan standout Jordan Poole, Miller is one of the next up out of the Windy City and he played like it on Saturday.
Gaffney remains one of the top forward prospects in the 2019 class and while his production didn't match his lofty ranking on Saturday, there still were moments where you had to sit back and imagine the down the road potential of the already committed Ohio State recruit. Blessed with tremendous length and fluidity, Gaffney was more than comfortable creating his own shot as he has no issues on the dribble pull-up from 18-feet. He still needs more fine-tuning but the Buckeyes have one of the higher upside junior's nationally that could become a nightmare to guard in the half-court.
Leal went to work again for his Indiana Elite 16-under bunch on Saturday, displaying a super steady and fundamentally sound skillset at the Spiece Fieldhouse. He can get a bucket off of the catch and shoot, mid-range pull-up and off of the hard rip into the righty drive, of which he ends up getting a fair amount of shots at the foul line. Leal tracks as one of the best in his state out of the 2020 class.
Committed to Kansas for over a year now, Jacobs is the definition of explosive. While he does produce much more efficiently whenever the speed of the game pick up, the future KU guard is more than entertaining out in the open floor and just as effective as a lockdown, on-ball defender. He threw down a number of highlight reel dunks on Saturday and put tons of pressure on the opposing defense with hard drives to the basket.
Tyler Beard is one to know out of the Midwest in the 2020 class. The 6-foot-2 guard is the definition of a competitor and should be valued for his rebounding skills off of the perimeter along with his near lock down defensive abilities in the backcourt. Iowa has already jumped in with an offer from the high-major platform and with greater eyes placed upon him, I wouldn't be shocked to see others follow suit due to the competitive chip that he plays with.
While he might not have the clout that his teammates Trayce Jackson-Davis and Keion Brooks possess, there is always a need for shot makers with size. The 6-foot-4 wing currently holds a handful of mid-major offers and while he hasn't done a ton of the Nike EYBL circuit this spring, he still is making close to 39 percent of his perimeter tries. I would expect to see his recruitment become a major priority for the better mid-level schools throughout the Midwest and be asked to consistently make shots and defend both wing positions.
He has the chance to be one of the top guard prospects in the 2021 class and while his strength, or lack thereof, can be his downfall at times, the pace, size and playmaking skills from Christie remain on point. The Big 10 schools continue to hover due to his long term projections as the 6-foot-4 guard is all about putting his teammates before himself. On Saturday, he made plenty of eye-pleasing passes against the half-court defense, forced very little and showed the capacity to defend more than one position on the perimeter. However, when it came time to step up, Christie did just that, finishing with a game high 21 points and looking as calm and poised as Tom Brady in a January playoff game.
A lefty with a superb pace and feel for the game, Zeb Jackson is what you call smooth. Running with the C2K Elite 16-under unit, Jackson turned in a quality outing on Saturday morning as he knocked down a pair of mid-range jumpers but also scored at the basket off of crafty change of pace dribble drive moves. What makes Jackson stand out further is the fact that he is already 6-foot-3 and sports a set of long arms that he uses in knifing his way to the rim without much of an issue. In today's game where versatility is key, Jackson fits the mold of a do-it-all type in the backcourt as a number of Big East and Big 10 programs continue to monitor.