Five-star PG Hagans talks Kentucky, UGA, Georgia Tech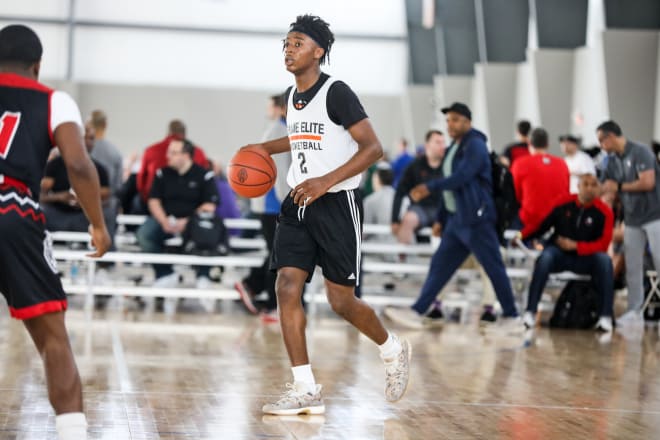 MORE: Twitter Tuesday | Starting Five
Ashton Hagans has been a highly recruited and highly ranked prospect for quite some time now. His rise to No. 6 in the most recent 2019 Rivals150 was in large part due to his play during the travel season where he put himself in the conversation for the best point guard in the country.
He did nothing to take away from that at the Holiday Hoopsgiving this past weekend. In a Friday afternoon win over Columbia (Ga.), Hagans recorded a triple-double of 14 points, 14 assists and 12 rebounds. He completely controls the game from his lead guard spot.
Given he's one of the top point guards in the country, it shouldn't be a surprise to see Kentucky getting involved with the five-star prospect. The Wildcats had an assistant in town to see him on Friday. Hagans mentioned Georgia, Georgia Tech, Florida, Florida State and Auburn as the schools he's talking with most recently.
MORE: All-Thanksgiving Hoopfest Team | Five-stars put on a show at Hoopsgiving
IN HIS OWN WORDS
Kentucky: "They said they love my game and to keep playing my game. They want me to stay in the gym and just continue to improve. I think they might be close to offering."

Georgia: "It's going good with them. I love their program. They have just been saying the same thing, keep working on my jumper and get shots up every day."
Georgia Tech: "They are a guard university. They really just need a strong guard and they will be straight."
RIVALS' REACTION
Hagans has maintained all along he plans on taking his recruitment to the very end. And for him, that's probably the right move. He'll have time to see how the landscape of college basketball changes over the next 16-18 months with the recent scandal and will be able to monitor the progress of the programs recruiting him.
He's not ready to give any hints as to which schools are standing out, so it's all speculation at this point. Kentucky will likely be tough to beat if it eventually comes through with an offer. If not, expect the in-state schools and the Florida schools to be in this one as the word is he wouldn't mind staying closer to home for college.