Starting Five: Impact freshmen point guards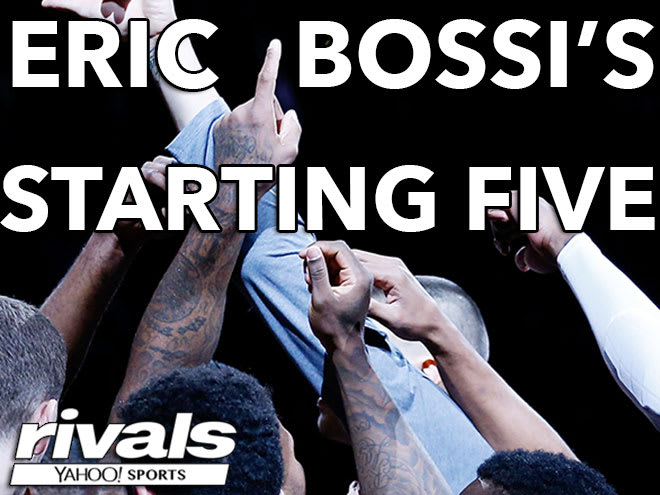 With early signing period done and over with and the start of college and high school basketball seasons, things are slow on the recruiting front. In this week's Starting Five, national basketball analyst Eric Bossi turns his attention to three impact freshmen point guards looking to get their teams back into the NCAA Tournament.

1. ALABAMA, LSU AND OKLAHOMA HOPING TO RIDE FRESHMAN POINT GUARDS BACK INTO THE NCAA TOURNAMENT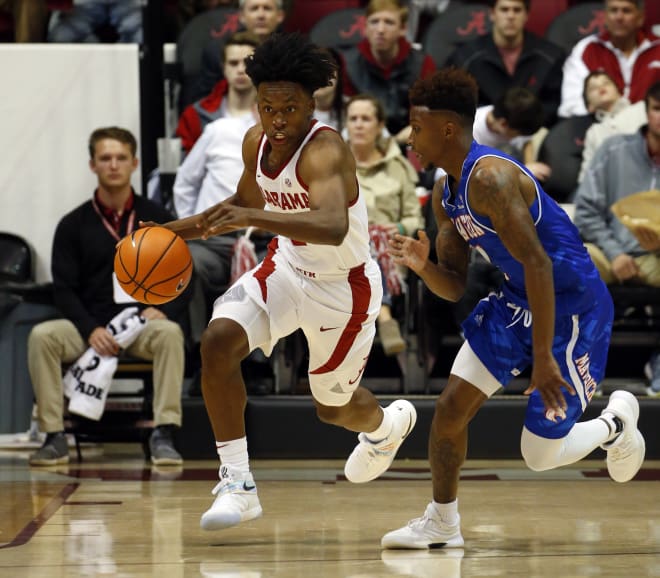 There are freshmen making huge impacts all over the country, but this week I want to focus on the performances of three first-year point guards whose programs are relying on them heavily to make it back the NCAA Tournament. I'm talking about Alabama's Collin Sexton, LSU's Tremont Waters and Oklahoma's Trae Young.
Needless to say, hopes were high for all three as they were considered bluechip recruits, but nobody could have counted on the ludicrous numbers they are putting up early.
At Alabama, the Crimson Tide hasn't appeared in the NCAA Tournament since the 2011-12 season. Though they've made the NIT each year but one since then, Avery Johnson is looking to get his team over the hump and if they do, the reason is going to be Sexton. No, Sexton isn't a one man team and there are several other good young players in Tuscaloosa. But Sexton is the man and is showing why I thought he was the closest thing to Allen Iverson (at least in style of play) that I have ever scouted. Over the weekend, he put 40 on Minnesota and almost willed his team to a win despite playing three on five for most of the second half. On the season, Sexton is now averaging 25.2 points, 4.4 assists and 3.8 rebounds a game and the Tide has gone 5-1. If he can sustain even 80 percent of that pace for the season, I have to think Alabama goes dancing in March.
Down in Baton Rouge, LSU's NCAA drought only goes back to the 2014-15 season, but the program has earned a reputation for doing less with more. That's something that first year coach Will Wade is hoping his Waters can help turn around. The 3-2 start isn't flashy, but watching LSU it is easy to see that they are headed in the right direction and Waters has been a pleasant surprise. He was expected to score, but how efficiently he's gotten his 20 points a game while shooting over 50 percent from the field has been impressive. Throw in five assists per game and Waters is off to exactly the start Wade needed from him in year one.
Finally there's Oklahoma, who was just in the Final Four in 2015-16 before suffering a dreadful 2016-17 season. The Sooners are still a young team in general, but they have the pieces in place to be really good down the road, especially with Young playing the way he is. Everybody knew Young would be handed the keys at his hometown school, but the numbers the Norman product is putting up are just silly. Through the Sooners 4-1 start, Young is averaging over 28 points, eight assists and four rebounds a game. A return to the tournament appears to be on the horizon for the Sooners and the worry may eventually shift to whether or not they'll get more than a single season out of Young.

2. FOUR-STAR FORWARD TYREEK SMITH TALKS FALL VISITS
One of the more intriguing players in the class of 2019, four-star power forward Tyreek Smith is a long-term play. At this point, he's still a little raw on the offensive end and he needs to add some more strength to his frame, but he's got big-time athleticism and is improving at a rapid pace.
Over the past few months, Smith has taken unofficial visits to Baylor, LSU and Texas A&M and I had the chance to catch up with him to discuss the visits.
Baylor: "I like the way they play, they use their bigs very well and of course I like that. I'm still trying to feel it out, I think they stress their development (of post players)."

LSU: "I feel like I was comfortable because that's home and that's where my family is. I really like the coaches, so I like LSU a lot. They say they like my style of play and that they would try to stretch the floor with me so I like that."
Texas A&M: "I don't know too much about A&M yet so I wanted to take a visit to try and feel it out with them. I liked the trip, I've known assistant coach Ulric Maligi since before he got the job, so I'm comfortable with him."
Only Baylor has yet to offer from that group of three and others like Virginia Tech, TCU, Oklahoma and SMU have offered as well. Smith is in no rush for a decision and it will likely be until summer of 2018 before he narrows things down.

3. TWO MORE VISITS FOR MCGOWENS, WILL HE STAY IN 2019?
Earlier this school year, offensively gifted point guard Trey McGowens made the switch from 2018 to 2019 in hopes that his recruitment would take off. It worked.
Earlier this month, he saw N.C. State and Clemson and over the weekend he made trips to Wake Forest and South Carolina. He's now got offers from the Pack, Clemson, Seton Hall, St. John's, Tennessee, TCU and several others.
So, it begs the question, will the South Carolina native who is prepping at Hargrave Military in Virginia stay in 2019 to do a prep year or go to college with his natural class of 2018? So far, he remains non-committal, but if I were a betting man, I'd lean towards him eventually ending up as a 2018 guy. If that's the case, N.C. State and Clemson are currently the teams to watch but there's still a lot to play out.

4. DANNY MANNING GETS EXTENSION
Speaking of Wake Forest, the school announced on Saturday that head coach Danny Manning has been signed to a contract extension through 2025.
After making the NCAA Tournament in 2017, Wake has been slow out of the gates, but Manning and his staff have recruited very well. Since 2015 they've landed eight four-star prospects and have overseen the development of non-ranked three-star John Collins, who became a first-round pick in just two years.
The added job security should be a plus on the recruiting trail as Wake continues to rebuild their program.

5. DOUTRIVE RECRUITMENT COULD TAKE OFF
If you are out on the West Coast and are looking for a high level guard in the class of 2018, there aren't many options left on the table. Though a lack of options could help boost Rivals150 senior Devonaire Doutrive's recruitment, he's a legitimate high major prospect who has been causing a stir.
From what I've heard from contacts on the West Coast, Doutrive has been putting up huge numbers and his name is starting to ring out beyond the West Coast.
He's long, he can get to the rim and he's wired to score off the dribble with big upside once he hits a college weight room. For the most part, his recruitment is a mystery though California and UNLV have gotten some mentions of late. He's one that we should start hearing a lot more about soon and I'm looking forward to seeing him play towards the end of December.