Evans' Takeaways: Green, Bishop impress in Indianapolis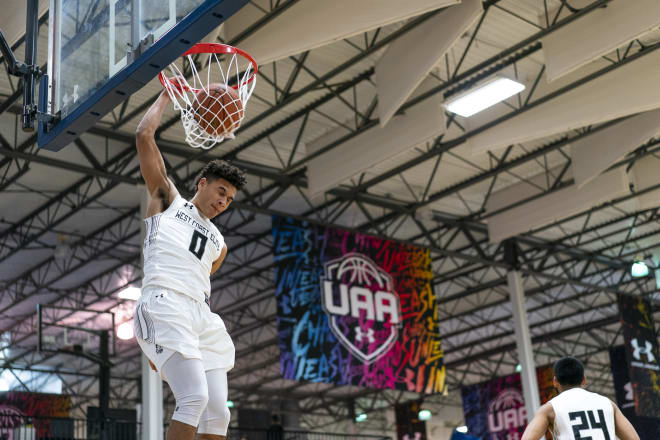 INDIANAPOLIS – Both Under Armour and Nike ran the second leg of their national circuits in Indianapolis this weekend. The main takeaways of Saturday include Josh Green's familiar traits, Trae Young's impact at Oklahoma and James Bishop's national emergence.
JOSH GREEN REMINDS ME OF...
Donovan Mitchell, the Utah Jazz rookie sensation that has taken the NBA by storm. Who is to say how Green develops from here, but Green's stock as a recruit is actually higher than Mitchell's was at the same age.
Saturday, matched up against five-star sophomore R.J. Hampton, Green went off for 37 points off of straight-line drive attacks, catch and shoot jumpers and highlight reel dunks. Green's feel and instincts makes me believe that, like Mitchell, he could also make the switch to the point guard position down the line.
Green and Mitchell both share comparable physical dimensions as the former Louisville standout is just an inch taller but each boast a 6-foot-10 wingspan. They both can guard either backcourt position, sport tremendous basketball frames and are thought of as higher character kids.
While Mitchell's progression will be extremely difficult to match, Green is no slouch in the improvement category either, as illustrated by a scholarship offer list that includes Arizona, UCLA, Kansas and Villanova.
WILL TRAE YOUNG START A TREND IN NORMAN?
Most of the time, the coaches section is usually lacking for an 8:30 a.m. contest, but that wasn't the case for the 16-under matchup of the Illinois Wolves and Oklahoma PWP. Head coaches from Oklahoma, DePaul, Northwestern and Oral Roberts were on hand, along with assistants from Tulsa, Oklahoma State, Michigan and others. The reason? A battle between Dayten Holman and Max Christie.
Christie, one of the better class of 2021 prospects, more than backed up his reputation as he showed tremendous savvy and made everyone around him better. DePaul and Florida have already offered. He still needs to add weight to his frame before he can consistently produce regardless of opposition, but his Saturday morning performance was very impressive. I expect that he will be hearing from college basketball's best before too long.
On the opposite side of the court, Holman also had a plus showing. The 6-foot-4 combo guard has emerged as one of the south's hotter names in recent weeks after picking up offers from Oklahoma, Oklahoma State and Houston. Holman, a Norman, Okla. product, told Rivals.com following his team's win that the offers from the in-state Sooners and Cowboys have really caught his eye and the idea of playing in his home city, just like Trae Young did, is intriguing.
Would Oklahoma have been such an entertaining option if it wasn't for Young's success in his hometown? That is up for debate, but another Norman local product is on the come up and Holman more than looks the part of someone that will have to decline invitations from some of college basketball's best in order to say yes to the Sooners.
STATEMENT MADE
James Bishop made a statement Saturday with his sizzling performance against Team Rio, scoring 43 points off of 11 made 3-pointers. While his Team Thrill bunch went down in defeat, Bishop turned in arguably the best performance that I have seen in over a year. The three-star prospect's recruitment is sure to benefit from his showing in Indianapolis, and it wouldn't surprise me if it developed into a full-fledged battle between high-major programs.
Competing against the lethal five-star backcourt of Scottie Lewis and Bryan Antoine, Bishop almost single-handedly kept his team afloat. When we eventually hear about offers pouring in for Bishop, it will be in part because of this specific Saturday morning affair in Indianapolis.

RAMSEY'S TWO-WAY SKILLS
There may not be a better two-way guard in high school basketball than Jahmius Ramsey. He competes each and every time he touches the floor and certainly passes the eye test.
Does he have his limitations? Sure. He needs more consistency with his shot and also needs to improve his work as a secondary ballhandler. Ramsey has made significant progress over the last calendar year, evolving from a somewhat limited prospect and is now now a key cog for any team that he suits up for.
Ramsey remains one of the hottest names within recruiting circles and I do not expect that to stop. He now leads a national recruitment and has the chance to make an impact at the highest level of college basketball.