Evans Seven: Who would love to have these top seniors the most?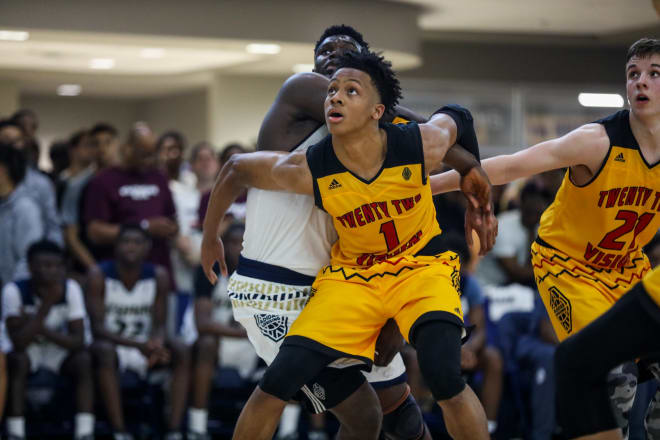 1. ZION WILLIAMSON 
Obviously, Williamson would be a tremendous addition for practically all of the schools involved in his recruitment. While he has yet to cut things down to a final list, we are going to narrow it down for him: North Carolina, Duke, South Carolina, Clemson and Kentucky are likely the top five for the YouTube sensation. Clemson and South Carolina would do wonders with the five-star forward and it would not be surprising to see either program break attendance records while the in-state prospect is on campus. UNC could use the star power that Williamson presents, as could Kentucky, but their frontcourts are a lot more potent than what Duke could be entering next season. The Blue Devils are heavily reliant on freshmen phenoms Wendell Carter and Marvin Bagley III this season. Next year, both will be earning NBA paychecks. Marques Bolden and Javin DeLaurier are good enough, but if the Blue Devils want to compete for another national title Williamson is a must.
2. ROMEO LANGFORD 
Langford, the top perimeter prospect available, has settled on a final three of Kansas, Vanderbilt and Indiana. There is plenty of room and early opportunities for Langford to shine at any of the programs in the hunt. While KU could cement its backcourt as the best in America next year and Vanderbilt could create an elite 1-2 punch with Darius Garland and Langford, Indiana might be the program that needs the in-state prospect the most. Archie Miller did inherit some talent on the perimeter in the form of Devonte Green, Al Durham and Robert Johnson. But with the latter's graduation in the spring and the recent transfer of sophomore Curtis Jones, Miller needs a potent scoring punch next season, and Langford would be the perfect remedy. And as much as the Hoosiers need Langford for his on-floor abilities, his commitment would also please in the optics category, as Indiana faithful have clamored for the best in-state talent to stay home.

3. ANFERNEE SIMONS 
We could probably throw in NBA franchises like the Phoenix Suns, Atlanta Hawks and Sacramento Kings here, seeing that Simons could opt for the draft in June. But since we believe that he will play in college next year, Tennessee is the program that needs him the most. Along with UT, South Carolina, Florida, N.C. State and UCLA are the programs primarily involved, but if Rick Barnes wants to take his program from middle-of-the-pack SEC into the argument for darkhorse Final Four candidacy, he needs to land an alpha dog, and that someone could be Simons. The Vols have cultivated underappreciated prospects into quality college producers already, but if they want to take that next leap, then someone of Simons' stature becomes a must.
4. COURTEY RAMEY 
Ramey, like Simons, is a former Louisville commit who backed off of his initial pledge to the ACC program in September following the FBI investigation. Since then, Ramey has remained patient with his recruitment. He recently set four official visits to Oklahoma State (a trip that he has already taken), Texas, UCLA and Villanova. Ohio State, Clemson and Missouri are three others also in the mix, and while any of the seven could use the talents of Ramey, no one needs the services of the floor general more than the Cowboys. The Cowboys, despite sifting through personnel turmoil, have remained in the hunt for a postseason bid as they are one of the best teams at forcing turnovers. They will lose all-Big 12 performer Jeffrey Carroll to graduation in the spring, but with a bevy of high-level shooters on its roster, a play-making agent like Ramey could push OSU higher up the Big 12 totem pole.

5. JAHVON QUINERLY 
There has been little to nothing said about the recruitment of Quinerly since the five-star New Jersey native backed off of his original pledge to Arizona in September because of the FBI sting that rocked the college basketball world. We can only assume the original pursuers of Villanova, Rutgers and Seton Hall are back in the mix, but no one needs the talents of Quinerly more than the Wildcats. There could be a giant void to fill with the pending departure of All-American junior guard Jalen Brunson. Assuming that he forgoes his final year of college eligibility in the spring, someone is going to have to take over the lead guard responsibilities for Jay Wright. Freshman guard Collin Gillespie could be up for the task, but Quinerly is of another breed. While he isn't in the mold of a one-and-done prospect, Quinerly has the game that should make him an immediate college producer. If Villanova wants to remain as the flag-bearers for the Big East Conference, Quinerly is someone that is tracking as a must-get.
For more on Villanova basketball, go to NovaIllustrated.com
6. MOSES BROWN 
Florida State, Georgetown, Kentucky and UCLA remain involved, but Maryland needs him the most. Yes, the Terps currently sit with a top-25 recruiting class, a group led by five-star power forward Jalen Smith. However, they will see both Sean Obi and Michal Cekovsky graduate this spring, and could also lose Justin Jackson early to the NBA if he gets his game headed back into the proper direction. The frontcourt is not totally bare, as the Terps will still boast the talents of Bruno Fernando and Ivan Bender. But Mark Turgeon likes to play multiple big-men lineups, so Brown becomes a necessity for the Terps. More of a prospect than a polished ballplayer, Brown's greatest strengths come around the basket, as he sports tremendous length and timing as a shot-changer and interior rebounder. He does have to get tougher and stronger, but alongside someone like Fernando, Brown could shine, thus aiding Maryland's ascent into the Big Ten elite.

7. JORDAN BROWN 
California and St. John's could use Jordan Brown, a five-star and top-10 prospect out of the 2018 class, beginning next season. UCLA, on the other hand, needs another push with its 2018 class this winter, making a commitment from Brown crucially important for Steve Alford's immediate future in Westwood. The Bruins are going through a changing of the guard this winter due to the ouster of the Ball gang. With the ordeal now behind them, Alford and his staff can focus on what is really important, which is reshaping its roster and filling out its frontline. The Bruins will lose four-year stalwart Thomas Welsh to graduation and could see a surprise freshman departure in Chris Smith or Kris Wilkes, depending on the responses they receive from NBA personnel. That makes snatching a polished 15-foot-and-in big man a must. Unlike Jalen Hill, Cody Riley or 2018 commit Kenneth Nwuba, UCLA doesn't have anyone on its roster for next year that can consistently score in the post. The Bruins, like everyone else, are at their best whenever their roster is balanced. If they can't scratch out the commitment of Brown, their reliance on guards and wings could be their downfall as they try to fight for another Pac-12 title.