Evans Seven: Predictions for the evaluation period
ANTHONY EDWARDS WILL AVERAGE OVER 30 POINTS PER GAME 
Is there a better scorer in high school ball than Edwards? I don't think so. The 6-foot-4 scoring guard averaged over 21 points per game during the first three sessions on the Under Armour circuit this spring and this weekend in Atlanta, expect Edwards to put on a show for the hometown crowd.

The opening-night session between Edwards, a natural scorer, and five-star guard and fellow classmate Jaden Springer should not be short on fireworks. Edwards has been at his best when the lights are shining the brightest, and I expect the baseline to be jam-packed with college coaches and fans from the area.

I would not be shocked to see Edwards finish a game with over 40 points this week and in doing so, bettering his chances for averaging over 30 points per game. Florida State is the team to beat for him, and it's probably safe to assume that Leonard Hamilton and at least one of his assistants will be at his side Wednesday evening.
COLE ANTHONY WILL DRAW THE LARGEST AUDIENCE 
Anthony, the second-ranked prospect in the 2019 class, is close to finishing arguably the greatest three-year run that the Nike EYBL circuit has ever seen. That's a strong statement, considering that it has been the platform for such prep standouts as DeAndre Ayton, Jayson Tatum, Marvin Bagley III and Anthony's former teammate, Mohamed Bamba.

While there will be plenty of teams trying to prevent him from winning the Peach Jam title, there won't be any shortage of coaches figuring out where Anthony will be playing. Averaging over 26 points, seven rebounds and three assists during the spring months, Anthony will draw the largest contingent of coaches to his games. Duke, Kentucky and Kansas will likely be in the hunt in the end, but a large variety of programs will be attending his games in South Carolina, as Anthony remains wide open with his recruitment.
TEAM TAKEOVER WILL WIN IT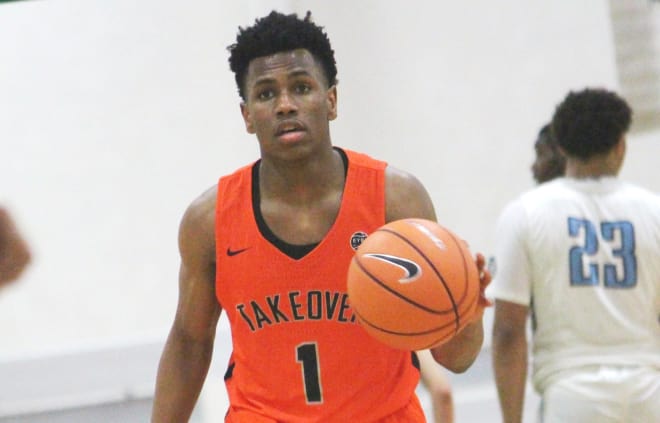 No team has ever gone undefeated in the Nike EYBL. Team Takeover is attempting to do just that this year - and chances are, it likely will. While defeating some of the best that the Swoosh circuit has to provide will be difficult, the amount of talent up and down the Team Takeover roster is impressive.

If you want a shot-maker, you have Villanova-bound Justin Moore and Virginia recruit Casey Morsell. If you want a speedster that can make others better, you have five-star 2020 guard Jeremy Roach. Want scoring in the post? The team has two of the most polished back-to-the-basket post players in the nation in Hunter Dickinson and Armando Bacot.

Travel director Keith Stevens has put together some strong squads in recent years, but this might be his best yet. The AOT Running Rebels have the best shot at knocking the D.C.-based program off, thanks to a heavy contingent of perimeter assets, including B.J. Boston, Isaac Okoro and Sharife Cooper, but Takeover might have too much firepower as they finish the summer of 2018 in dominating fashion.
JADEN MCDANIELS WILL WOW AND BRING IN MORE OFFERS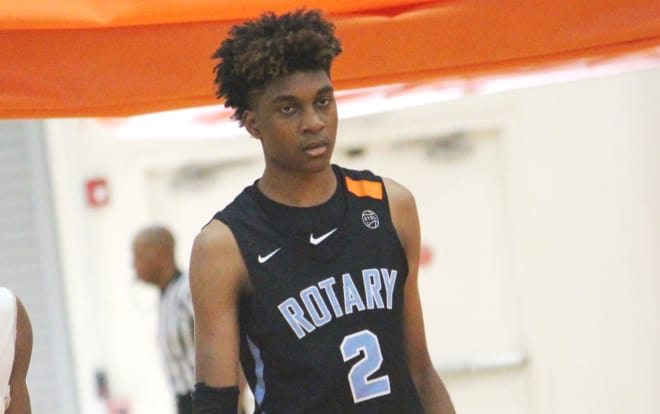 The ascension of McDaniels has not stopped. He began to show his true upside and raw abilities to the coaching masses in April, but his actual emergence came during the non-live period events in May and June. Now, on the Nike circuit's biggest stage - the Peach Jam - expect McDaniels to cause an even greater ruckus as he shows all that he can do and also what he can achieve as a long-term prospect.

Head coaches from Washington, San Diego State, Arizona, Texas and Oklahoma will be courtside for the majority of his games, and it would not be a surprise to see even more jump into the mix, as Kentucky and Duke have begun to show interest. A good few days could be all that it takes for some bluebloods to jump in with an offer.
D1 MINNESOTA AND COMPTON MAGIC WILL MEET IN FINALS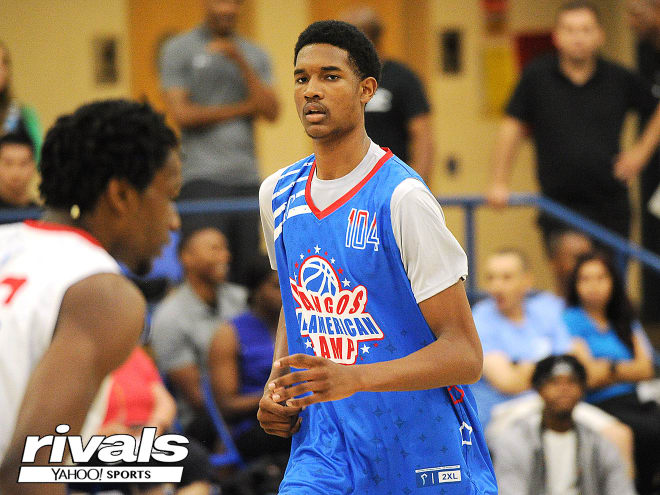 Adidas will roll out the first leg of its July events in New York with some of its best planning to attend. One of those is the Compton Magic, a team that is bolstered by five-star brothers Evan Mobley and Isaiah Mobley in its frontcourt, along with Onyeka Okongwu. The latter two are already committed to USC, with Evan Mobley likely on the way, thanks to the tact that the Mobleys' father, Eric, is on the Trojans' staff. Other players, including Jaylen Clark, Jared Lucas and Johnny Juzang further the Compton Magic's claim that they are the best on the adidas circuit.

They will be put to task in the title game by D1 Minnesota, a team chock full of frontcourt talent of its own, with three top-60 forwards on its roster, to go along with Wisconsin commit Tyler Wahl. Matthew Hurt, Zeke Nnaji, Iowa-bound Patrick McCaffery and Stanford recruit Tyrell Terry headline the D1 Minnesota team.
JALEN GREEN WON'T BE FATIGUED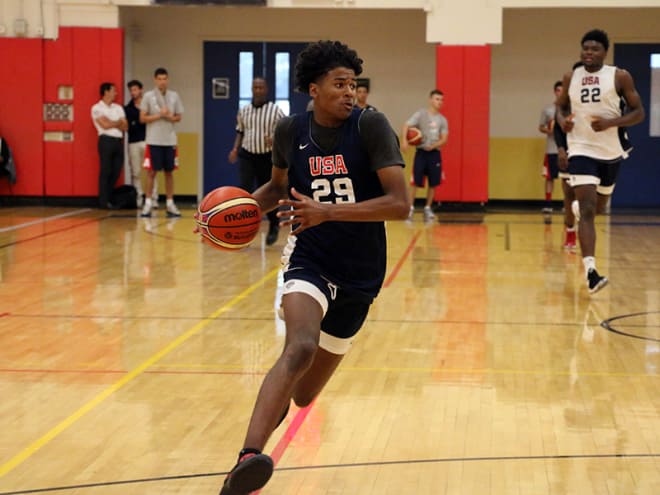 Just three days ago, Green captured the MVP trophy at the FIBA Under-17 Basketball World Cup, a nine-day event held in Argentina. This week, he can be found in New York City playing with the EBO Elite 17-under unit that will be in the race to capture the adidas Gauntlet Finale championship.

Will the travel catch up to the Fresno native? It is one thing to overcome the cross-country flight from California to New York. But to compete against the best at the under-17 international level, take an 11-hour flight home and then play against the best that the Three Stripes circuit has to provide, well, that is an animal within itself.

Unfortunately for his opposition, Green is built in a different mold, as he continues to set himself apart and earn the title of one of the best shooting guard prospects in recent years. He will better his argument about who the best player is in the 2020 class.

Kansas has already offered, and Kentucky has remained in close contact, so it would not be a giant surprise to see the Wildcats offer the elite-level athlete after being seen by John Calipari this week.
OVER 15 HEAD COACHES WILL WATCH RIO VERSUS RUN GMC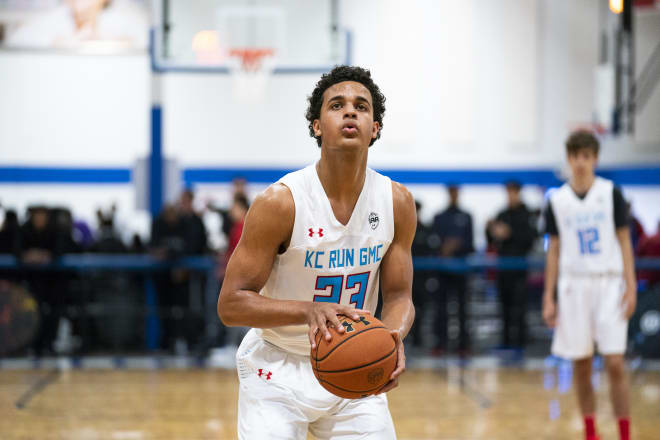 The marquee contest in Atlanta on Wednesday evening will pit four five-star prospects from the 2019 class against one another. Team Rio, boasting the talents of top-30 prospects Aidan Igiehon, Scottie Lewis and Bryan Antoine, will square off against KC Run GMC, which features top-10 big man Jeremiah Robinson-Earl and top-50 guard Zach Hervey.

The two teams will go at it at the Under Armour Challenge, where there will be no shortage of head coaches in attendance. Talk this week is that many coaches will begin their time in Atlanta before making the two-hour drive to North Augusta for the remaining part of the weekend. This should make the Team Rio versus KC Run GMC game one of the most-watched games during the first live period.

My bet is we will see head coaches from Duke, Arizona, Kansas, Kentucky, Florida, Villanova, Harvard, Creighton, Kansas State, Oregon, Pitt, Georgetown, UConn, Stanford, Louisville, St. John's, UNC, Oklahoma, UCLA and Wake Forest in attendance. No other game during the first live period will draw more attention from top head coaches.