Evans Seven: Freshmen that have the biggest shoes to fill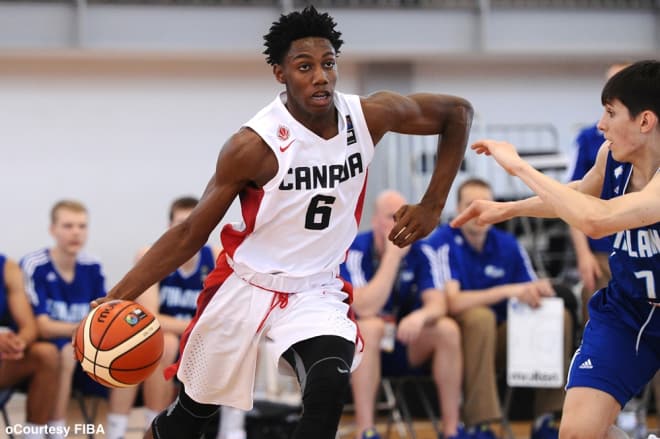 This discussion begins with the top-ranked player in the 2018 class, R.J. Barrett. The Canadian has grown accustomed to the spotlight, which is a good thing seeing that every move that he makes in Durham will be scrutinized. Coach K has become known for running things through his 3-men, whether it be Luol Deng, Jabari Parker or Jayson Tatum, and Barrett is next in line. Zion Williamson will make the most highlight reels, Cam Reddish boasts the greatest versatility and Tre Jones will have the ball in his hands the most. However, whenever crunch time approaches, Barrett will have the rock. If he fills the shoes of past Duke wing standouts, Coach K might be celebrating his sixth national title in April.

Romeo Langford, the top-ranked prospect in Indiana in the 2018 class, has had super lofty expectations placed upon him as he prepares for his freshman season with the Hoosiers. Langford has played in sold-out high school gyms dating back to his junior year and while the lights have always been focused upon him, nothing is going to be like when he hits the floor at Assembly Hall. A 6-foot-5 guard and one of the most prolific scorers in the state's history, Langford comes to Indiana with tremendous acclaim and a strong pedigree. It may be too much to expect Langford to average more than 20 points per game, but anything over 15 points, a handful of assists and providing versatile perimeter defense would definitely go a long way in meeting expectations.

Kentucky's 2018 class is one of the best the sport has seen in recent time despite finishing second in the team rankings behind Duke. Ashton Hagans, Immanuel Quickley, E.J. Montgomery and Keldon Johnson all are worthy of attention but Tyler Herro is the game-changer for the Wildcats this season. Kentucky was lambasted last winter for its lack of shooting. Those shooting questions should be erased quickly thanks to Herro as the freshman made eight of his 18 3-point attempts during the Wildcats' international tour last week. Herro still needs to improve his defense, but by making shots, the floor becomes wider for guards to attack and his bigs to score in the post.

The Pac-12 is wide-open this season and UCLA enters the year with the potential to take home the league title. For that to occur, Moses Brown must fill the shoes left by Thomas Welsh immediately. Brown, though not as polished as Welsh but boasts more upside and could lock down league honors from the get-go. For all things to go well, the 7-footer must provide consistent energy, defend his basket and score inside and out. If all that is in play, the Bruins have a good shot at a conference championship.
Villanova was decimated by early departures this offseason and while the losses of Donte DiVincenzo, Omari Spellman and Mikal Bridges will sting, everything ran through Jalen Brunson. He leaves giant shoes that Jahvon Quinerly must fill immediately. Jay Wright will have to integrate Quinelry slowly, but he will have to be at his best if Villanova is to be at its best. Super skilled and with some pizzazz to his game, if Quinerly can set the floor for the program's brigade of newcomers, take care of the ball and fill at least some of the shoes left by Brunson, might a third title in four years be within grasp?
Bill Self enters the new season with hopes of a 15th-straight Big 12 title. The Jayhawks, in recent years, have leaned on Frank Mason and Devonte Graham but now that the duo has exhausted their eligibility, there are questions about Kansas' backcourt for the first time in over five years. While he is not expected to fill the box score like Mason or Graham, if Devon Dotson can contribute as a defensive cog at the lead guard spot and also show maturity in setting the floor for this uber-talented KU bunch, the Jayhawks will be well on their way to another league crown.

Coby White might not be the most talented incoming freshman on North Carolina's roster, and he will not be the team's leading scorer thanks to the return of Luke Maye, but if the Tar Heels want to return to the Final Four, he needs to fill its pressing point guard needs. The team has secondary options at the lead guard spot thanks to the return of Brandon Robinson, Seventh Woods and Kenny Williams, but White might have to be the guy if North Carolina is to hit its ceiling. Known first and foremost for his versatile scoring package, White will have the chance to take oversee the position that Joel Berry held for the past four years. It's probably a reach to ask White to change his game overnight and become more of a playmaker than scorer, but if he can facilitate efficiently and make the appropriate play, Berry's shoes might not be too big to fill.