Early Signing Period Live Blog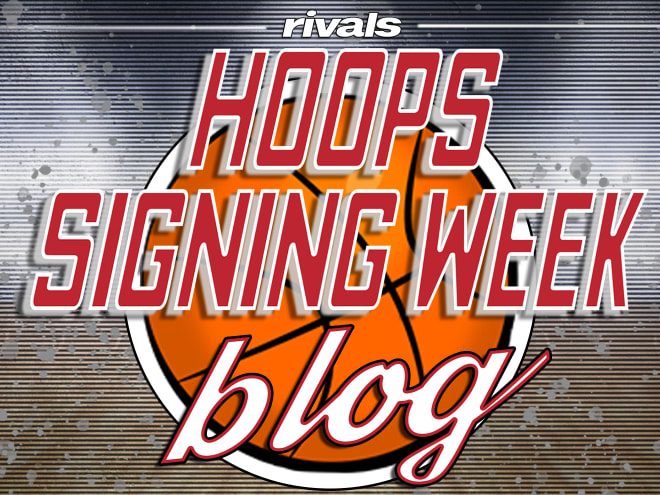 9:13 PM: UCONN THE ONLY MOVER ON  A QUIET FIRST DAY
6:59 PM: IS THOR READY TO HAMMER OUT A DECISION?
5:29 PM: FIRST FIVE STAR FOR MICK CRONIN IS OFFICIAL
5:02 PM: SHAK MOORE NOT READY TO SIGN JUST YET
4:01 PM: PURDUE'S CLASS IS OFFICIAL
3:27 PM: JAYLIN WILLIAMS DOWN TO TWO, NOT SIGNING EARLY
2:19 PM: IS LATEST KANSAS OFFER A CLUE?
1:42 PM: VOLS FANS SHOULD BE GOING CRAZY FOR KEON
12:22 PM: WHAT WILL JALEN TERRY DO?
12:01 PM: TARI EASON TO WAIT
11:00 AM: SIBLEY REMAINS UNDECIDED
10:54 AM: FIVE-STAR LOVE WILL SIGN ON THE FIRST DAY
10:08 AM: IOWA BOUNCES BACK
9:40 AM: CADE SET TO SIGN
9:36 AM: BRAKEFIELD WILL SIGN WITH DUKE
9:06 AM: IS A DECISION COMING FOR FIVE-STAR JOSH HALL?
8:24 AM: ONE VISIT LEFT FOR FOUR-STAR WALTON
8:03 AM: RIVALS150 BIG MAN ODUSIPE WILL WAIT IT OUT
7:43 AM: WELCOME TO THE SIGNING DAY BLOG