Bossi's Takeaways: R.J. Hampton stands out in Dallas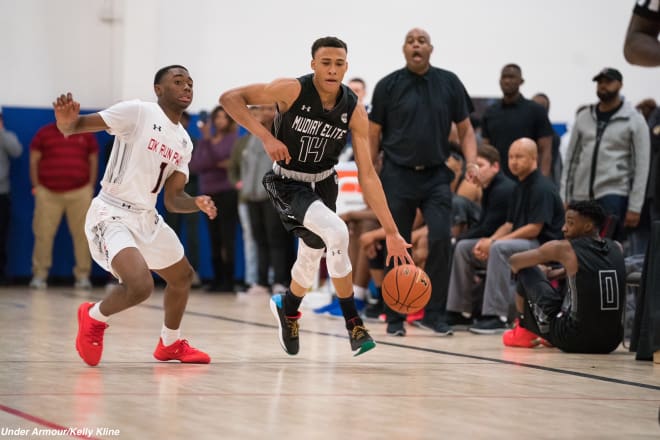 DUNCANVILLE, Texas - The first full day of the spring evaluation periods kicked into high gear on Saturday as all three shoe company brands put on showcase events throughout the Dallas-Fort Worth Metroplex. We saw five-star R.J. Hampton shine, Nico Mannion prove himself and much more.
MORE FROM DALLAS: Who were the coaches watching? | Bossi's Friday takeaways
R.J. HAMPTON IS THE BEST POINT GUARD REGARDLESS OF CLASS
Make no mistake about it, class of 2020 point guard R.J. Hampton is a star. In a 34 point, eight rebound and eight assist effort for Team Mudiay against the Philly Pride, Hampton showed why I think he's the best point guard prospect in America regardless of class.
He's got great size, he is skilled, he is athletic and he puts up huge numbers without forcing anything. That's all great but there are two things that stand out to me. One, Hampton shows a new wrinkle to his game each time he hits the floor. Two, you can tell he loves playing the game and that enthusiasm spreads to his teammates.
At the end of the day, Hampton is going to be able to play anywhere in the country. Baylor, TCU, Texas A&M, Kansas, Texas Tech, Oklahoma State and many more have offered and it looks to be all but a foregone conclusion that Duke and Kentucky will be offering as well.

While Hampton is a no-brainer priority at the highest levels, how to recruit him could eventually be a tricky proposition. As long as there is talk that the NBA could change their early entry rule so that players can enter the Draft after high school, a coach has to have a backup plan for a guy like Hampton. The most popular talk is that the 2020 class will be the one to get the green light for the NBA and if that happens, Hampton is the kind of player that will have a chance to seriously consider skipping college.

DON'T SLEEP ON THE RED ROCKET
Some guys are lightning rods for debate, Nico Mannion is one of those guys.
The skilled and athletic 6-foot-2 point guard who was most recently on USC's campus is a mixtape and social media favorite and puts up big numbers for his high school and West Coast Elite grassroots squad. But, he's also had his game put under a high powered microscope unlike many others.
That's not lost on Mannion.
"When you get that high profile you always have to back it up," Mannion told Rivals.com. "I also think that the way that I look, people assume I'm unathletic and can't be that good."
Here's the deal, the red rocket is good and has a work ethic and attitude that match his skill. He's not here to live on his reputation and next time we update rankings he deserves to be moved to five-star status. He's proven himself.
Something interesting to note regarding Mannion, he told me that he'll be taking summer classes so that he can have the option of graduating with the class of 2019.

NOBODY'S STOCK HAS TAKEN OFF LIKE JAYKWON WALTON'S HAS
Each time the coaches can come out and watch players at live period events there are a few guys that see their stock soar, this weekend nobody has seen their stock soar more than 6-foot-6 wing Jaykwon Walton has.
Already this weekend he's added offers from Louisville and Florida to go with Alabama, Mississippi State, Georgia Tech and Ole Miss who had already offered. I'll be very surprised if more aren't on the way.
Earlier this week I got a call from Walton's summer coach Norton Hurd of Team Thad and he was high on Walton and thought his time was coming. Hurd was all over it as Walton backed up everything he said and created as much of a buzz as anybody in the country.

IT'S IMPORTANT TO GET OFF THE GRID
The shoe company circuits are great because you can see a highly concentrated amount of high-level talent under one roof. But, not every high level player is running with a shoe team so it's important to build time into my schedule to get off the grid.
Saturday night, I went over the Great American Shootout event at Duncanville High and I was rewarded for my efforts by high level sophomores Ziaire Williams and Caleb Lohner of BTI and Basketball Means More.
Now I will admit, I knew that I was going to see a pair of highly-ranked sophomores but it was still a two for several tradeoff that worked out in my favor.

Playing for BTI, Williams reminded me a lot of Stanford freshman Kezie Okpala because of his long and slim frame, shooting ability and skill as a passer and ball handler. The West is strong in 2020 and he's another example and already has USC, California, Stanford, Boise State, Pepperdine, Loyola Marymount and Creighton offers and has been on the campuses of Cal, Stanford (twice), UCLA and USC.
As for Lohner, I was kind of surprised he didn't have more coaches out because he is a potential big timer. He's every bit of his listed 6-foot-7, can shoot with range, is very athletic and though he's a legitimate wing he has the strength and willingness to play as a matchup problem four man. Props to Baylor's Scott Drew and assistants from BYU, Purdue and Texas A&M for making it out to see him.
KIDS LIKE VICTOR IWUAKOR ARE EASY TO ROOT FOR
No matter what school you root for, you should be cheering for Victor Iwuakor.
The three-star power forward for Texas Hard Work is as explosive an athlete as there is in the class of 2019 and he takes it personal when people try to score on him at the rim. He blocks dang near everything and on the offensive end he dunks everything he can. Because of that, he's entertaining.
That's fine, but the reason to cheer for him is because of his work ethic and outlook on things. Iwuakor left his home in Nigeria to make a better future for himself and told me that he hasn't seen his family since leaving. He said he hopes to see them sometime before he goes to college and though they are separated, he's no doubt making them proud with the way he's making the most of his opportunity with offers from Texas A&M, Tulsa, North Texas, Illinois State, Louisiana Tech and more with interest from Kansas State, Arkansas, Purdue and LSU to name a few.