Class of 2021: Prospects on the rise after spring session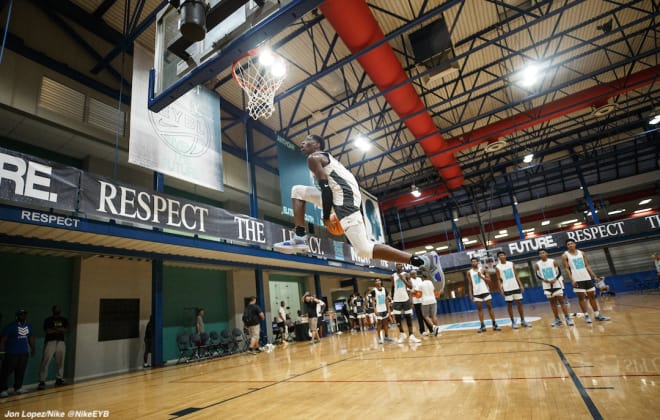 At Rivals.com, we look at the Grassroots basketball system and break it down into three different legs. There is the first leg of the spring and summer where prospects spend most of April and May playing with their summer teams. The second leg is June which has traditionally been a month for individual and team camps. Things finish with the third and probably most important leg, the July live period.
Now that we are into the second leg of the Grassroots season, Rivals.com analysts Eric Bossi and Corey Evans have decided to take a look back at the first leg and hand out some awards. Today, we discuss six players from the class of 2021 who stand out as potentially elite prospects.
Already standing 6-foot-8 with a picture perfect jump shot, Baldwin Jr. is a highly skilled scorer with versatile offensive game. As impressive as he is as a shooter, he may be even better as a passer and with his general feel for the game. Strength will come with time and he'll benefit from having a father, Pat Baldwin, who played high major ball at Northwestern and is a current head coach at Wisconsin-Milwaukee.

In the hunt early: Northwestern, Illinois, Marquette, Minnesota, DePaul, USC, Kansas State and UNLV have already offered
Measuring in at just under 6-foot-8 at the Nike Top 100 this weekend, Banchero is the ideal small ball power forward. While he is not a freak athlete, his impressive blend of intellect, feel and versatility sets him apart from many others in the 2021 class. He is a tremendous weapon facing the basket out of the high post setting but has the toughness and strength to score through contact around the goal. The perfect side-kick for blossoming star Jaden McDaniels with the Seattle Rotary squad, Bachero has posted strong averages of 13.9 points, 7.7 rebounds and two assists per game while playing two levels up on the Nike EYBL circuit.

In the hunt early: Washington is the one to beat early thanks to his bloodlines but Pac-12 rivals will soon become heavily involved.
A physical marvel, Cisse has tremendous size, is a high-level athlete, plays with a big-time motor and protects the rim at a high level. He's already used to playing against high-level competition after playing up a couple of age groups on the 17U level of Nike's competitive EYBL. Though he's not yet polished as a back-to-the-basket scorer, his feet aren't bad, he has some touch and he will get the ball off the glass.

In the hunt early: There hasn't been much credible info on Cisse's recruitment just yet but he will be a target of the best programs in America.
The best wing prospect in the 2021 class, Clarke was playing on the 17-under circuit as just an eighth-grader last summer. Fast forward a year and the super talented two-guard has shown flashes of absolute brilliance on the Nike EYBL circuit this spring such as the game in which he had 22 points earlier in the year. Clarke has no issues creating his own shot but he is also an underrated playmaker that sports great size, length and fluidity to develop into a two-way producer. Clarke is the entire package as a perimeter prospect in the 2021 class.

In the hunt early: Clarke will be a blueblood recruit. UConn, Georgia Tech and Rhode Island have already offered.
Another product of Milwaukee like Baldwin above, Foster's blend of size, skill and athleticism isn't fair for a kid just finishing his freshman year of high school. He can rise up for threes in transition, is capable of playing above the rim in traffic and he's got a serious nose for the ball as a rebounder. Foster handles and passes pretty well for a young four-man and put up huge numbers in his first year of high school.

In the hunt early: Committed to Arizona State

Kuminga is a mixture of athleticism, great size at the power forward position, a motor and a budding skillset in the frontcourt. Playing all of the way up on the under-17 Nike EYBL circuit this summer, things have not gone as smoothly as hoped as he has averaged just over six points and three rebounds per game. Then again, he did score 15 points and grab five rebounds against the second-ranked player in America in James Wiseman. With more time and a more diverse skillset intact, Kuminga has the chance to make a run for the pole position in his class.

In the hunt early: Auburn became the first power conference program to offer in the fall and St. John's, Maryland, UConn, Michigan, Arizona State and Texas Tech have also joined the fray.