Ten prospects who are unranked but rising after spring session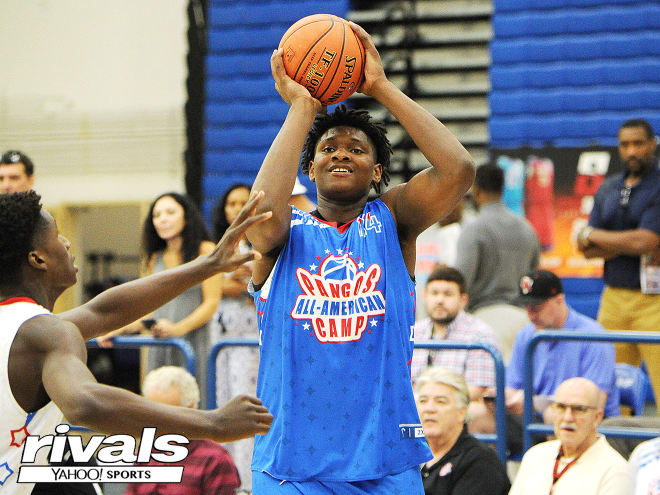 At Rivals.com, we look at the Grassroots basketball system and break it down into three different legs. There is the first leg of the spring and summer where prospects spend most of April and May playing with their summer teams. The second leg is June which has traditionally been a month for individual and team camps. Things finish with the third and probably most important leg, the July live period.
Now that we are into the second leg of the Grassroots season, Rivals.com analysts Eric Bossi, Corey Evans and Dan McDonald have decided to take a look back at the first leg and hand out some awards. Today, we discuss 10 spring risers who aren't currently ranked in either 2019 or 2020 who are making major plays to be included when we update the rankings before the July live periods.
MORE: Ranked risers of spring session
Why he's on the rise: Baugh is a point guard with great size, a nice feel for the game and he's one of the top perimeter defenders in the country. He's quickly become a target of high-major programs and he's played to that level.

Who is involved? Baugh has become a major target in the Southeast with Miami, TCU, Florida, USF, LSU, Ole Miss and Georgia all offering in the last month.
Why he's on the rise: He has shown tremendous progressions on the ball as a capable playmaker that can create for others and himself. The definition of a competitor, Beard brings a blue-collared work ethic to the court along with a two-way approach that has him on the cusp of a national ranking in a few weeks. Known for his mid-range scoring, Beard can now facilitate a half-court offense, defend both guard spots, and finish in traffic.

Who is involved? DePaul and Iowa remain the lone power program offers.
Why he's on the rise: Dainja is one of the class of 2020's true matchup nightmares. He's a big dude who can really handle the ball and because of that bigs struggle to guard him in space. But, if he's got a wing guarding him he's too big and strong.

Who is involved? Minnesota, Kansas State, West Virginia, Iowa, Illinois, West Virginia have all offered since late April.
Why he's on the rise: A long and rangy forward that can defend multiple positions in the frontcourt, Disu can also extend the defense with the perimeter jumper. Based primarily off his upside and budding potential, there is a lot of Duke forward Javin DeLaurier in Disu, someone that could be a major breakout in college.

Who is involved? Stanford, Georgia Tech, Vanderbilt, SMU and Texas A&M.
Why he's on the rise: He has put up major numbers on the Nike EYBL circuit this spring. A 6-foot-4 wing with good size and length, Forbes can really put the ball through the basket. He is averaging 20 points and five rebounds. He scored 37 points off eight made perimeter jumpers in a game earlier this spring. He is a major scoring threat on the perimeter that can create for himself and has cemented his standing as one of the best wing prospects from the South.

Who is involved? Surprisingly, Forbes doesn't have high-major offers but Ole Miss, Mississippi State, UAB and Kansas State are among those watching.
Why he's on the rise: Gordon has managed to fly somewhat under the radar but he's a stud scorer on the adidas circuit with Team Rose. He's a good athlete, can get cooking from deep and keeps defenders on their heels with his ability to score off the dribble.

Who is involved? Ole Miss, Tulsa, Kent State, Murray State, Saint Louis, Loyola Chicago, DePaul, New Mexico, Cleveland State and many more have offered.
Why he's on the rise: Harwell doesn't play on a shoe circuit team but he impressed plenty of coaches with his play during the spring. He's a good-sized wing who plays with intelligence, can shoot from deep and has a frame that is built to play through contact.

Who is involved? Home-state Alabama and Auburn have both offered. Georgia and Kansas State have shown interest, to go along with mid-major offers.
Why he's on the rise: He has shown incremental improvement this spring on the Nike EYBL circuit, displaying the propensity to complete a variety of tasks on the wings of the floor. A sneaky athlete at the basket with the body to mold once he hits a college weight room, Hill has piqued many others' interest due to his scoring, rebounding and versatile defense. He is averaging over 17 points and seven rebounds off 54-percent shooting from the floor this spring.

Who is involved? UNLV, USC, Oregon, Arizona State and Illinois are his most recent offers.
Why he's on the rise: One of the top two-sport prospects in America, London began the spring with a bigger football reputation than basketball but that's changing. Pound for pound, he is one of the toughest players in the country. A dynamic wing defender that can score in traffic. He's another who proves you don't have to be on a shoe circuit to get acclaim.

Who is involved? Virginia and USC could be the standouts here with almost the entire Pac-12 willing to let him play both football and basketball.
Why he's on the rise: Watching Smith play in April, it was very clear that he's a high-major wing. He has ideal wing size, is a big-time athlete and he will compete. On top of that he has a well-rounded floor game and mixes drives and jump shooting.

Who is involved? Auburn, Xavier, LSU, Florida, Alabama, Mississippi State, Seton Hall, Cincinnati, Virginia Tech, USF, TCU, Miami and more have offered.