Chick-Fil-A Classic: Evans Thursday Takeaways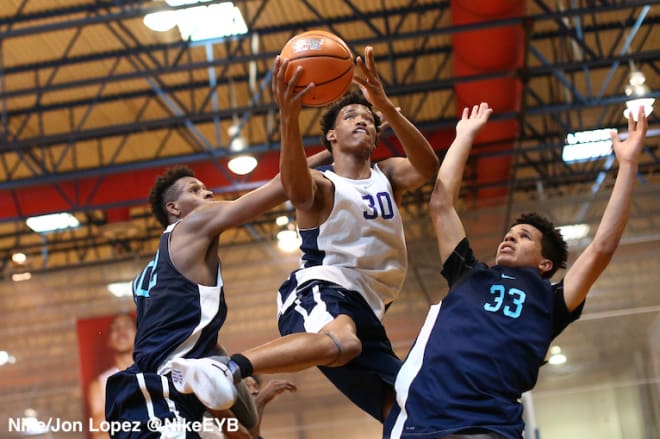 COLUMBIA, S.C. – Top-50 wing Wendell Moore continues to focus on a group of 10, Silvio DeSousa's masking qualities for Kansas stood out, and two available seniors have begun to hit their stride as the Chick-Fil-A Classic kicked off Thursday.
WENDELL MOORE STUCK ON TEN
Last month, Wendell Moore, a top-50 wing from North Carolina, narrowed his college list to a group of ten schools. Now focused on Washington, NC State, Ohio State, Duke, UNC, Wake Forest, Kansas, South Carolina, Florida State and Maryland, Moore is in no rush to make his college decision.

"I narrowed things down to 10 and I am just focused on those schools," he said. "They stay in touch and hit me up a lot and I am just picking one of those 10."
Moore stated Duke, UNC, Wake Forest, South Carolina and Kansas have begun to emerge from the pack with Wake Forest as the program that is recruiting him the hardest.

"I probably talk to them more than everybody," he said. "They talk to me every single day. Coach (Steve) Woodberry and Coach (Danny) Manning text and call me every single day," he said. "I have been on campus for two games already and they are really turning that program around."
On the floor, Moore shot the ball the best that Rivals had seen him to date. He knocked in 11 of his 17 shots from the floor, four of which came in the three-point variety. More of an unselfish playmaking wing, Moore has taken major steps within his game besides just making shots. He is one of the more undervalued passers and thanks to his extended length, is someone that can guard three positions. Expect for a more polished list in the spring with it being a battle of the Carolina programs at landing his commitment.
TOUGHNESS IN THE CARDS FOR SILVIO DESOUSA
Much has been said about Kansas' toughness and frontline, or lack thereof, this season. Faced with the uncertain future of Billy Preston in Lawrence and what looks to be too big of a role for Mitch Lightfoot, KU has hit a bit of a wall with its recent shortcomings against Arizona State and Washington. Said Bill Self to CJ Online last week, "I don't know that anybody ever, first thing they (said) after playing Frank (Mason) or Josh (Jackson) was, 'Hey, those were some nice young men.' I don't think that was what they said normally. But that's probably how people look at us now."

If Silvio De Sousa gains eligibility in the coming days, that outlook could change and in a drastic fashion.
One of the most explosive players in high school basketball, De Sousa was emphatically good on Thursday. He brought the crowd to their feet a number of times thanks to his windmill dunks but it was the physicality that he presented on the interior that would be a welcomed sight in Lawrence.
All that the Jayhawks need is for DeSousa to receive the proper test scores and he could be suiting up for Kansas this time next week. He isn't the complete answer for Kansas' issues on the offensive glass and in the toughness category, but he sure would mask some of its deficiencies in its frontcourt.
SEC PROGRAM EMERGES FOR TJ MOSS
The recruitment of TJ Moss has gone through its peaks and valleys, first emerging as a nationally ranked prospect and at one point in time, being found within the top-50 of the Rivals150. After battling through some adversity during his sophomore and junior years, Moss has found his new home at Findlay Prep to be the catalyst to a high-major recruitment that he had originally led during his underclassman years.
A 6-foot-4 guard that was once valued for his shooting abilities, Moss showed much improved facilitating abilities where he is actually used on the ball. He has gotten stronger, tougher and more efficient and because of it, seen a few programs jump into the picture.

"South Carolina, New Mexico and Grand Canyon have been calling my coach," he said. "I am going to try and visit USC while I am out here; I like Coach (Frank) Martin. He is really hard-nosed and is going to get into you and make you do things the right way."
A trip could take place to South Carolina before he leaves this weekend. Look for Moss to take the recruiting process into the spring before making things official with a signing come April.
JAIRUS HAMILTON REMAINS PATIENT
Against an absolutely loaded Oak Hill Academy, Jairus Hamilton was the catalyst for his Cannon School remaining in the game throughout their battle on Thursday. The perfect small ball power forward in today's game, Hamilton has been knocked for his inconsistent shooting numbers in the past, to go along with the tweener label that had been plastered alongside his name. Hamilton seems to have heard some of the criticism as he displayed a revamped jumper, a shot that he was able to make four times out of his seven perimeter tries.
Originally a priority recruit for a number of ACC programs this summer, Hamilton has remained patient with the recruiting process as he has seen a handful of others jump into the mix.

"Things are going well. It is just a really hard process so I have just been trying to take my time with it all," he said. "Boston College, Mississippi State and Maryland are the main three as of right now. There are still a few schools coming in late but I don't know if I really want to go and visit out there."
The Rivals150 senior has picked things up with his game and is hitting stride at the perfect time. It looks as if the four-star forward will continue to play things out into the spring as Villanova could be the final program to host him before he comes to a college decision.
REINFORCEMENTS HEADED TO OREGON
It has been a rather lackluster year in Eugene as Oregon, needing to replace six of its top seven scorers from its Final Four run last season, sits within the middle of the pack of a rather down Pac-12 this winter. While Dana Altman has been known to pull some things out of his hat, regardless if there is a turnaround for the Ducks or not, Oregon fans need to be excited to what is headed their way in the fall.
Bol Bol, the most unique prospect in America, is a physical marvel with his 7-foot-3 frame masquerading up and down the floor like someone a foot shorter. Boasting a 7-foot-9 wingspan and unbelievable hands around the basket, Bol is the king on a chess board for the coaching tactician that is Altman, a top-five prospect who ended his day in Columbia with 24 points and nine rebounds, all while missing just three shots from the floor.
Bol will be aided by the perimeter play of Will Richardson, a super shifty guard that can score from all three levels on the floor, but is also evolving into a high rate playmaker. He should make the transition to the college game well and take over the reigns at the two-guard spot that grad-transfer Elijah Brown will soon enable once he graduates.
Completing his first outing at the Chick-Fil-A Classic with 16 points, six rebounds and three assists, Richardson and Bol are two ballplayers that will make Oregon more than just a league contender, but rather a national title contender in the coming years.