Tarkanian Classic: Bossi's Thursday takeaways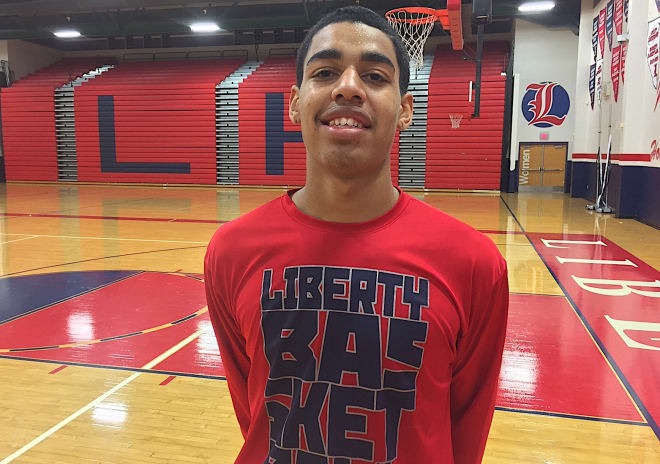 STRAWTHER BROUGHT HIS "A" GAME AGAINST JALEN GREEN
Give Julian Strawther credit, the five-star wing at Las Vegas (Nev.) Liberty didn't downplay the significance of matching up with 2020's top ranked player Jalen Green of Fresno (Calif.) San Joaquin Memorial. He embraced the challenge and after going for 38 points and getting the win, he said it was a game he and Green had been looking forward to for some time.
"Me and Jalen, we go way back," said Strawther. "Ever since we found out about the game we've been texting each other and talking about it. We had to go at each other."
Ranked No. 11 nationally, Strawther easily lived up to that lofty status. He drained several deep threes, made slick passes to teammates and showed off his sneaky athleticism when given a chance to get to the rim. Perhaps most impressive is that everything he did came within the flow of the game and there was never any need for him to jack shots.

Strawther visited USC and Washington during the fall and said he doesn't have any other visits planned. The Huskies and Trojans have both offered as have others like Illinois, TCU, Gonzaga, Oklahoma, UNLV, UCLA, Arizona, Creighton, Cal, Oklahoma State and Florida to name a few.

While it wasn't a truly vintage performance from Green, he still impressed in a 25-point effort. How easily he creates for himself off the dribble, a dangerous pull-up jumper and elite athleticism make him as explosive a player as there is on the offensive end, regardless of class. Arizona, Fresno State, Florida State, UCLA, Oregon, Cal, Villanova, Creighton, UNLV, Washington and San Diego State are among those who highlight his offer list.

MOBLEY BROTHERS ARE GOING TO MAKE A PROGRAM REALLY HAPPY
Neither of them has said that they are 100 percent a package deal, but if I was laying odds, I would put them heavily in favor of talented big men, and brothers, Isaiah Mobley and Evan Mobley picking the same school. Whichever coach gets them is going to be a lucky man.
Ranked No. 29 in the class of 2019, Isaiah has added some good strength in the last six months. He's done so without costing himself any flexibility and as a result, he can now bang on the interior or step out and face from mid-range and beyond where he can show his skill as a shooter and passer.
A class behind his big brother, Evan ranks No. 22 overall in the class of 2020 and it's most likely that he will move to five-star status the next time we update the rankings for his class. Evan is pushing 6-foot-11 at this point, has great hands and has a series of well-developed post moves at his disposal. He's just scratching the surface of what he could be and looks the part of an elite prospect.

Both Mobleys are big-time students as well. Looking at this early, my feel is that the duo will stay out West and if that's the case then Arizona State, Stanford, USC, UCLA and Washington will have a good chance to make some noise.

WASHINGTON MAY HAVE STOLEN ONE IN JAMAL BEY
Washington is going to come out looking pretty good when it comes to their signing of Jamal Bey.
Currently an unranked three-star, the senior at Las Vegas (Nev.) Bishop Gorman has always been intriguing because of his size at the two, plus athleticism and potential as a defensive stopper. But, he has also been plagued some by inconsistent performances.
There was no questioning anything with him Thursday night as he totally took over in a win against a very good Corona (Calif.) Centennial squad. He had big dunks, was a pest defensively and what impressed me the most was the development of his mid-range game. Bey has always showed promise as a pull-up jump shooter, but he's really created a pretty diverse set of moves to get him there which means he can manufacture buckets.
Bey is somebody that we'll have to think real hard about for the final Rivals150 in 2018 and he looks ready to help out when he arrives at Washington next season.

MORE NOTES FROM THURSDAY AT THE TARKANIAN CLASSIC
UNLV has landed itself a guy ready to compete as soon as he gets on campus in guard Bryce Hamilton. What really stood out is how physically strong he is. Because of that, the jump in physicality from high school to college won't bother him as much as it does some others. If you are asking me, Hamilton looks like a multiple year starter in Vegas.

Don't want to put much on any freshman in terms of expectations, but Las Vegas (Nev.) Coronado's Jaden Hardy looks like he has a very bright future. Hardy is a physical, heady and dangerous jump shooting two guard. Hardy's brother Amauri Hardy is a freshman at UNLV and it's no surprise that the Rebels have offered. Southern Utah, TCU, Illinois and Georgia Tech have also offered.

While Jamal Bey was outstanding for Bishop Gorman, he didn't do it all by himself. Sophomore guard Noah Taitz came up with some huge shots and was a big reason his team was able to come back and win big. Taitz is an athletic straight-line driver who can knock down a deep jumper, which means he's pretty dangerous. Washington, UNLV, DePaul, Nevada, Utah and Stanford are among his early offers.
Among the schools here were UCLA, Utah, Arizona State, Washington, Pepperdine, UTSA, San Diego, Illinois, UNLV, Northern Arizona