Cade Cunningham primed to be one of stars in class of 2020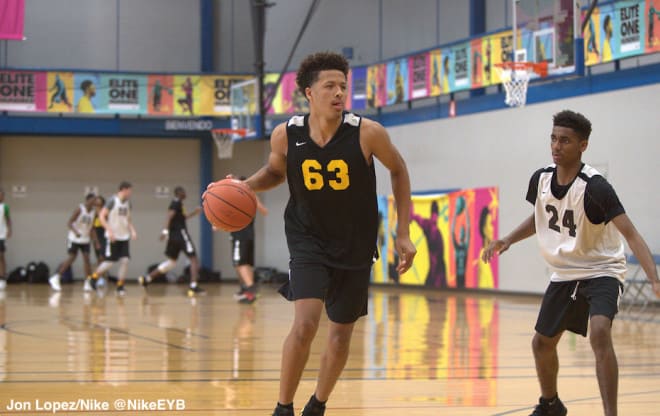 MORE: Current stars that made their name in July
ST. LOUIS – Talent is not lacking with Cade Cunningham, as the 6-foot-6 small forward has the chance to be recruited heavily in the coming years. The class of 2020 wing has already picked up a couple of high-major offers as a bevy of others have started to track the versatile and productive prospect.
A standout from this past weekend's Nike Top 100, Cunningham showed that he can shoot, finish, rebound and defend. The younger brother of former SMU standout Cannen Cunningham, Cade spoke about his early recruitment.
"I have Oklahoma State, Texas A&M and Tulane offers," he said. "Oklahoma State was my first offer. Mike Boynton was the assistant coach when they offered.
"I didn't know what to say when they offered. I was at a loss for words. It is just crazy. I didn't think that I was going to be here."
IN HIS OWN WORDS
USC, SMU, Kansas State and Houston are among the others involved as Cunningham spoke on two of his offers and his brother's alma mater.
Oklahoma State: "I love the coaching staff and how they run their program. It is a really good program."
Texas A&M: "Coach Ulric (Maligi) was actually my brother's assistant at SMU, so I knew him for a very long time. We already built a bond and have a good little coach-player relationship. I love the dude so I guess I can give them a little bit of an edge."
SMU: "They are always just telling me how interested they are and that they like my work ethic. They always try and keep in touch with me."
WHAT'S NEXT?
Cunningham will finish his sophomore summer with the Texas Titans travel program. Having already visited Arkansas, SMU and Tulane, a trip could be taken in the coming days to Houston as more schools jump into the mix.
RIVALS' REACTION
Cunningham has everything at his fingertips to be a prioritized college prospect for some of the very best programs, both within his region, and even nationally. A good-sized and strong small forward that can touch various parts of the box score, Texas A&M may have the leg up on its competition thanks to past connections.