Bossi's Best: Upperclassmen looking to back up high school ranking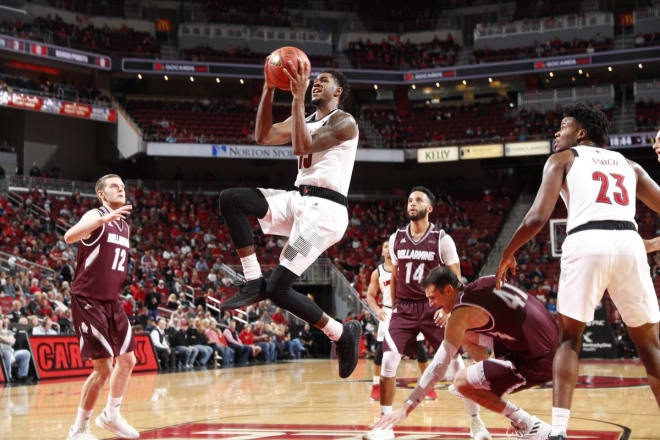 Just as players outplay their high school rankings, there are some who don't reach what was projected of them. Sometimes it is a transfer, sometimes it's a bad situation, sometimes we flat overrated them coming out of high school.
In this week's edition of Bossi's Best, national basketball analyst Eric Bossi takes a look at 10 former top 50 prospects who have reached the make-or-break point of their careers as upperclassmen. Looking at them in order of how they were ranked in high school, Bossi examines why they were ranked high, how things have gone and what could be done to reach the promise they had coming out of the prep ranks.
Marques Bolden, Duke
Why he ranked so high: Bolden had tremendous size and improved steadily throughout his high school career. He was well-coached, productive on both ends and had a great body to work with coming out of high school.

Bossi's analysis: For whatever reason, Bolden has never looked confident or found his stride at Duke. The Blue Devils love to let it fly from deep, but he was beaten out by Wendell Carter and Marvin Bagley III last season and they got plenty of touches. An inside presence is needed badly in Durham, he could make them a much more dangerous team if he plays to his potential as a junior.

CHASE JETER, ARIZONA
Why he ranked so high: One part of a two five-star interior attack with Stephen Zimmerman in high school, Jeter had size, good hands and could run. He wasn't overly physical, but had a great body to work with.

Bossi's analysis: He never really found his stride at Duke because he lacked consistent ability to score in the low post. He sat out last season as a transfer at Arizona and should be much stronger. If he's found confidence in his low post scoring, Sean Miller will be happy to play through him.

CARLTON BRAGG, NEW MEXICO
Why he ranked so high: Bragg was mobile, he was a dangerous baseline and mid-range jump shooter and he had a body to build on. He was highly coveted.

Bossi's analysis: At Kansas, Bragg had his troubles adjusting to college life on and off the floor and he transferred to Arizona State. Arizona State didn't work out either and he's now at New Mexico. It's still to be determined if he'll be immediately eligible or will have to wait until the first semester ends. Will his jump shot be back? What kind of shape will he be in after the long layoff? These are the questions that need to be answered.

V.J. KING, LOUISVILLE
Why he ranked so high: In high school, King was a big wing who possessed a dangerous mid-range game. Because of his size and length, he was also a capable small ball four man.

Bossi's analysis: King showed a lot of promise as a freshman and then things weren't really right for anybody at Louisville last season, so it's hard to give him much blame for a mediocre sophomore season. Chris Mack is going to need him to be a leader and if he's got the confidence back in his jumper he could be a big scorer for the Cardinals.

SHAQQUAN AARON, USC
Why he ranked so high: A long wing with skill, Aaron bounced around some in high school but always showed potential as a scorer who thrived in a wide-open game.

Bossi's analysis: Aaron's minutes dipped as a junior and he averaged just 4.3 points per game. At this point he's been around the block a few times and as a 23-year-old senior, he's got time and experience on his size. USC plays a style that should suit him, we'll see if he can get his confidence back because he should have every opportunity to start this season.

BRANDONE FRANCIS, TEXAS TECH
Why he ranked so high: A native the Dominican Republic, Francis was a tough and confident scorer in high school. He communicated, he showed defensive promise and he looked like he would be a surefire multiple-year SEC starter when he picked Florida.

Bossi's analysis: A 23-year-old senior, Francis is another guy who has been around the block a time or two. He emerged as a three-point shooting threat during his junior season at Texas Tech and on team that has to replace a lot of perimeter scoring, there's every opportunity for him to step up.

JALEN COLEMAN-LANDS, DEPAUL
Why he ranked so high: Coleman-Lands was flat out one of the most dangerous perimeter net strippers in the country. He had sneaky athleticism and looked to have the capacity to develop a dangerous off-the-dribble scoring package.

Bossi's analysis: Coleman-Lands started in over half of his games during two seasons at Illinois and certainly proved to be a dangerous jump shooter. There's a lot of pressure on DePaul to perform this season and he's going to play a big part of it. The tools to be one of the Big East's premier jump shooters are all there.

SEVENTH WOODS, NORTH CAROLINA
Why he ranked so high: When Woods first hit the scene, he was an athletic phenom in his own universe. He had tremendous quickness and while his ranking slid throughout high school, he looked to at least have tremendous defensive potential.

Bossi's analysis: Woods simply hasn't done much of anything during his first couple of years in Chapel Hill. His sophomore season was hampered some due to a broken foot, but he's simply not been effective as a scorer or playmaker. UNC needs somebody to step up in the backcourt this season and while Woods isn't likely to ever near his early hype, being a good rotational player would be a big step up.

KALEB JOSEPH, CREIGHTON
Why he ranked so high: In Joseph, you had a big point guard who appeared to have leadership potential. He could also score and was a kid who looked to be pretty dedicated to his craft.

Bossi's analysis: Joseph didn't shoot great as a freshman but played major minutes and looked to have a bright future. Unfortunately things have gone a bit backwards for him and he was seldom used as a redshirt junior after transferring to Creighton. He just hasn't found his groove in the college game. He's not likely to put up huge numbers, but any quality minutes gained at this point could be big.

PAUL WHITE, OREGON
Why he ranked so high: White was at the forefront of the recent combo forward and positionless basketball movement. He had size, he could handle, he could pass and he could rebound while his jump shooting was a question.

Bossi's analysis: Of all the guys on this list, White has probably performed closest to his high school ranking. He played good minutes as a freshman at Georgetown and proved to be a pretty valuable bench player last season at Oregon while playing nearly 23 minutes and averaging almost 10 points per game. The Ducks are loaded with young frontcourt talent, so he'll really have to fight for minutes, but he can provide experience and versatility that could prove to be quite valuable.