Bossi's Best: Remember me? Highly-ranked transfers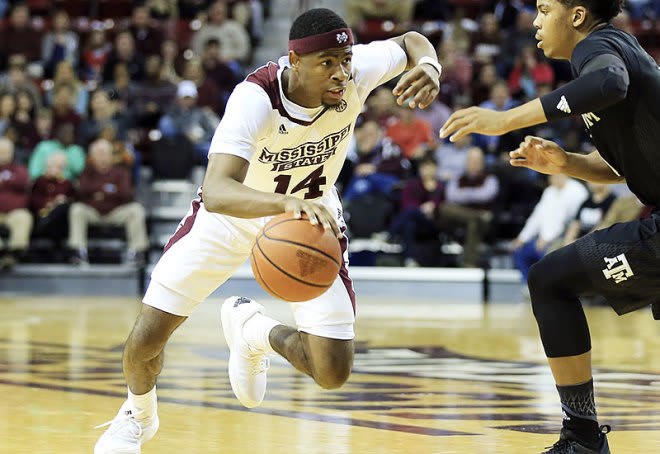 MORE: Williamson sets in-home visits, adds two more official visit dates
Transfers have become a major part of college basketball. In addition to offering programs a chance to load up on additional firepower, they allow highly-ranked prospects who might not have lived up to expectations - or stuck around long enough to produce - their first chance at redemption.
In today's Bossi's Best, National Basketball Analyst Eric Bossi looks at 10 highly-ranked players, led by former top 10 prospect Malik Newman, who are looking to make a splash at new destinations in 2017-18.
MALIK NEWMAN, KANSAS
As a high schooler: Simply put, Newman was a scoring machine in high school. A jump shooter with strength and physicality, he consistently put up huge numbers.

At Mississippi State: Averaged 11.3 points (39.1% FG), 2.8 rebounds and 2.2 assists per game as a freshman.

Expectations: Having used his year off to get fully healthy and get his mojo back, Newman is expected to be one of, if not the, leading scorers for the Jayhawks. He's hoping to enter the 2018 NBA Draft so a big year could be in order.


DERRYCK THORNTON, USC
As a high schooler: Thornton thrived on getting to the basket and operating in ball screen situations. He was also a dynamite on-the-ball defender.

At Duke: Averaged 7.1 points, 1.8 rebounds and 2.6 assists per game as a freshman.

Expectations: USC has become a trendy pick to compete for the Final Four and the addition of Thornton to an already stacked group doesn't hurt. He's added some needed strength and should thrive in the Trojans' up-and-down game.


MARCUS LEE, CALIFORNIA
As a high schooler: Though he was thin, Lee was a big-time shot blocker and an effortless rebounder. However, there were always questions about his intensity.

At Kentucky: Averaged 6.4 points, 6.0 rebounds and 1.6 blocks per game as a junior.

Expectations: Lee never quite fit in at Kentucky where you need to be part mercenary to thrive. At California, there is no one with his talent and he's had a year to focus on an important senior season. He's a threat to lead the Pac-12 in rebounding, blocked shots or both.


ISAAC COPELAND, NEBRASKA
As a high schooler: A bit of a late bloomer, Copeland came on strong during a prep year. He was elevated to five-star status after a big-time prep school year where he showed a skilled faceup game.

At Georgetown: Averaged 11.1 points, 5.4 rebounds and 2.0 assists per game as a sophomore.

Expectations: Copeland actually played some as a junior before suffering a season-ending injury but has been ruled immediately eligible with two years remaining in Lincoln. The Huskers are in need of a big who can soften defenses with shooting and be relied upon for a bucket, and he's proven he can do it a high level.


JUSTIN SIMON, ST. JOHN'S
As a high schooler: Simon was the definition of a utility guard during high school. He played all three perimeter positions, had an all-around game and could be used as a lockdown defender.

At Arizona: Averaged 2.3 points and 1.2 rebounds per game as a freshman.

Expectations: Look for a much more confident and physically tough version of Simon at St. John's. If he's improved his jump shooting, he could be a big producer on offense but there's not much question he should help defensively. He and another former Rivals150 transfer, forward Marvin Clark from Michigan State, should play big roles.

MORE ST. JOHN'S: RedStormReport.com
KALEB JOSEPH, CREIGHTON
As a high schooler: Joseph impressed as a big and physical point guard who got others involved and defended at a high level. What made him a top 50 player was he could play as a two-guard and provide offense as a slasher.

At Syracuse: Averaged 5.9 points, 2.2 rebounds and 3.8 assists per game as a freshman in 2014-15.

Expectations: More than likely Joseph will start and if he can regain his form from his freshman season - which was encouraging before a poor sophomore campaign - then he would be a key part of turning Creighton into an NCAA Tournament threat.

MORE CREIGHTON: BluejayBanter.com
CHARLES MATTHEWS, MICHIGAN
As a high schooler: Matthews showed big upside early in his high school career thanks in large part to his athleticism. However, he slipped some in the rankings due to lack of development with his jumper and inconsistent production.

At Kentucky: Averaged 1.7 points and 1.6 rebounds per game as a freshman.

Expectations: We'll take a wait-and-see approach here. Matthews undoubtedly upgrades the Wolverines' athleticism, but he's not as skilled as the guards we are used to seeing them play. If he's become a threat as a shooter, though, he could give them a new dimension.


PAUL WHITE, OREGON
As a high schooler: White was a classic faceup, playmaking four-man who was a slick passer and versatile performer.

At Georgetown: Averaged 1.6 points, 1.6 rebounds and 1.6 assists per game as a sophomore.

Expectations: After showing promise as a freshman, White's numbers took a huge dip in his second year. At Oregon, Dana Altman has made a habit of getting big production from transfers and there is plenty of available playing time. If he returns to form, he will be part of making the Pac-12 race a fun one to watch.


DANIEL GIDDENS, ALABAMA
As a high schooler: Giddens never showed a ton of skill or scoring on the high school level, but he did flash some soft hands. Mostly he was big, protected the rim and proved to have some basketball smarts.

At Ohio State: Averaged 3.8 points, 3.6 rebounds and 1.5 blocks per game as a freshman.

Expectations: Alabama is looking to make a big jump this season and Giddens is part of those plans. He's an SEC athlete who gives the Tide a rim protector with some experience that they need. It wouldn't be unreasonable to think he could come close to doubling most of his numbers from his freshman season.

NAMON WRIGHT, COLORADO
As a high schooler: Wright was a two-guard who thrived as a jump shooter with a short memory. If the ball was in his hands he was confident that he could score and he was likely going to pull the string on a shot.

At Missouri: Averaged 9.6 points, 5.2 rebounds and 1.3 assists per game as a sophomore.

Expectations: During his two years at Missouri, Wright proved to be capable of some big games. He was very inconsistent, though. The feel is that he's figuring things out and if he can become a consistent threat as a jump shooter then the Buffs could surprise some folks.