Williamson sets in-home visits, adds two more official visit dates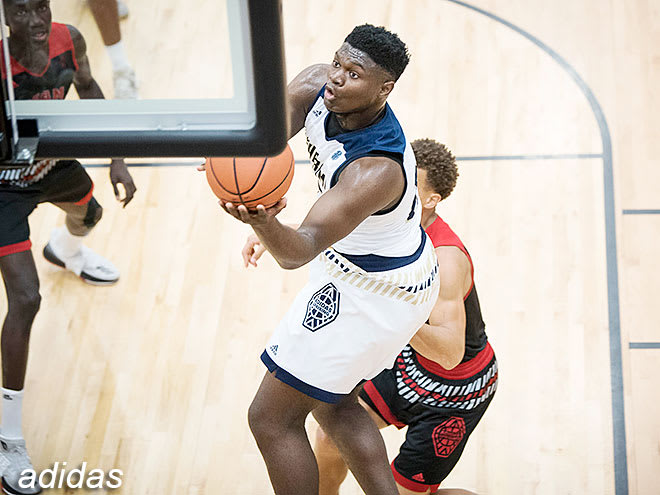 Zion Williamson, the top-ranked forward in the 2018 class, has begun to focus on his college recruitment. This past weekend, the five-star forward took an unofficial visit to Clemson, the in-state program that has made him a priority dating back to his sophomore year. This week, a handful of in-home visits have been scheduled while he has set four official visit dates.
On Tuesday, Sept. 12, Williamson and his family will host Kansas coach Bill Self for an –home visit. The Jayhawks have also solidified an official visit date with Williamson as he will head to Lawrence on September 30 for its Late Night in the Phog festivities.
On Wednesday, Sept. 13, Kentucky coach John Calipari and his staff will head in to see Williamson at his home. On September 22, Williamson will return the favor by giving an official visit to the blue blood program in Lexington.
That same night, UCLA coach Steve Alford will make the cross-country trip to see him. Williamson will then head to Westwood for an official visit on Oct. 27.
Thursday, South Carolina coach Frank Martin will make the short trip to see Williamson and his family, the fourth in-home visit this week for the five-star forward.
Original plans were set for Duke to make their own in-home visit on Monday, though travel issues with Hurricane Irma changed their schedule. The Blue Devils are attempting to reschedule for this week or next.
Williamson will take an official visit to Duke on Oct. 22.
One visit is still out there for the taking as a fall signing could be in the cards with a signing to come in November.