Bossi's Best: Most memorable package deals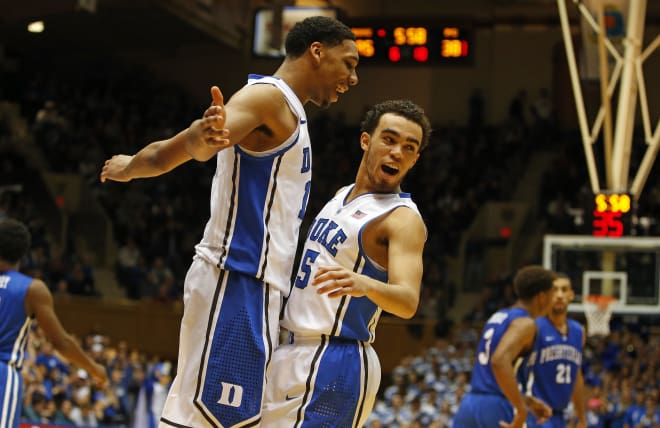 There are high-level prospects annually that talk about being a package deal. In 2019, five-star high school and summer teammates Scottie Lewis and Bryan Antoine are two of the latest to float the idea of being a package deal. While most package deals disintegrate, there have been some memorable ones.
In this week's Bossi's Best, National Basketball Analyst Eric Bossi looks back on some of the more memorable package deals of the Rivals.com era.
RELATED: Twitter Tuesday | Rivals Roundtable
Jahlil Okafor and Tyus Jones, Duke
Recruitment: Pretty much throughout their entire recruitment, the class of 2014 five-stars said that they wanted to be a package deal. Though they never played for the same high school or summer teams, they did play USA Basketball together and their families were tight. They took several visits together before doing what most expected, committing to Duke on the same day during the fall of their senior year.
How it worked out: Things couldn't have worked out any better for Jones, Okafor and Duke. The duo helped lead the Blue Devils to a national title during their one year in Durham. Okafor became a lottery pick by Philadelphia while Jones was taken in the first round by his hometown Minnesota Timberwolves.
Mike Conley and Greg Oden, Ohio State
Recruitment: Conley and Oden were another pair of five-star teammates who played together on the grassroots circuit for the Indy Heat and at the same high school. As good as Conley was, he was almost considered an afterthought to Oden who looked to be a generational type of big man prospect. Michigan State, Indiana and Wake Forest were considered but Ohio State was always a heavy favorite, especially with five-star summer teammate, Daequan Cook, committed to the Buckeyes.
How it worked out: Playing perhaps his last "healthy" year of basketball, Oden was a dominant freshman big man and first-team All-American. Conley led the Big Ten in assists as a freshman and together they helped Ohio State all the way to the 2007 national title game. After one season Oden was taken first overall by Portland while Conley went No. 4 overall to Memphis. Because of injuries we'll never know how good Oden could have been but Conley has had an outstanding career in Memphis averaging 14 points and six assists per game over 10 seasons.

DeMar DeRozan and Romeo Miller, USC
Recruitment: One of the more interesting package deals ever because DeRozan was a certified five-star talent and McDonald's All-American while Miller was best known as the son of rapper Master P while trying to carve out his own career as Lil' Romeo. That being said, the two were close friends and there is no question that Tim Floyd's willingness to take on Miller played a big role in landing DeRozan.
How it worked out: Despite Floyd saying at the time of Miller's signing that "You can't have enough guys on your team who you think are reliable and dependable and have a tremendous upside," his signing was mocked. Miller barely touched the floor before leaving after his sophomore year. For his part, DeRozan started every game during his one season in Los Angeles while making the All-Pac 10 freshman team. He went on to get drafted No. 9 overall by Toronto and has been a three-time all-star for the Raptors.

Marcus Smart and Phil Forte, Oklahoma State
Recruitment: This one was interesting to watch play out. Smart was a no-brainer talent and five-star prospect while Forte was a borderline high-major prospect because of his role as an undersized shooting guard. Smart and his family rented out a house owned by Forte's father and it was no secret that the high school and summer teammates would be a package deal. Many thought that Kansas would be the team to beat because Forte's father played football there. However, the Jayhawks were a little slow to go all-in on the duo so Oklahoma State and Travis Ford were able to move in and land them.
How it worked out: During two seasons in Stillwater, Smart twice made first team All-Big 12, was the Big 12 Player of the Year and a second-team All-American as a sophomore. The Cowboys played in the NCAA Tournament both of those years and Smart was taken No. 6 overall by the Boston Celtics in the 2014 NBA Draft. For his part, Forte far exceeded even the most ambitious of expectations. He finished as one of the most prolific scorers in Oklahoma State history, making 329 three-pointers and scoring more than 1,700 points.