Five-star Scottie Lewis talks recent visits, potential package deal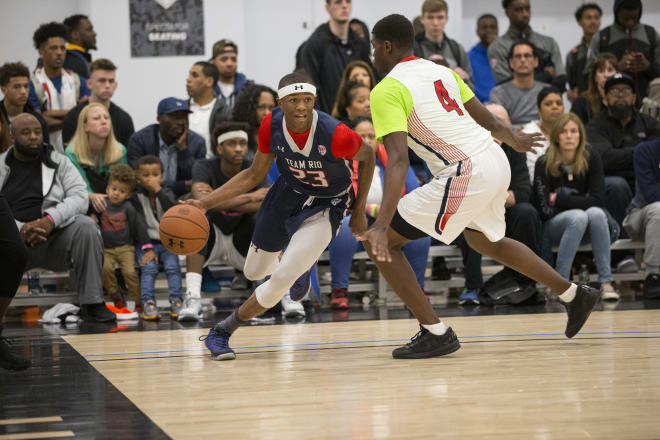 GARDEN GROVE, Calif. -- A five-star prospect in the class of 2019, Scottie Lewis has been a well-known name in the recruiting world since he burst onto the scene as a high flying seventh grader. Lewis brought Rivals.com up to speed on a pair of recent visits, his philosophy on recruiting and the potential that he and five-star teammate Bryan Antoine could be a package deal.
First, Lewis -- who said he tries to emulate the game of Rivals.com's No. 1 player in 2016 Josh Jackson -- talked about developing his game while he works to become known more for his skill than his leaping ability.
"I'm progressing and I'm getting better, I feel like when there's more of a chip on my shoulder that's how I perform the best. I was always seen as a guy who could jump high but now I'm showing that I've got my skill filled out and I've become a leader."
Lewis has offers from Kansas, Florida, Maryland, Seton Hall, St. John's, Rutgers, Miami, and many others. A few weeks ago, he and his teammate Antoine were able to check out the campuses of Louisville and Kentucky and Lewis discussed each visit.

Louisville: "It was great. We talked a lot about school and what they do and how they play and how they don't offer a lot of guys. The guys that they do offer, they try to get them and they said that we are very recruitable and they like how we play and that we could fit in."
Kentucky: "We had a lot of questions for them. It was fantastic to hear their pitch. Their pitch was basically that they don't want to grow guys. They want to get them in, get them out and continue their reputation of getting guys to the NBA."
The natural question is whether or not Lewis and Antoine will be a package deal. They have played on the same summer and school teams for the past few years, are close friends and have games that compliment each other. Then again, true package deals are pretty rare.

"It's very debatable," said Lewis of whether or not he and Antoine are a package deal. "That's the No. 1 question that we get as a duo. That's something we are definitely thinking about. Seeing if there's somewhere that we can carry our skills to and continue to complement each other's games."
As for the recruiting process, Lewis is keeping things fresh and remains open to anybody who wants to recruit him. Nobody is out front just yet and he feels there is no need to rush things given his age.

"I'm not really sure (on recruiting)," said Lewis. "I'm still a sophomore and I have two more years of high school. I'm still just having fun with the rest of my teammates and just soaking it in. When the time comes for me to cut my list and take a breath that's when something is going to happen."